The loud whirr of the dental tools.
Your dentist's eyes, peeking out over the sterile (some may say ominous-looking) green mask.
Leaning back in the seat, pinned down by the heavy protective bib that protects your body from radiation during dental X-rays.
Scraping with sharp tools to chip away at the stains on your teeth. Then the dentists' toothbrush, followed by suctioning and sprays of water from the mini water jet.
It sounds like a typical visit to the dentist. But for many people with some degree of dental phobia -- technically called dentophobia or odontophobia -- it's the worst experience in the world.
People with dental phobias have a reflex to feel a fight-or-flight response when they visit the dentist, explained New York City-based dentist Dr. Louis Siegelman, D.D.S., who works in private practice and also is a clinical assistant professor in pediatric dentistry at New York University.
"It's life or death, it's fight for your life or run for your life," he told HuffPost. "That's really what the core of this mechanism is."
Siegelman's dental practice isn't typical -- he specializes in people who have extreme dental phobias. He said the phobias can be a result of a multitude of things, including having a previous traumatic experience at the dentist (maybe a previous anesthetization wasn't done properly), feeling extreme discomfort while having a dental procedure done (maybe the person has trouble breathing while having work done), and having an accident where maybe a person needed stitches in or near the mouth, imprinting that scary moment in memory.
Siegelman said he sees patients who haven't been to the dentist in years because they're so afraid of coming in. For some people, this just reinforces their negative view of the dentist -- because they hadn't been in for their regular checkups, their teeth are in bad shape, just making the dental work they have to have done more extensive.
Even though Siegelman's patients are on the more extreme end of dental phobia -- "I've met people out in the hallway hugging the wall, I've had people I've had to meet outside the office because they couldn't bring themselves in," he said -- a lot of tips and tricks he uses with his patients can also apply to people who are more mildly anxious about the dentist.
About five percent of people have severe dental fear, according to researchers from the Sahlgrenska Academy at the University of Gothenburg in Sweden. Those researchers found five strategies that people use to get over their fear of the dentist; their findings are published in the journal Acta Odontologica Scandinavica.
Their study showed that common coping practices include distracting yourself (counting to yourself or playing mental games so that you think about something else), distancing (telling yourself the pain feels like something else), prayer (praying that the dental treatment will end soon), self-efficacy (telling yourself to be strong), and optimism (telling yourself that everything will be OK after the dental treatment).
Of course, the best way to avoid having to have scary procedures done at the dentist is to practice prevention, Siegelman said. If you know that you're someone who's afraid of the dentist, it would best serve you to "be hyper-vigilant about taking care of your teeth to make sure there's less for them [the dentists] to do," he said.
Here are some common things that people are afraid of during a dental visit, and what you and the dentist can do to help soothe those fears: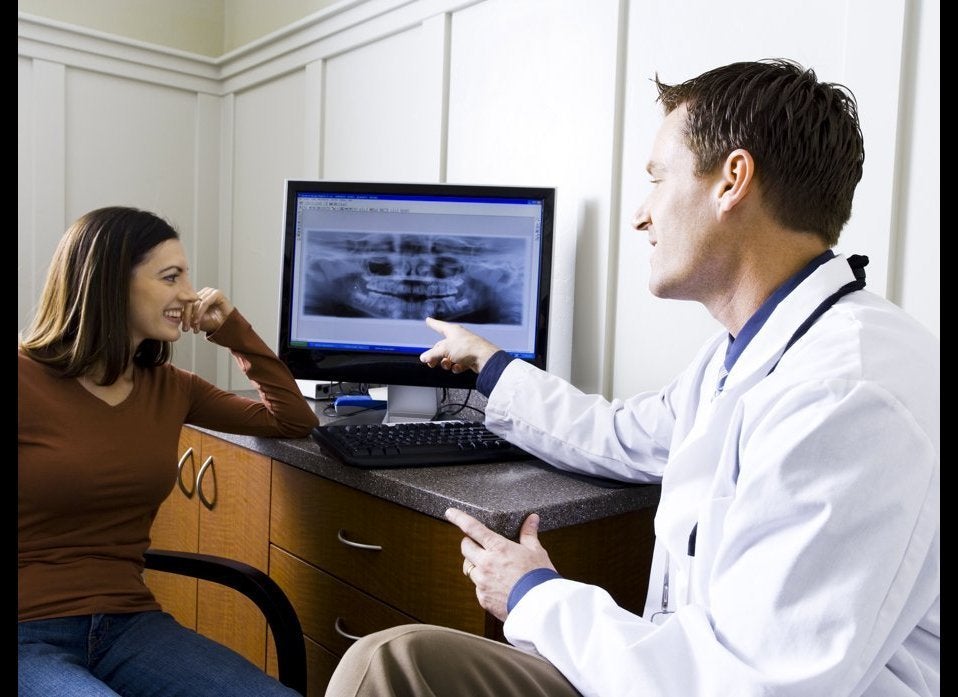 dental phobia slideshow
Support HuffPost
A No-B.S. Guide To Life
Related
Popular in the Community