Meet Kim Ott-Gray. The grandmother from Michigan found out she had a tumor the size of a golf ball on the left side of her brain. When doctors removed it, they took along with it "quite a bit" of the left side of her brain and "90 percent" of her abilities, according to an NBC interview with Ott-Grey (Scroll down for the video). The previously "scientific, organized, type A" practicing dentist can no longer work, nor can she navigate without written directions. She describes herself as "often confused," and saddled with bills she is not used to being unable to pay.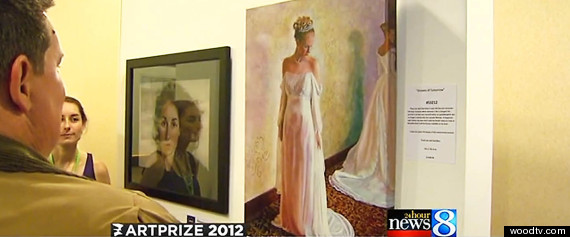 But what she can suddenly do is paint. The oil on linen painting above -- which you may have seen if you've happened into the Amway Grand Plaza in downtown Grand Rapids recently -- is an Ott-Grey original. The portrait, which is of her granddaughter Jaime trying on her wedding dress, is entered in ArtPrize, a competition with a $200,000 grand prize. On Ott-Gray's ArtPrize profile she writes that "Dreams Of Tomorrow" captures "that very moment, when Jaime was no longer a young lady, but a grown woman."
"It happened right before my eyes and it took my breath away and and was so beautiful that it will be forever indelible on my brain," she writes.
The NBC report describes Ott-Grey tearing up as she weighs the massive amount of bills she has against her inability to work. "When you are healthy, you don't realize how expensive it is not to be healthy," she said. Readers: think about it. We are all, every one of us, potential ArtPrize voters. We're not saying anything, we're just saying.
WATCH the NBC segment
:
CORRECTION: An earlier version of this story incorrectly identified the Amway Grand Plaza hotel in Dearborn.

Related
Popular in the Community