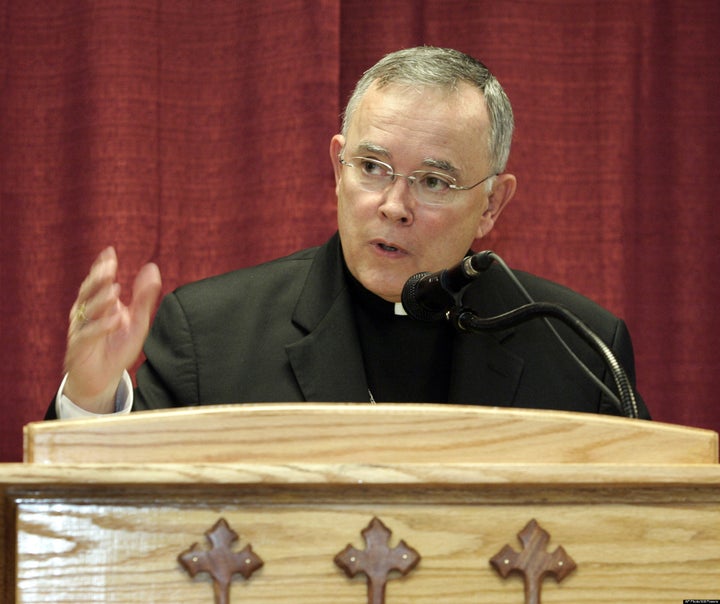 Why does Denver Archbishop Charles J. Chaput refuse to speak to The New York Times? Laurie Goodstein, the newspaper's national religion correspondent, got her chance to ask him directly during his appearance at the Religion Newswriters Association conference Friday (Sept. 24) morning.
To Goodstein's surprise, Chaput's beef with the Gray Lady goes all the way back to John Kerry's 2004 presidential campaign. He claims that Goodstein's colleague David D. Kirkpatrick and their editors twisted his words in a story about bishops using their influence to sways votes against the pro-choice Catholic.
Goodstein said she didn't even know that Chaput had an official policy against talking to the Times -- the only media outlet he officially boycotts -- until she tried to reach him for a comment on a "good news story" recently: the Vatican's choice of Archbishop Jose H. Gomez to lead the Los Angeles archdiocese and possibly become the first Hispanic cardinal in the United States.
Clarifying his position, Chaput said that he didn't necessarily have a problem with specific Times reporters, but considered the newspaper's coverage of Catholics to be "unbalanced," particularly its recent investigative series of Pope Benedict's response to the clergy sex abuse scandal.
In general, Chaput said during his remarks, reporters have trouble covering faith fairly. The best religion reporters, he said, "aren't normal people. They are amphibians who live in two worlds and can honor both." He advised the audience, which included dozens of religion reporters from newspapers and media outlets across the country, to "know yourselves and your prejudices," and to be open about acknowledging mistakes.
Of his New York Times boycott, he left the door open for Goodstein, saying, "Maybe you and I can have a nice conversation after this talk, and you can convince me otherwise."
(Session moderator David Gibson, a Politics Daily reporter and author of several books about Catholicism, later recused himself from formally organizing a "beer summit" for Goodstein and Chaput.)
Chaput's spokesperson, Jeanette De Melo, said Chaput has spoken to some Times reporters "behind the scenes" since 2004, though not on the record.
"He's very selective in general about who he talks to," she said.
Chaput, after chatting privately with Goodstein following the conference session and shaking her hand, said his anti-Times policy may be reconsidered.
"We'll see what happens," he said. "Things can change."
REAL LIFE. REAL NEWS. REAL VOICES.
Help us tell more of the stories that matter from voices that too often remain unheard.