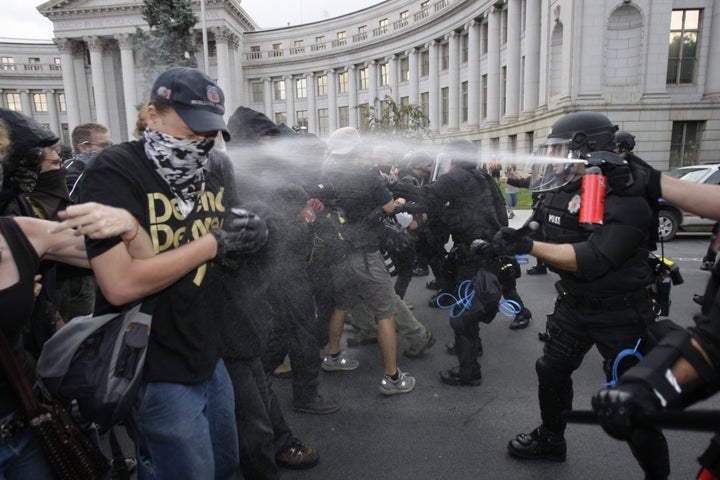 The city of Denver has settled the 2008 ACLU lawsuit for $200,000 that accused Denver Police of indiscriminate arrests during the Democratic National Convention.
The lawsuit charged that Denver Police unlawfully arrested protestors, including ACLU clients, without probable cause and persecuted them for crimes they did not commit. According to the lawsuit, police issued a non-existant "dispersal" order and locked up those arrested into holding cells in a nearby warehouse converted into a detention center for DNC-related arrests.
"This case identified serious flaws in Denver's training and policies on crowd control and policing demonstrations," said Mark Silverstein, ACLU Legal Director in a statement. "The settlement, and the resulting improvements to Denver's crowd-control manual, underscores an important lesson for Denver police: They must have individualized facts showing that each separate person they arrest was violating the law. Police violate the Constitution when they simply arrest everyone who happens to be in the area."
On the second day of the DNC, Aug. 25, 2008, Denver deployed teams of police and SWAT members dressed in riot gear arrested nearly 100 people near the City and County Building. The ACLU pointed out that Denver Police often don't require permits for street marchers, but on that day arrests were made that didn't distinguish between participants and observers.
The settlement agreement followed a ruling by federal district court Judge Richard Matsch stating that the ACLU's false arrest claims could proceed to trial.
"This settlement is about much more than money," said ACLU client Kim Sidwell, one of those arrested unlawfully. "We wanted Denver held accountable for violating the Constitution, which protects everyone from indiscriminate arrests and false charges. I hope that this settlement and the changes to Denver's crowd control manual will ensure that nothing like this will happen again at future demonstrations."
Popular in the Community