DENVER ― A mother of four facing possible deportation has taken refuge in a Denver church after customs officials denied a request to extend a stay on her deportation order.
Jeanette Vizguerra had been scheduled to check in with Immigration and Customs Enforcement officers Wednesday morning, something she'd done numerous times without incident since she arrived in the U.S. from Mexico nearly 20 years ago.
But this time it felt different, she said, so she decided to skip the appointment. Though ICE has granted her five previous stays while she applies for a U visa, a specific visa set aside for victims of violent crime, this time they stalled, then denied it at the last second, claiming it was because she didn't appear Wednesday.
"We walked in and the lobby was full of armed ICE police, so it [seemed] very clear they were prepared to arrest her on the spot," Rev. Anne Dunlap, who went to the ICE office instead of Vizguerra, told a crowd Wednesday morning. "We went upstairs with some of the staff, and ... they denied her stay."
"Their reasoning is because she didn't appear today ― that's why they denied her stay ― but we know that that's not true, because they've had 69 days to respond to her application, which they could have done at the beginning," she added. "They know her case; she's not a stranger to them."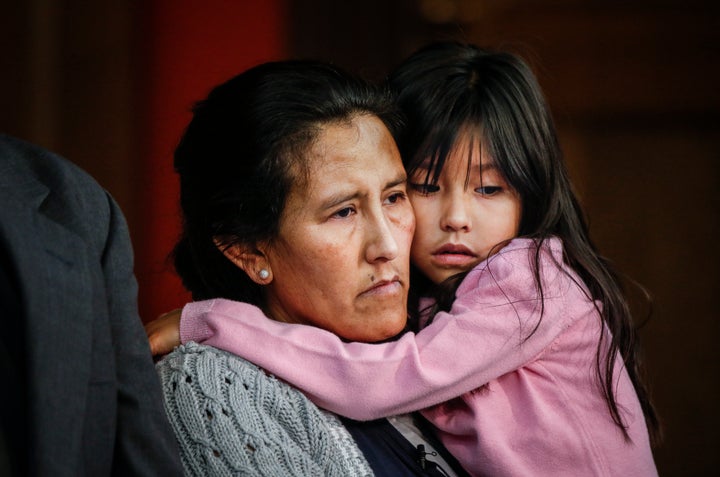 Vizguerra and her husband first came to the U.S. in 1997, fleeing violence in Mexico City, where her husband had been kidnapped three times while working as a bus driver.
She told The Washington Post her decision to seek sanctuary wasn't an easy one. She has three children at home ― Luna, 12, Roberto, 10, and Zury, 6 ― who must now depend on the rest of her family, including her 26-year-old daughter, Tania Baez, for support.
Last week, she said, she sat her family down to walk through the emergency plan, including the possibility she'd seek refuge in a church. "My little one goes, 'It's OK, Mommy. In the church you're safe,'" she recalled.
What was then a hypothetical worst-case scenario has become a reality.
"If the system thinks that it can break me, that it can make me kneel, the system is wrong," Vizguerra told her supporters at Denver's First Unitarian Church on Wednesday afternoon. With tears in her eyes, she gestured at her children gathered behind her and added, "You can see the reasons why I am fighting so hard to win my case."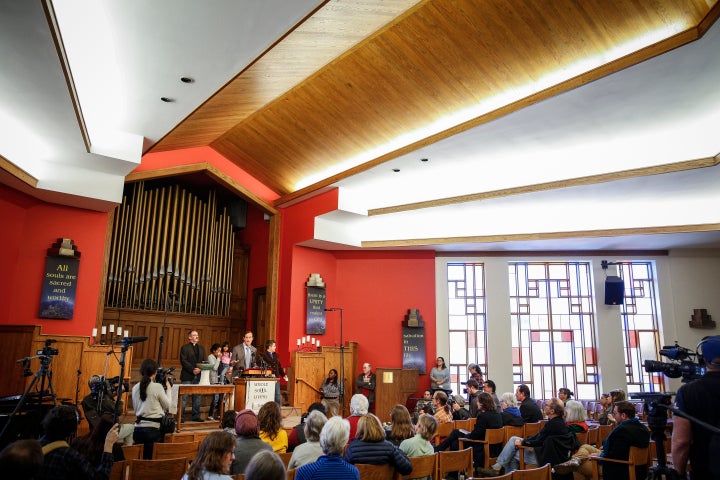 Attorney Hans Meyer has represented Vizguerra since 2009, when a police officer pulled her over and asked if she was in the country legally. Since then, she's been in and out of court rooms and detention centers pleading her case.
Meyer told The Huffington Post that Vizguerra has two misdemeanors on her record: One for illegally entering the country and a second for using a fake Social Security number to find work.
"I've had the privilege of representing Jeanette these last four or five years," Meyer told protesters and media gathered outside Wednesday's hearing. He described his client as someone who gives back to her community and, as a survivor of violent crime, is dedicated to the rights of others.
"Today is the day we move forward for Jeanette and defend our communities against the Trump administration," he added. "Jeanette's case is Exhibit A in the brutality and the stupidity of Trump's immigration enforcement plans, plain and simple."
Bullying a survivor of crime to give up a legitimate application for status is wrong. Sitting on a stay request until a new administration comes into power is wrong. Bullying and threatening and terrorizing a woman, and a mother, and her children, and a community is wrong. In the face of those things, the only option for Jeanette Vizguerra is sanctuary. The only option is to stand true and strong and fight for what's right.
"I just think if he walked an immigrant's life, he'd change his mind."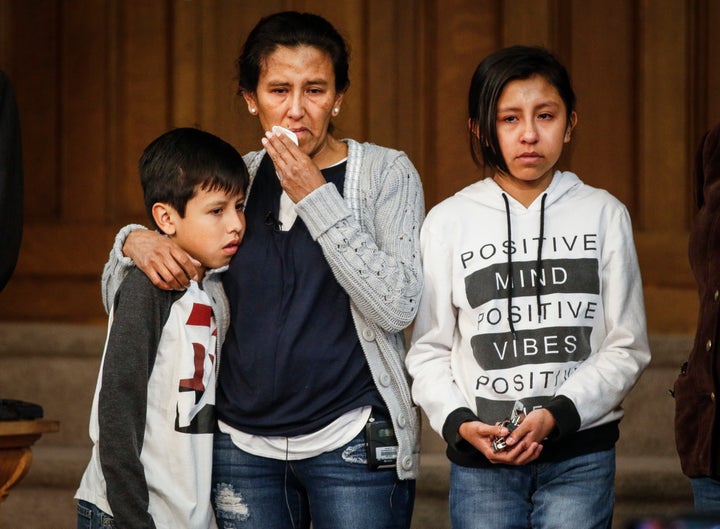 Numerous Colorado politicians released statements in support of Vizguerra on Wednesday, including:
Denver Mayor Michael Hancock:
What's happening to Jeanette Vizguerra is appalling and the result of a broken immigration system – a system made worse by the chaotic actions of the White House and ICE. Jeanette is not a threat to our community. She is a mother of four, an active community member, and someone who has persistently pursued legal status through the proper channels. She has now become the latest victim of wrongful enforcement actions, executive orders and policies coming out of Washington that are punishing immigrants, tearing apart families and scaring our communities.

Washington needs to issue Ms. Vizguerra the U visa that has been caught up in bureaucracy for more than a year now. Washington needs to listen to the millions of people across this country who are telling them their actions are making our communities unsafe. Washington needs to stop driving families to seek asylum in churches, stop creating turmoil and stop inciting fear.
Rep. Jared Polis (D-Colo.):
The Trump administration's actions have created fear throughout the immigrant community, forcing productive members of our cities and towns to retreat into sanctuary in order to remain united with their families. It is a shame that Jeanette, a victim of a crime herself, is being re-victimized by our failed immigration system and deceptive enforcement priorities," said Polis. "Like Jeanette, I am alarmed by the rogue ICE activity that is taking place throughout the country. We have heard countless stories of recent raids that have taken place in various states, terrorizing the immigrant communities in which they are conducted. Destroying families and detaining productive members of our communities runs counter to our values as Americans.
Sen. Michael Bennet (D-Colo.)
Jeanette has been pursuing a legal avenue to remain in America for several years. Since 2011 our office has worked with her to navigate our immigration system in order to keep her family together. The fear she expressed today embodies what immigrants across the country are feeling. This is yet another reminder that our immigration system should line up with our national priorities.
Popular in the Community