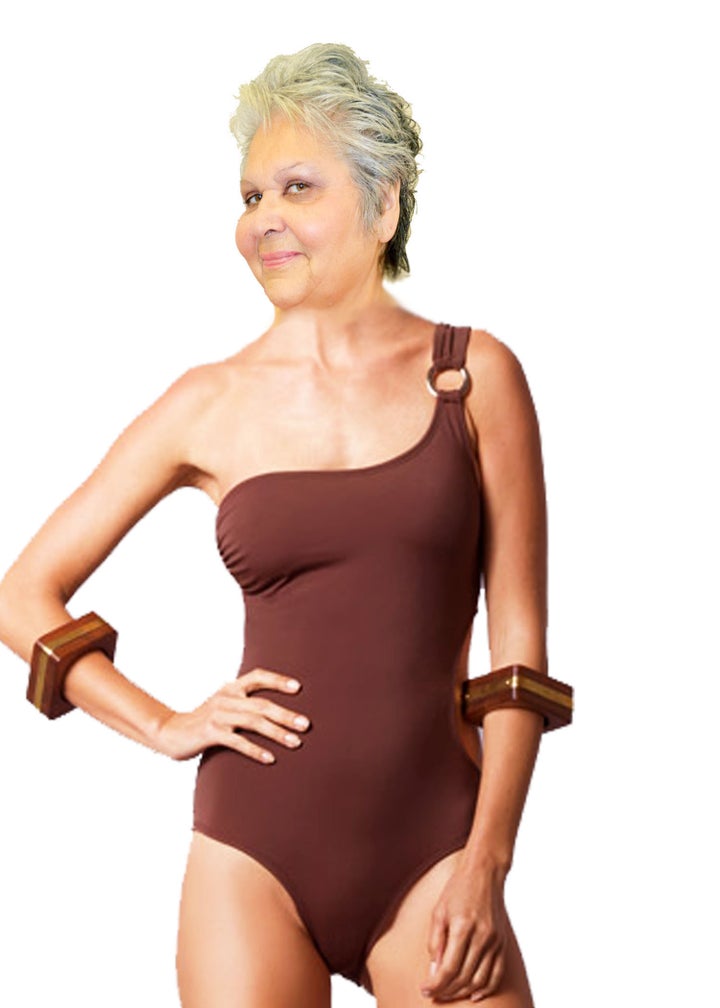 Some seniors citizens play bridge, others might watch soap operas, but the seniors at Denver Inner City Parish are getting a little sassy with the release of a swimsuit edition cookbook chock-filled with recipes from Parish members as well as some good humored eye-candy.
(SCROLL DOWN FOR PHOTOS FROM THE COOKBOOK)
The images for the cookbook were assembled much like a delicious dinner might be: add in one face from a DICP senior, a pinch of Photoshop magic, a generous helping of a swimsuit model's body, turn the oven to hot and voila: DICP's Seniors Cookbook: The Swimsuit Edition is done and ready to serve in early May for $5 per book.
When 9News first reported about these cheeky Denver seniors, we were so intrigued by this fundraiser idea that we had to find out more. So we chatted with Rev. Allyson Sawtell, associate pastor, director of the DICP seniors program and inspiration for the swimsuit edition cookbook, so she could tell us more about this unique and eyebrow-raising book.
What was the thinking behind doing a swimsuit edition of a seniors cookbook?
Ever since I started working as Director of the Seniors Program at the Denver Inner City Parish five years ago, I thought the Seniors program should do a cookbook. The program participants had been bringing such great chilis, gorditas, tortillas and other dishes to the Seniors program at the Parish that I wanted to expose a wider audience to this great stuff.
The swimsuit edition idea just popped into my head one day as a way to share the great humor of these folks and to be a creative twist to the traditional non-profit cookbook venture. It's a way for us to not take ourselves too seriously, at the same time it also lets us be young and gorgeous for awhile. I thought it might also be a good marketing hook and an eye-catching way to share not only some good recipes, but to share the stories and wisdom from the Seniors at the Denver Inner City Parish. They're tough people, they've not had easy lives, and they've struggled all their lives as low-income folks to care for their families and now to deal with the serious health issues most of them face as they age.
What does the money raised from selling the cookbooks go toward?
The money raised will go towards supporting the activities of the Parish seniors. We meet 4 days a week for a lunch program, and we have a variety of activities during that time as well: a Chair Yoga class once a week, a sewing class and cottage industry called Senior Stitch, and various seminars and classes on such topics as Living with Diabetes, How to Care for Your Adult Children Without Burning Out, End of Life Decisions, and Protection Against Medicare Fraud. We also go on day trips on a regular basis – going out to the movies, out for ice cream, going on picnics, or trips up into the mountains. Each year we take an overnight trip; we've been to such places a Royal Gorge, Santa Fe New Mexico and the Black Hills of South Dakota. We also host dances and parties for the community.
Social isolation is a real issue faced by senior citizens, especially low-income Seniors who have fewer resources than the more well off. The Parish Seniors program seeks to combat this issue, and have a good time in the process.
We are keeping the price low because we are marketing the cookbook not only to our donors and church supporters, but to the neighborhood as well. We want to make sure that members of the West Side community can afford to purchase copies.
What has the reaction been from DICP community members?
From the Parish staff, mostly incredulous laughter, and a lot of support. The Seniors themselves (and we have both men and women contributing to the cookbook) have about the same reaction, and they are enjoying this immensely. They say that their children and grandchildren are amazed and some just can't believe it. I think the seniors are having fun with that.
What kind of recipes are featured and whose recipes are they?
The vast majority of the recipes have come from the Seniors themselves; some are family favorites passed down over the years, some are new creations. We've also received recipes from Parish staff and board members, too.
The recipes include several variations of green chili, chili beans, gorditas, enchiladas, buñelos, tacos de lengua o borrego, Mexican spaghetti, lots of vegetable dishes and desserts, bread for the penitentes, horchata, ceviche, and latkes. And a lot more.
The Denver Inner City Parish historically has served residents from Denver's West Side (although we have expanded immensely in our 50+ years), most of whom were Latino and Latina. Thus, many, if not most, of the recipes have a Latino flavor, although there are a great many other sorts of recipes as well, such as pumpkin chocolate chip muffins, good old fashioned greens, tofu appetizers, and Danish Christmas pudding, to name a few.
The Denver Inner City Parish has been serving low income individuals and families in the metro area for over 50 years. Our main goal is to strengthen families and individuals so that they achieve more stable and self-sufficient social and economic lives. DICP's programs focus on improving the quality of life for low-income, primarily Latino/Latina residents of the Denver metro area, by focusing on four basic human needs: hunger relief, education, health and wellness, and community support.
We have 12 different programs in three main buildings and two sober living houses for men trying to get back on their feet. Some of our programs include: a food bank, a seniors program (where the cookbook is coming from), a school for at-risk youth, a program for ex-offenders, a recreation program, a night school, a summer day camp program and regular services of worship for the community.
To order a copy of the swimsuit edition cookbook, learn more about the Denver Inner City Parish, including the seniors program, or make a tax deductable donation, visit their website.
Popular in the Community