Bodycam footage released on Tuesday shows the moment Denver police officers told a Colorado journalist to "act like a lady" as they handcuffed her for attempting to photograph them.
One officer blocked Greene and told her that taking photographs violated the man's Health Insurance Portability and Accountability Act (HIPAA) rights.
"There's also a First Amendment," Greene said. "Have you heard of it?"
When Greene attempted to capture an image of one of the officer's badges, they warned her to step away or risk being arrested for interference. She was then handcuffed and told to "stand up straight" and "act like a lady."
"Are you fucking kidding me?" she asked. "Act like a lady?"
After telling officers multiple times that she was being hurt, the police told Greene to "walk normal" and "stop resisting."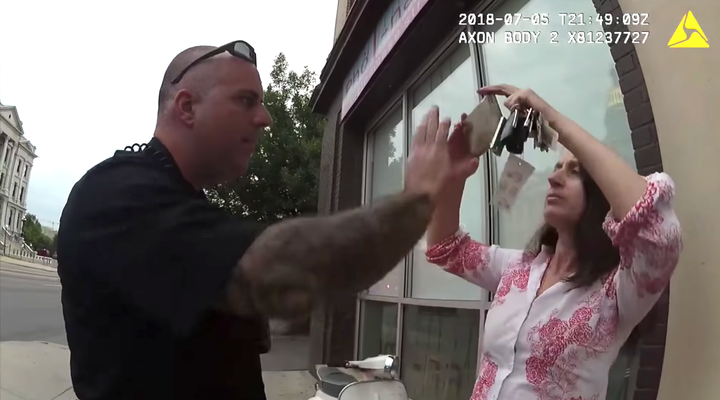 Upon reviewing the footage, Greene said on Tuesday that it "squares exactly like how I remember it."
"The only thing I didn't realize is that when it was happening, both of the police officers told me to act like a lady, which raises the question: How exactly should a lady act when being wrongly detained on a public sidewalk for exercising First Amendment rights?"
After the incident first occurred in July, Greene wrote that the context for her interest in the scene came from "Denver's history of uniformed officers harassing, hurting or killing folks, sometimes without offering them medical help."
"It stems partly from the fact that Denver sheriff deputies stood around the limp, lifeless body of Marvin Booker, a homeless, black street preacher after they killed him in Denver's jail in 2010," she wrote. "And it also stems from officers similarly having stood around Michael Marshall, a mentally ill, homeless, black man, after having fatally restrained him in 2015."
The District Attorney's office does not plan to press charges against the officers in relation to the incident, The Colorado Independent reported.
Related
Popular in the Community