"One cannot be pessimistic about the West. This is the native home of hope. When it fully learns that cooperation, not rugged individualism, is the quality that most characterizes and preserves it, then it will have achieved itself and outlived its origins. Then it has a chance to create a society to match its scenery."
--Wallace Stegner
"There's a saying in Colorado Springs: 'Most people in Denver can't see over Monument Hill.'"
-- Dirk Draper, Past Board Chair, Colorado Springs Chamber of Commerce
I and about 150 other leaders from Denver's business, nonprofit and government communities took a peek over the hill that divides us from Colorado Springs in a first step toward Stegner's vision of cooperation. We were participants in Colorado Experience, a new program from the Denver Metro Chamber Leadership Foundation, the arm of the Denver Metro Chamber of Commerce with a vision to inspire a diverse community of leaders to improve Colorado. A metro Denver filter often colors that vision; however, with this program, the Leadership Foundation took an important step toward changing that bias.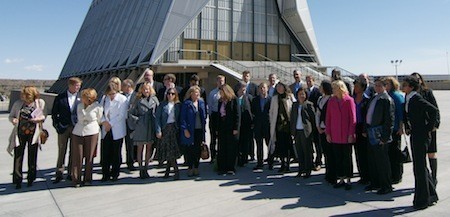 Photo by Andre van Hall
The Chamber, the Leadership Foundation, and the concept of community stewardship are regular features in this business law blog for a simple reason. You can work to build a great business and I can help you avoid legal troubles on route to that goal, but if we don't invest in our community, we are both destined to fail. Business does not happen in a vacuum. A healthy community provides business its customers, employees, and a place for us to live and raise our children. The Chamber and the Leadership Foundation help maintain that complex government/business/nonprofit ecosystem that allows our businesses to thrive.
Colorado Experience was two very full days of presentations from, and conversations and experiences with, business and political leaders from the Colorado Springs area. Together, we considered some critical issues in that region: the military, space and aerospace industries, water, education, tourism, the U.S. Olympic headquarters, fiscal policy and politics.
Many of these issues, of course, don't respect the Palmer Divide watershed, or even the Continental Divide, for that matter. Colorado Springs's experience in these areas is both valuable to understanding that community and invaluable to informing our statewide conversations, conversations that will have direct and long-lasting implications for our business community.
Our conversation with Dr. Bob Loevy, a forty-year professor of political science at Colorado College, and Jan Martin, recently reelected to her second four-year term on the Colorado Springs City Council was a highlight of the weekend for me. They reviewed for us developments that resulted in a political environment more defined by pessimism than optimism, and allowed fiscal troubles to compound to the point where the city would be defined, both nationally and internationally, not by its stunning location on the flanks of Pikes Peak, but as the city that couldn't afford to keep the street lights on.
That notoriety contrasted starkly to economic development success stories in which the business community led Colorado Springs to attract and retain important institutions such as the Air Force Academy, the headquarters and many training facilities of the U.S. Olympic Committee, and the Colorado Springs campus of the University of Colorado, a school built on donated land and housed in buildings built with community-generated funding.
Dr. Loevy and Councilwoman Martin were frank in their descriptions of a community that had lost its sense of community; a city where, for some, a voluntary $300 annual payment to power the street light near one's house was preferable to a tax increase, averaging $200 per year per home, that would turn on all street lights, open the city's closed swimming pools, and take care of neglected parks.
Their refusal to give into the narrow-mindedness or ignorance that leads to such thinking was inspiring and much more in keeping with Stegner's reminder that it is our ability to cooperate and create, not our ability to go it alone, that sustains us in Colorado. As the state continues to deal with the complicated and contradictory web of laws confounding our ability to plan fiscal policy, their story, I hope, is one that defines our Colorado Experience.
Calling all HuffPost superfans!
Sign up for membership to become a founding member and help shape HuffPost's next chapter