When Colorado legalized recreational use of marijuana in 2012, it did so only for private consumption. This fall, voters in Denver will have the chance to legalize some use of cannabis outside the home.
Supporters of the "social marijuana use" initiative have gathered the 4,726 signatures required to make the ballot in November, the Denver Elections Division confirmed Thursday.
Key to its possible success is that the initiative would give individual neighborhoods a significant say in where and when these "designated consumption areas" would operate. Anyone seeking a permit would first have to obtain approval from the local neighborhood association, business improvement district or merchant association. Only then would Denver licensing officials consider an application.
Kayvan Khalatbari, one of the architects of the proposal and a co-owner of the pro-marijuana advocacy group Denver Relief Consulting, said that type of flexibility is fundamental.
"We wanted to make sure that we're considerate of these neighborhoods and these organizations in this process of social consumption," Khalatbari told The Huffington Post. "What they can choose to do is create stricter guidelines that really fit into the needs or the concerns of that community."
As an example, Khalatbari said community leaders would be free to impose certain stipulations or even reject social cannabis use outright in areas frequented by kids.
"So if they say, 'We have a lot of schoolkids here on weekdays, we don't want this around,' maybe they just say it's a Saturday and Sunday permit, or it only happens after 7 p.m., or whatever it may be," he said.
Permits could vary in duration from one night to a full year, and would be open to a broad range of businesses ― from yoga studios and holistic healing organizations to cafe owners, concert venues and art galleries.
But cannabis still could not be sold at these sites. Patrons would have to supply their own marijuana.
Khalatbari emphasized that the initiative represents a starting point. "There is not a single municipality that's regulated the social use of cannabis, so we don't purport to know everything on the front end," he said. "This is going to take some time for all the stakeholders to really learn about this process and what these best practices are to be able to implement them properly."
The initiative would launch a four-year pilot project. "If after four years, at the end of 2020, the city council doesn't vote to extend what we have already or create something new, theoretically this would shut down," he said.
One sticking point for social marijuana use in Denver may be the Colorado Clean Indoor Air Act, which prohibits smoking anything in most indoor areas. According to several state lawmakers, that means those designated consumption areas could technically be in violation of state law.
"I believe it conflicts with state law," said state Rep. Dan Pabon (D-Denver) in an email. "The Colorado Clean Indoor Air Act specifically outlaws smoking indoors. This Act would need to be amended."
Pabon added that he supports the idea of allowing cannabis consumption on certain business premises if that means marijuana smokers are kept out of public parks and off sidewalks.
State Rep. Jonathan Singer (D-Longmont) seconded that sentiment and cautioned that Colorado law also prohibits anyone from consuming other intoxicating substances in a business that has a liquor license. So bars wishing to allow marijuana use might be in a tricky position, but that doesn't mean a solution couldn't be found.
"Lawmakers like myself should have pushed harder the last few years on responsible social use and we wouldn't be in this quandary," said Singer. "We've had since 2013 to figure this out."
Regardless of what happens, nobody in Denver ― residents or tourists ― should expect to legally smoke in public anytime soon.
"No one is allowed to smoke on the sidewalk or in a park," Singer said, "and this initiative won't change that."
Before You Go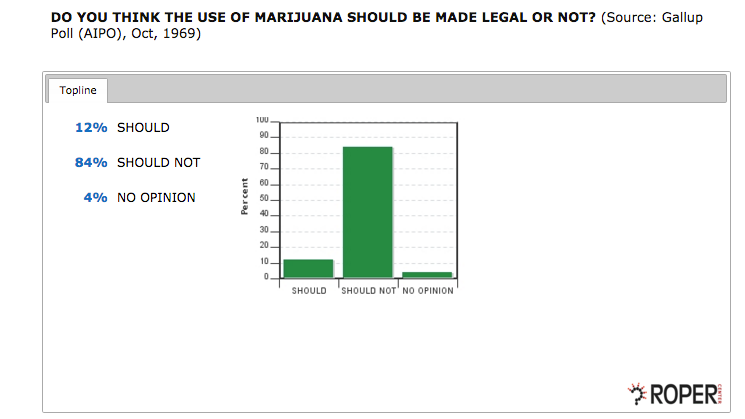 50 Years Of Marijuana Polling
Popular in the Community