In a few short weeks, Colorado pot shops will begin selling recreational marijuana to adults. Of course, there will be restrictions, and a new website launched by Denver city government aims to educate pot smokers on the do's and don'ts of legal weed in Mile High City.
The website, specifies the parameters for smoking recreational marijuana within Denver city limits with statements like "it is illegal to consume marijuana in public," "it is illegal to take marijuana out of the state," and "you must be 21 or older to have or use retail marijuana."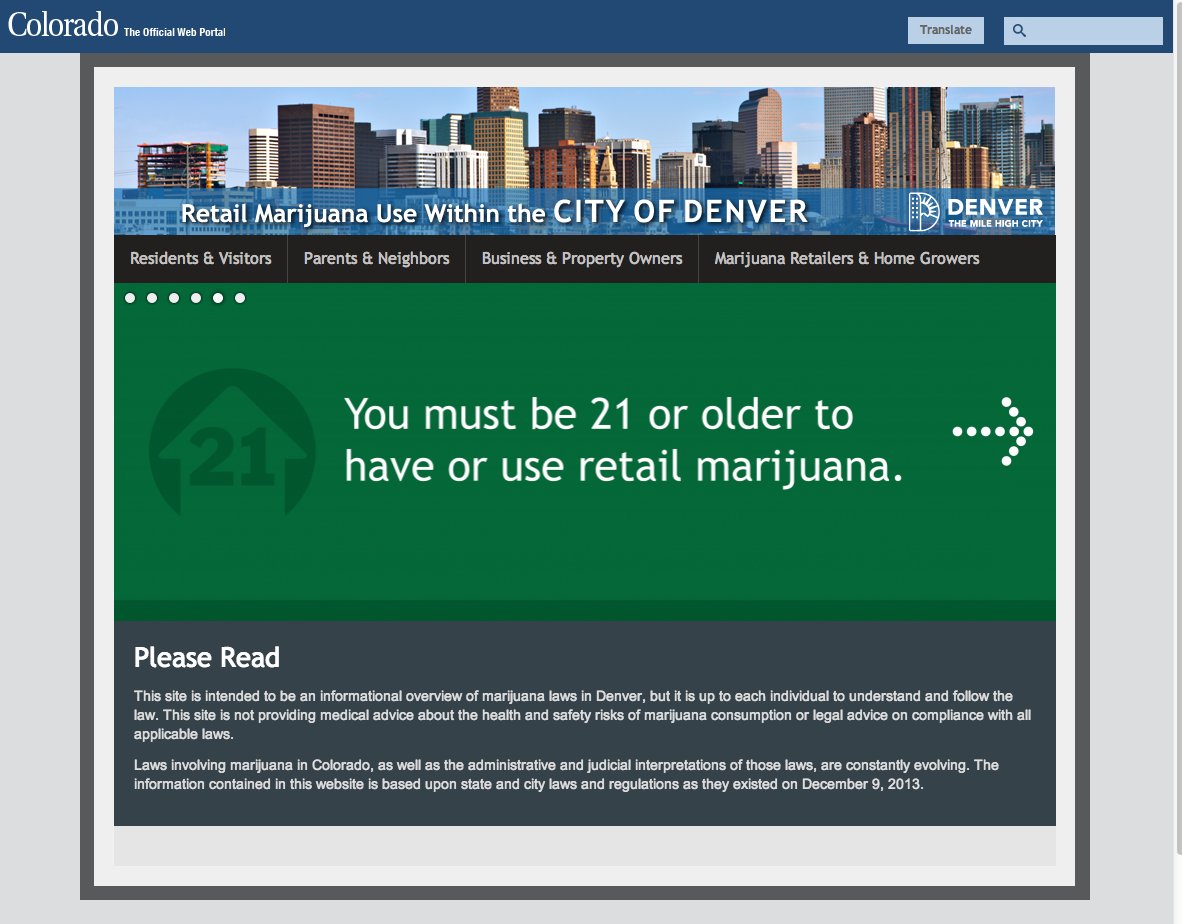 The website offers additional rules and information for residents, visitors, marijuana dispensaries, parents, business owners and home marijuana growers, featuring answers to the commonly asked questions about the groundbreaking new marijuana laws in the state.
Laws which continue to evolve. Denver City Council is still deciding on many details still -- this past Monday, lawmakers voted on how many plants can be grown for personal use in a home as well as on rules for front porch pot smoking. If and when changes in the law take shape, the website will continually be updated with the latest information.
Colorado's first retail marijuana shops are expected to open on January 1, but despite more than 100 awaiting approval, as few as five or ten may begin operating come the start of the new year. For those shops that do get through the lengthy approval process by the first of the year, business will likely begin booming.
"The whole world is watching us right now and the whole world is going to have their eyes on us in January," said Toni Fox, owner of 3D Cannabis Center in Denver, to The Huffington Post. Fox expects to be one of the shops that opens on day one, pending final approvals from city inspectors, and anticipates upwards of 70 percent of her business coming from tourists.
"I'm thrilled, I'm excited, I'm elated, I can't wait! It's an amazing, amazing time," Fox said. "I just pinch myself. I can't tell you how many times I cried tears of joy. Our cannabis laws our insane, but marijuana prohibition has finally ended in Colorado."
Calling all HuffPost superfans!
Sign up for membership to become a founding member and help shape HuffPost's next chapter
BEFORE YOU GO
PHOTO GALLERY
27 Reasons Why The U.S. Shouldn't Lead The War On Drugs