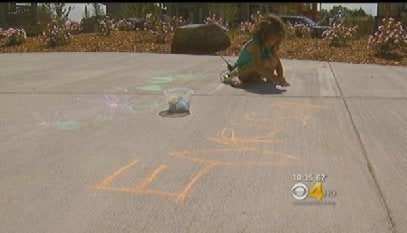 We've heard of kids getting in trouble for graffiti. But sidewalk chalk?
A Colorado community is trying to stop local children from coloring on their pristine sidewalks, CBS4 Denver reports. Specifically, the Denver neighborhood of Stapleton wants 3-year-old Emerson Cohen to stop scribbling.
Kids in Denver already have a curfew -- but to Sarah Cohen (Emerson's mother), a ban on chalk seems particularly draconian.
"My initial reaction was, 'You have to be kidding me,'" Cohen told CBS.
Some Stapleton residents believe that Emerson's chalk art makes the communal area less pleasant for others, but Emerson's mom disagrees: "She's not bothering anyone," Cohen told CBS. "It's actually pretty neat -- she's learning how to spell her name."
The ban will ultimately need to be approved or rejected by Cohen's Stapleton neighbors.
While this isn't the first time chalk has created controversy -- it was a tool used in the Occupy Wall Street movement to spread the "99%" message -- the backlash from the community in response to Cohen's daughter's doodles has surprised her.
Kids not being allowed to use sidewalk chalk in the summer -- what's next, a ban on ice cream?