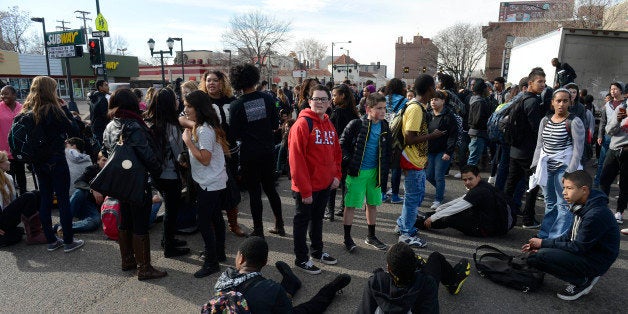 DENVER, Dec 5 (Reuters) - Denver police are investigating a motorist who plowed into officers during a demonstration by high school students protesting the killing of an unarmed black teenager in Missouri, badly injuring one of the officers, authorities said on Friday.
Hundreds of students from the city's East High School marched through downtown streets on Wednesday in solidarity with Michael Brown, the 18-year-old who was shot to death by a white officer on Aug. 9 in the St. Louis suburb of Ferguson.
Decisions by grand juries not to bring charges against that policeman, nor against a white officer in the chokehold death of an unarmed black man in New York City, have triggered nationwide protests.
The four Denver police officers were on bicycles working crowd and traffic control during the high schoolers' protest when they were hit by a sport utility vehicle driven by Christopher Booker, 41, police said in a statement.
Three of the officers were treated and released, but one, John Adsit, remains in critical condition in the hospital and needs more surgery, his family said in a statement.
The Denver Police Protective Association, the union that represents some 1,300 officers, said in a statement that officers on the scene heard some marchers cheering and yelling "Hit him again!" after the officers were struck.
"These actions are not only reprehensible but quite possibly the most disturbing thing this association has ever heard," the union said.
Denver Police Chief Robert White said through a spokesman that investigators cannot independently confirm that report.
"However, if in fact there were inappropriate actions taken by a few students, (White) does not believe this reflects the opinion of the vast majority of protesters," the chief's office said in a statement.
Denver Public Schools likewise said it had no knowledge of the reported comments by protesters, but is investigating walkouts by students at several district high schools this week.
"We have conveyed very strongly to our students the importance of ... conducting themselves in a respectful and thoughtful manner," the district said in a statement.
Police initially said they believed Booker was suffering from a medical issue, and that the crash was an accident. Investigators will interview more than 100 witnesses before issuing a report next week, police said. (Reporting by Keith Coffman; Editing by Daniel Wallis and Sandra Maler)
Calling all HuffPost superfans!
Sign up for membership to become a founding member and help shape HuffPost's next chapter