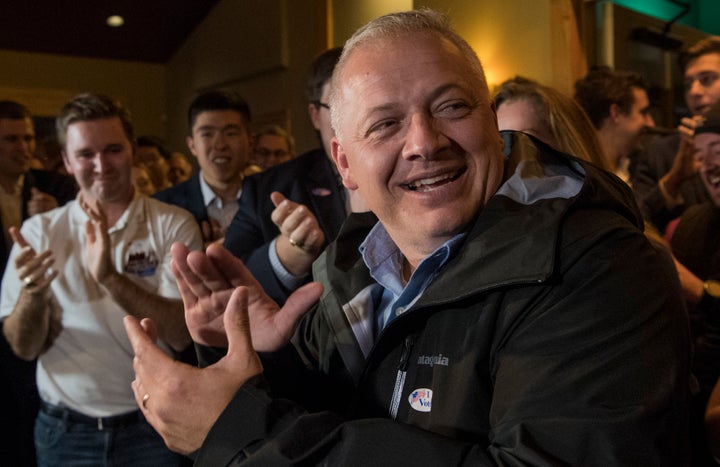 Republican Denver Riggleman, who was accused by his Democratic rival Leslie Cockburn of supporting white supremacists — and circulating Bigfoot erotica — has won his bid for a U.S. House seat in Virginia.
The race for the seat, one of a handful in Virginia in which Republicans had appeared vulnerable, had been among the closest ― and strangest ― of the midterms.
Cockburn criticized her opponent in July for "campaigning with a white supremacist," referring to a video showing Riggleman hitting the campaign trail with white national Isaac Smith. In the same breath, she mocked Riggleman for being a "devotee of Bigfoot erotica."
Cockburn shared two curious images on Twitter, both of them taken from Riggleman's Instagram page. One was a drawing of a Bigfoot-like creature with its genitals obscured by a "censored" sign; the other showed Riggleman's face superimposed on a different Bigfoot drawing that also had its genitals censored.
It later emerged that Riggleman, a distillery owner who formerly served as an Air Force intelligence officer, has authored two books about Bigfoot, including one titled The Mating Habits of Bigfoot and Why Women Want Him.
Riggleman told USA Today that those books were parodies and have "nothing to do with Bigfoot erotica." He also said the drawings were not porn, but a joke between friends.
Though some Twitter users expressed amusement at the revelation of Riggleman's interest in Bigfoot, some voters had urged Cockburn to focus on the truly important issues ― like Riggleman's possible ties to white supremacists ― instead of shaming fetishists.
Riggleman, who grew up in Charlottesville, wrote an op-ed in July denouncing the rally and white supremacists. "If you think that the color of your skin or the religion you practice makes you 'superior' to anyone else in this country, I'm just not your guy," he wrote.
Popular in the Community