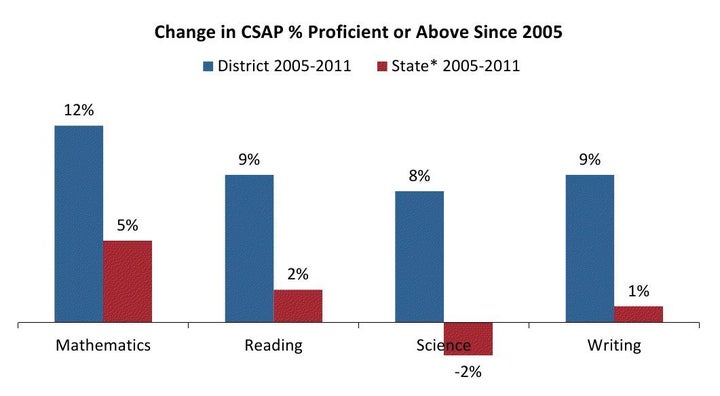 The city is implementing a turnaround plan that phases out underperforming schools and replaces them with new ones, a measure that narrowly passed a school board vote. As part of that plan, Denver split a large middle school in its northwest quarter into three smaller schools last year, and plans to do the same with a high school next year. Officials say that scores on the 2011 Colorado Student Assessment Program test prove the turnaround plan's success.
"In the middle schools, I am pleased because certain areas of town have gone through a lot of transition," said assistant superintendent Antwan Wilson. "To still see an increase is pleasing."
On the 2011 Colorado Student Assessment Program test, administered to students in third through tenth grade, Denver showed larger gains than did most other districts statewide, according to the released data. In Denver, the percentage of students ranked as proficient in math increased from 39 percent in 2010 to 41 percent in 2011; in writing from 35 percent to 39 percent; and in science from 27 percent to 28 percent.
Education advocates and officials from across the country have their eyes on Denver as it pilots new teacher evaluations -- based 50 percent on students' performance on standardized tests -- and implements school turnaround plans, two nationwide trends in public school reform.
The U.S. Department of Education advocates transforming underperforming schools by dispersing School Improvement Grants to districts that promise to subject schools to one of four specific turnaround plans. The plans differ in severity and involve staff replacement or school closure. They often face resistance from community members, who assert that given more time and attention, the schools might have improved.
Last year, for example, Denver closed down Lake Middle School, replacing it with three new middle schools that currently serve only sixth graders. The measure was approved in a 4-3 vote at the end of a contentious school board meeting.
Denver Public Schools is touting Wednesday's release of test scores as evidence of the measure's success, since the three new schools showed overall gains in reading, writing and math. A statement circulated by the district praised "nearly across-the-board improvements."
"We've seen a real resurgence in middle schools across the district in the past five years, and now we're seeing that surge of progress gain momentum in Northwest Denver," DPS Superintendent Tom Boasberg said in the statement. "I know that changing the status quo is politically controversial, but it is truly changing opportunities for our students in Northwest Denver. And I'm confident that there is still a great deal of progress and improvement ahead at these schools."
Yet the higher test scores don't necessarily prove the success of Denver's overall reform plan, according to Pedro Noguera, a New York University education professor who advises the district. "In a lot of these schools that have been struggling, there's been too many different reform efforts going on," Noguera said. "There's a lack of coherence and a lack of focus on the real needs of the students."
Next year, Denver plans to turn around Montbello High School, phasing it out into three smaller schools. Wilson said the execution of the middle schools' turnaround plan will guide the Montbello school. "A lot of the lessons learned relate to the importance of maintaining expectations and having a consistency, focusing on culture, and holding to that," Wilson said. "We see that it really makes a difference. It's making sure you're hiring the right people."
As Denver gears up for contentious school board elections in November that could determine the trajectory of further reforms, Denver Public Schools officials say the test scores should bolster pro-reform candidates.
"Part of what's at stake for us is helping people understand how much of a focus we put on existing neighborhood schools and helping effective schools," Wilson said. "The acceleration and intensity of the reform movement here in Denver in many ways is tied to this next board election."
While officials were pleased with the improvement in standardized test scores in Denver schools, results from elsewhere in the state were largely disappointing. Student performance on the exams changed little overall. The percentage of students rated as proficient in reading declined slightly in all grades except for third grade statewide. The percentage of students rated proficient or advanced in math and writing across the state increased slightly, from 53 percent in 2010 to 55 percent in 2011.
According to a statewide analysis by the Rocky Mountain Investigative News Network, while the overall number of students passing reading exams has increased since their first administration in 1997, fewer students are performing at advanced levels. The analysis also found that most gains in reading were made during the first decade of testing, and that students' reading scores in most districts have actually dropped since 2006.
REAL LIFE. REAL NEWS. REAL VOICES.
Help us tell more of the stories that matter from voices that too often remain unheard.