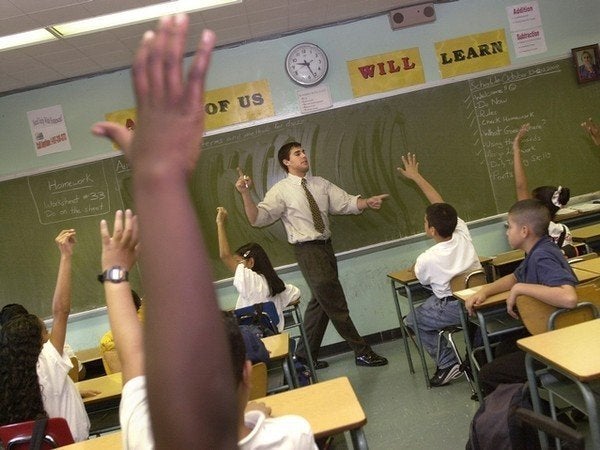 Northeast Denver's public schools will look unfamiliar when the area's 10,000 students return in August.
Montbello High School, for example, will be phased out to become three different, smaller schools. Noel Middle School is on its way to becoming an arts program with a KIPP charter middle school also residing on its campus.
These changes come as part of a larger restructuring: Denver Public Schools has already begun to implement a $17 million plan to completely overhaul the region's schools. Some schools hired new principals. Elsewhere, principals reconstituted their staffs and are now planning their curricula. New staff members are undergoing professional development. An independent contracting group is preparing to enter the schools.
"We've seen some low-performing schools in certain neighborhoods and decided that we were going to be aggressive in trying to improve those schools," Antwan Wilson, assistant superintendent in DPS, told The Huffington Post. "We had decided that we needed to implement something that was going to commit to fixing things in the long run."
But it didn't go down so smoothly. The sweeping plan led to several tumultuous meetings and angry parents. While the Montbello students interviewed by Ed News Colorado acknowledged that while something had to be done to lift graduation rates, they said they felt phasing out the school entirely is draconian.
"They say it's going to be Montbello, but it's really not," said Ashley Short, a junior at the high school. "Maybe instead of changing the whole school ... it should just be more of an implement[ing of] ideas."
"At our school, the teachers don't have the best material they need to teach us. It seems like more students need help in certain areas," she added.
"We have this pattern of neglecting struggling schools and then doing something drastic," said Andrea Merida, a school board member who is also unhappy with the restructuring. The plan, which the board passed with a 4-3 majority, led to the unsuccessful attempt to recall the school board president. "It's being marketed as a trend that everyone should get on, but it's the same failed plan that we've tried to do in other parts in Denver," she told HuffPost.
But Wilson said the process was painful only because change is difficult in general. "There's a lot of passion and tradition and feelings in that high school," he said.
The overhaul involves teacher turnover, with 43 displaced probationary teachers unable to find new jobs within the system, the Denver Post reported.
The federal government counts school turnaround as a crucial strategy for improving education. U.S. Secretary of Education Arne Duncan set the benchmark at making 5,000 "persistently low achieving schools" successful. Four federal options for reforming foundering schools include turnaround, transform, restart or closure. Duncan encourages these models with financial incentives such as School Improvement grants and Race to the Top, a federal competition encouraging education reform that Colorado lost.
But few turnarounds proceed without controversy. Critics say the triage approach is too blunt to be nuanced and successful.
"You have to figure out why a school's failing. The administration hasn't really shown that level of attention to that part of the problem," said Pedro Noguera, an education professor at New York University.
While Noguera lauds the focus on underperforming schools, analysis should focus on preserving their successful components instead of simply overhauling them, he said.
"Some of the schools that have been chronically failing have been designed to fail. They're overpopulated by high-needs children and underresourced and staffed by inexperienced educators," he explained. "If you started by sending quality review experts in, you would have a much better chance to figure out what needs to be done than just fire half the teachers or replace the principal."
Community conflict arises, Noguera said, because of a lack of communication. "Too often, there's no community engagement in the process," he said. "They come in and say your school's failing, and you'll do x, y, z. There's no conversation."
Noguera was called in by DPS to consult and plans to help them implement the plan, he said.
New York City sought to use federal money for "turnarounds." But it could not negotiate them with the teachers union.
Instead, the city chose to use the "restart" model. It also closed 22 schools on its own.
These plans ratcheted tensions between the teachers union and school officials. In May, the United Federation of Teachers -- along with the NAACP -- sued the city for closing schools and moving charter schools into buildings with existing traditional public schools.
The suit led to harsh words from schools chancellor Dennis Walcott, several rallies and a June 3 restraining order to immediately halt the closures.
"In New York City, the models haven't benefited the children," Noguera said. "The new school that goes in place of the old one isn't designed to serve the same population of kids."
Yet charter schools are becoming increasingly popular in states across the country. Louisiana's special school district created in the wake of Hurricane Katrina turned many schools into charters. Detroit is seeking to do the same. Philadelphia's turnaround plan, the Renaissance Schools Initiative, invited charter school managers to restart 15 underperforming schools.
Merida blamed support for turnarounds on a "corporate reform mentality," she said, with businessmen managing education. She and Noguera both noted that Duncan implemented similar plans in Chicago to mixed results.
The new plan caused special education teacher Londa Mull to lose her job after two years on the job. When her students at Montbello heard about the phase-out, she said they told her they would retaliate by bombing the state exams.
"I felt like part of my job was to encourage them to do their best and to show them, 'you guys need to really do well on this test so that it makes them look bad for closing the school,'" Mull said.
Calling all HuffPost superfans!
Sign up for membership to become a founding member and help shape HuffPost's next chapter