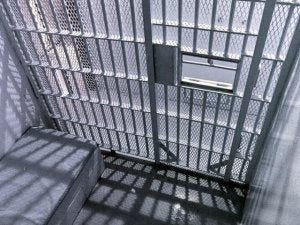 The ACLU has penned a letter to the head of the Colorado Department of Corrections alleging "degrading," "gratuitous" and unconstitutional cavity searches at the Denver Women's Correctional Facility (DWCF).
The letter referred specifically to a new procedure known as the "Labia Lift," in which inmates are required to part and lift their labia and sometimes pull back their clitoral hood to prove that they aren't hiding contraband in their vagina or vulva.
An article in the July, 2010 edition of the Boulder Weekly cited ten letters from inmates at DWCF describing their experience with the "Labia Lift" procedure.
One inmate described to the Boulder Weekly the correctional officer's apparent joy at performing the procedure, recalling "the first time I was told to spread my labia for a search, the CO doing it grinned and acted very pleased to see my inner folds. She is apparently a lesbian."
Others who have survived past sexual abuse described near panic attacks at being forced to expose themselves to officers.
The ACLU cites a justice department report claiming that "[a]pproximately 80 percent of women behind bars have been the victims of domestic violence and physical abuse at some time prior to their conviction."
Inmates who refuse to abide by instructions are threatened with physical force or the loss of family visitation rights.
The ACLU contends that the "Labia Lift" searches are often performed without sufficient reasoning, and "raise grave concerns under the Fourth and Eighth Amendments."
Furthermore, the letter alleges that the searches "undermin[e] the rehabilitation of prisoners."
The Colorado Department of Corrections has confirmed that it received the letter, but is withholding comment on the specific concerns spelled out by ACLU until further review.
However, a spokesman told the Boulder Weekly in July that the new search procedures being used in Denver have been employed at the Women's Correctional facility in Pueblo Colorado for some time, and that the Denver facility was not in compliance with the guidelines established by the Pueblo facility.
The spokesman said that DWFC has since come into compliance with guidelines, and that the procedure is now "completely a visual assessment."
Related
Popular in the Community