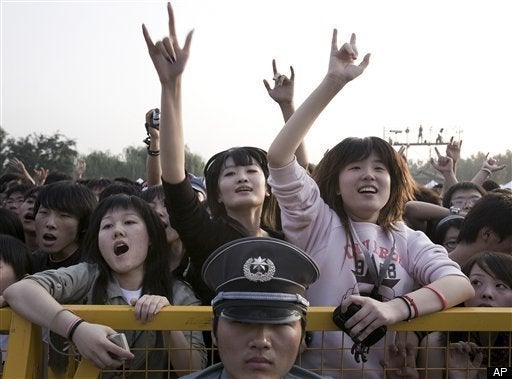 The Problem of Leisure: Denver's Essential Concert Calendar for the Week of October 15-21st.
The weekend is dead to you, dear concertgoers. To get the most out of Denver's musical panoply, we at Donnybrook Writing Academyare going to recommend show hopping from the Bluebird to Rhinoceropolis on Tuesday night because one of this week's opening acts is just too good to miss.
Soul-punks Gossip sweep into town on Monday night. Expect the Portland-based trio to deliver a high-energy show to match their latest release, Music for Men. Singer Beth Ditto is the consummate front woman, but Gossip's live show wouldn't succeed without essential contributions from guitarist Brace Paine and drummer Hannah Blilie. Paine acts as Ditto's musical muse, drawing out the breadth of the singers' talent. Blilie, an androgynous punk, may seem like Ditto's polar opposite, but she is really Gossip's secret weapon.
- Bluebird Theater 3317 E. Colfax Ave Denver, CO 80206
Tues Oct 20: Future of the Left

Do not miss the chance to see Welsh trio Future of the Left. Sure, Future of the Left may be opening for ...And You Will Know Us By the Trail of Dead but they also released Travels With Myself and Another, a record that is the year's most unappreciated mix of loud, tight, and angry. You can be sure that Andy Falkous and company will leave a trail of newly minted fans in their wake tonight. And if anyone among you still mourns the loss of Falkous' previous band, mclusky, it's time to unclench your fists
- Bluebird Theater 3317 E. Colfax Ave Denver, CO 80206
We at Donnybrook are not strangers to the wonders of Lo-Fi dream weaver Phil Elverum, who is the Oz-like presence behind Mt. Eerie/The Microphones. One of Elverum's tunes, "The Sun," even inspired our own Father Guido's most recent snobcast. On Tuesday night Elverum will be out to support Wind's Poem, his latest release that proves he's still a stylistic magpie who is not afraid to juxtapose metallic noise against gentle ambient whispers or complex tribal rhythms with stripped down confessionals.
(PS If you can't make the Mt. Eerie show, consider that Elverum's high school chum Karl Blau will be at Rhinoceropolis on the 18th)
- Rhinoceropolis 3553 Brighton Blvd Denver, CO 80216
For more cultural musings and societal hobnobbery, visit www.GoDonnybrook.com.
REAL LIFE. REAL NEWS. REAL VOICES.
Help us tell more of the stories that matter from voices that too often remain unheard.