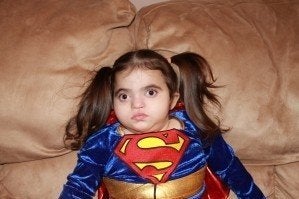 After you read this, go here and read Susan Senator's compelling argument about why I am wrong, and why Amelia should be put on the transplant waiting list just like anybody else. Lisa Belkin

Amelia Rivera is three years old. Her mother, Chrissy, describes her as "a happy child whose perfect day involves swinging in the Pooh swing, batting her favorite toy bug under her toy mat, and rolling around on the living room floor to bang her leg on the dog's head. In her eyes, her life is perfect. And after two years of having her in my life, in my eyes her life is perfect."
Amelia was born with Wolf-Hirschhorn syndrome, caused by a deletion on the fourth chromosome. Its effects include seizures, heart problems, and a shortened life expectancy. About one third of patients die before the age of two, and while some survive into early adulthood, that is relatively rare. Amelia can not walk, or talk, though "she does recognize us," her mother said in a telephone interview, and "she can communicate her needs. When she rolls across the floor and bangs her legs against ours we know she wants us to pick her up."
In short, it is a heartbreaking condition.
Kidney complications are not the most common part of the Wolf-Hirschhorn checklist, but they are a complication that Amelia has, and doctors at the Children's Hospital of Philadelphia have told her parents, Chrissy and Joe, that the little girl will die in about six months to a year without a kidney transplant.
Doctors also said -- until they changed their minds (somewhat) late Sunday in the face of an Internet outcry -- that they would not perform that transplant.
As Chrissy tells the story, the latest chapter in Amelia's tale began at a meeting at CHOP last week. Chrissy and Joe thought it was a meeting about the steps they needed to take to be tested as potential kidney donors for their daughter, but within minutes they realized that a doctor they had never seen before was telling them that Amelia was not a transplant candidate because she is "mentally retarded."
The doctor begins to talk and I listen intently on what he is saying. He has a Peruvian accent and is small, with brown hair, a mustache and is about 65 years old. He gets about four sentences out (I think it is an introduction) and places two sheets of paper on the table. I can't take my eyes off the paper. I am afraid to look over at Joe because I suddenly know where the conversation is headed. In the middle of both papers, he highlighted in pink two phrases. Paper number one has the words, "Mentally Retarded" in cotton candy pink right under Hepatitis C. Paper number two has the phrase, "Brain Damage" in the same pink right under HIV. I remind myself to focus and look back at the doctor. I am still smiling.

He says about three more sentences when something sparks in my brain. First it is hazy, foggy, like I am swimming under water. I actually shake my head a little to clear it. And then my brain focuses on what he just said.

I put my hand up. "Stop talking for a minute. Did you just say that Amelia shouldn't have the transplant done because she is mentally retarded. I am confused. Did you really just say that?"

The tears. Oh, the damn tears. Where did they come from? Niagara Falls. All at once. There was no warning. I couldn't stop them. There were no tissues in conference room so I use my sleeve and my hands and I keep wiping telling myself to stop it.

I point to the paper and he lets me rant a minute. I can't stop pointing to the paper. "This phrase. This word. This is why she can't have the transplant done."

"Yes."

I begin to shake. My whole body trembles and he begins to tell me how she will never be able to get on the waiting list because she is mentally retarded.
In the days after Chrissy wrote that on a blog for Wolf-Hirshhorn families, a petition sprouted online demanding that CHOP change its institutional mind. Amelia now has a Twitter hashtag (#TeamAmelia) and a Facebook campaign full of outrage that this little girl would be denied a transplant solely because she has special needs. The doctors are heartless and discriminatory, those postings say. What about the Hippocratic oath, they ask.
This is not one of those outraged posts.
I do not think Amelia should be put on the waiting list for a transplant.
Kidneys, all human organs, are among the rarest and most precious of the world's resources. The National Kidney Foundation tells us that 104,748 people are currently waiting for a transplant of some kind right now and 4,000 names are added to that list each month. Today -- every single day -- 18 people will die while waiting. Each of those patients is someone's child.
The stark reality then, is that a kidney that goes to one patient means it does not go to another. Giving a kidney to Amelia means that someone, whose name you will probably never know, but who will be loved just as fiercely as Amelia is, won't get one in time.
Which is why there are rules -- unemotional, clinical, detached rules -- for a situation that is none of those things. And it is why there are forms like the ones placed in front of Amelia's parents. Amelia is not being denied a donor transplant because she is, as her mother writes, "mentally retarded." She is being denied a donor transplant because she has a cascading syndrome that will shorten and limit her life, meaning that kidney will not "save" her in the way that it might someone who starts out healthier. In cold clinical terms this means that everything it takes to undergo a transplant -- the medications, the repeated biopsy procedures afterwards, the constant monitoring and machinery -- are difficult and sometimes impossible compared with a child who is less impaired. The less mobile a patient is, the far greater the likelihood that she will develop an infection, or pneumonia, or a host of other complications that make it probable that the transplant will eventually fail. Which, in those same cold clinical terms, would make it a waste of an organ.
In a world with unlimited organs it would be reprehensible to deny anyone a transplant because of her limited lifespan, her limited understanding, or her inability to go on to lead a life as full as some other child might. But organs are not unlimited, and there is no way around these choices. It is a most imperfect and wrenching system. It is inexact and capricious. It brings me to tears as I write about it. But it is the best way we have at the moment.
I was a medical reporter for nearly a decade at the New York Times, and my first book was about the three years I spent observing the inner workings of a hospital ethics committee, so I have seen these decisions made up close. I am also, by way of full disclosure, married to a pediatric cardiologist who has made these decisions as well. It is from that dual vantage point that I write this, and would like to share a few thoughts.
First, I was not in the room when Chrissy and Joe met with the doctors, so I don't know exactly what was said. I do know that too many doctors are awkward or brusque or downright insensitive when delivering difficult news. But I have also had the chance to be in the room when doctors have given this kind of news to patients, and many of those times what the family remembered hearing afterward was not what my notes or my tape recorder heard. I am not sure that there would be any words at all that would have made this an acceptable conversation for the Riveras.
Second, the term "mentally retarded." It makes us cringe. It felt to Chrissy and Joe like a slap, a diminishment, a denigration. But in the language of medicine it is simply a descriptive term, one used in its clinical sense and one that fills the medical literature and is used every day. There's a separate but worthwhile debate to be had over whether it is time for the profession to find a new term -- ("I know it's just a word," Chrissy said when we talked, "they should find another word") but it was used on that form as a clinical diagnosis, not an aspersion or a dismissal.
Finally, for perspective and advice I called Dr. Kurt Hirschhorn, a pediatrician and geneticist at The Mount Sinai School of Medicine, and one of the two researchers who identified Wolf-Hirschhorn Syndrome in the early 1960s. He was also the head of the Mount Sinai Hospital Ethics Committee for 30 years (and, as it happens, he's been a mentor to my husband at Sinai, and we consider he and his wife our friends). Kurt read Chrissy's story and I asked him, "Should Amelia be put on the donor list for a kidney transplant?"
"What our ethics committee would tell the parents is that we can't give her a kidney, because there is a shortage of kidneys, especially for little kids, and her impairments are too significant," he continued.
Throughout this article I have been careful to use the term "donor kidney," meaning one from an anonymous deceased donor, per the protocols of the national organ registry. There is another kind of kidney donation, however -- from a living designated donor (you can live with just one kidney) but Chrissy says the hospital rejected that option during last week's meeting. (You can read the entire hospital statement, which they placed on their Facebook page here.)
Dr. Hirschhorn said he did not understand why. As an ethicist he would want to make sure that a potential living donor fully understood the personal risks of such a donation, and also understood that Amelia's life would be prolonged, but not saved, by the transplant. If the donor agrees -- ("we either take the risk or she dies" her mother says "so we take that risk") then that might be the best answer to a Solomonic question.
Designated donation is what the Riveras say they wanted to do from the start. "We were never asking that she be listed," Chrissy said, reiterating that they thought last week's meeting was about the procedure for testing potential family donors. "We didn't want her on the list. We don't want to take a kidney from anyone else. We want to give her one ourselves."
Just before I called Sunday night, she said, she'd spoken to the hospital and had gotten word that a transplant for Amelia could in fact be approved there -- with a living designating donor. The Riveras are relieved, Chrissy said, but also angered by what they have heard these past few days from other families who have been told "your child can not receive a transplant because of cognitive disabilities."
Their growing number of supporters are still angry, too, and posts continue to fill Facebook and #TeamAmelia, raging against a medical system that critics see as treating those with special needs as less worthy of saving.
There is reason for anger here, I agree, but not at the doctors who got into this line of work in order to save lives, and not at the national organ registry that made rules no one really wants to have to make.
The anger should be directed at a system where, of the 12,000 people who died last year and met the criteria to be donors -- 12,000 people whose hearts and lungs and livers and kidneys could have gone on to save many times that number of lives -- only half of those potential lifesavers were registered as donors. The rest of the organs went to waste.
So be angry. And then go sign your organ donor card.
Related