TUSCALOOSA, Alabama -- The heavyweight champion of the world was stepping into his bronze Rolls Royce Phantom one afternoon this August when a man walked up and asked for a picture.
"What position does he play?" the selfie-seeker asked a nearby photographer after Deontay Wilder drove away.
It wasn't the first time someone had mistaken Wilder, the 6-foot-7, 220-pound holder of the World Boxing Council's heavyweight championship belt, for a ballplayer. Wilder -- the first American heavyweight champ in nearly a decade -- hails from Tuscaloosa, Alabama, home of the Crimson Tide. Most people don't know about his 34-0 record or his 33 knockouts. They don't know his nickname, "The Bronze Bomber," a tribute to fellow Alabaman Joe Louis. They don't know about his title, and they don't know he'll be defending it on national television on Saturday.
When they're not mistaking Wilder for one of Nick Saban's players, people sometimes mistake him for LeBron James. That started at the Olympics in 2008, when James led Team USA to a gold medal in basketball and Wilder won a bronze medal in boxing. "People would be like, 'James! James! We love you!'" Wilder remembered.
It's been a long time since boxing seized Americans' attention -- in Tuscaloosa or anywhere. Just 14 percent of respondents in a recent Huffington Post/YouGov poll said they were boxing fans -- and 58 percent of those people said the sport's best days are "already behind it." Jack Johnson, Jack Dempsey, Joe Louis, Rocky Marciano and Joe Frazier are dead. Muhammad Ali uses a wheelchair. George Foreman sells grills. More young people know Mike Tyson as a character from the "The Hangover" -- or as a convicted rapist -- than have seen him box.
"There are really no fighters in the pipeline," Robert Boland, a professor of sports business at New York University, told Reuters ahead of the match that was supposed to recapture the nation's lasting attention: Mayweather's May fight with Manny Pacquiao, the Filipino eight-division champ. "This is a time when boxing is probably at its lowest point since the beginning of the 20th century and the rise of pro fighting."
Despite Mayweather-Pacquiao's record-breaking ratings, Pacquiao looked long past his prime and the fight didn't live up to the hype. Mayweather claims his dominating victory over Andre Berto earlier this month was his last. But it's likely that American boxing hasn't seen the last of its woman-battering standardbearer: Few people believe Mayweather will quit the sport for good before breaking his current tie with Marciano, which stands at 49-0.
Wilder's fans think he's the last, best chance to save American boxing: the anti-Mayweather -- the kind of charismatic, likeable, underdog hero the sport needs. On Saturday, he will defend his title live on NBC, and become the first heavyweight to do so on primetime broadcast television since before he was born.
"I honestly feel like when Floyd retires, the boxing world will be depending and eyeing and looking at Deontay Wilder," said Damarius "Cuz" Hill, one of Wilder's trainers.
"I will be that guy to change this sport, especially in the heavyweight division," Wilder said. "A lot of people have lost interest. I'm the right man for the job … I want to make it bigger and better than it ever have been before."
But if Wilder is going to succeed, people are going to have to know who he is.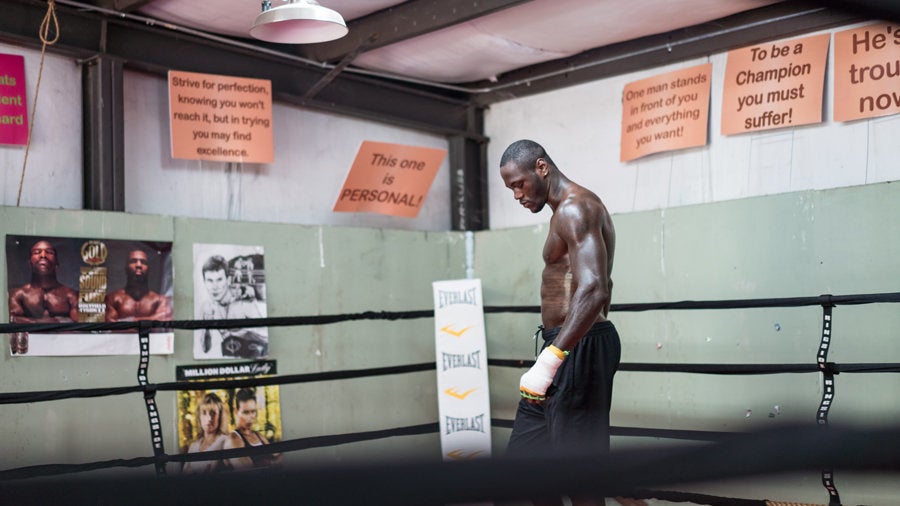 Wilder, 29, grew up as one of four children in Tuscaloosa, where his father worked as heavy machine operator for the nearby city of Northport and his mother still works at a local restaurant. As a kid, Wilder knew and admired fighters such as Ali and Tyson. But he didn't grow up boxing like fighters such as Mayweather and Oscar de la Hoya, who each put on gloves before they were even 10 years old.
That's not to say Wilder, who was picked on as a kid, was a stranger to fighting.
"The craziest thing about it, I used to hate fighting, but you had to show how tough you was, you had to show you wasn't no punk," Wilder said.
Wilder wanted to play football or basketball for Alabama, but his journey to the ring began in 2005, on the day he learned he would be a father.
Wilder, who was 19 at the time, was "just living my life as a teenage boy," he remembers. "Now you find it ain't all about you anymore." Soon after, doctors told Wilder and the baby's mother their daughter had spina bifida, a condition in which a baby's spinal cord does not develop properly. In some cases, spina bifida leads to difficulties walking or even paralysis.
"Everybody wish and hope and pray for a healthy child," Wilder said. "In the end, [the doctor] also gave us the option, 'You can terminate the pregnancy. You don't have to worry about it and y'all can go back to your lives.'" Abortion "was immediately out of the picture," though, he said. "At this far along in the pregnancy, ain't no need to terminate. She's here. She's developing. And when you get to that point, I believe let a life live," he said. "I was willing to take all the challenges for this little girl to have a successful life and be happy."
When his daughter Naieya arrived in March 2005, Wilder held the tiny baby in the palms of his hands, bonding instantly. "She was so small. I remember carrying her around just like that," Wilder says, curling his arm into his body. "Whatever it takes, we're going to make this happen."
Dreams of playing football or basketball came to a halt, and Wilder, who had been taking classes at a local community college, decided to drop out of school. He took multiple jobs, first as a waiter at IHOP and Red Lobster, and later as a Budweiser truck driver. With costs of Naieya's treatment and surgeries mounting, he spoke to friends about taking up boxing as a career.
"[My friend] thought it was a good idea because I handled myself well streetwise, although nothing good ever came of that," Wilder said.
He visited a local gym, Skyy Boxing.
"When I walked into those doors, it was like a hallelujah moment," Wilder remembered. "The angels and everything. … Guys hollering. When they throw punches, the breathing, the sparring. The heavy bags being hit. All of that -- it was a heavenly sound to me. … I felt I was at the right moment at the right time in my life, and I knew this was my last opportunity to be a famous athlete and to provide for my daughter."
His trainers at Skyy Boxing were not as optimistic.
"When I first saw him, I just saw him as a tall, skinny kid," Cuz said. "But he proved us all wrong."
It was tasking schedule at first. Wilder would shadow-box while on deliveries for his beer distributing job. His trainer Jay Deas, who founded Skyy Boxing in 1997, told HuffPost Wilder would park outside the gym and sleep in his car, exhausted from the triple burden of working, training and fatherhood. Wilder worked "hard or harder when he thought I wasn't watching," Deas said. "That was my first thought when we may have something special."
Wilder's daughter remained the fighter's driving force.
"That's the thing that got him to the gym after a long day at work," Deas said. "That's the thing that got him running hills at 7 a.m."
Wilder had his first amateur fight within three months of walking into Deas' gym. It was "by far the quickest I've ever done that," Deas said. "Typically it takes a guy at least six months."
Within three years, Wilder was an Olympian, earning a bronze medal at the 2008 games in Beijing. Out of 286 fighters throughout all weight classes, he ranked 286th in experience. He may not have come away with the gold, but Wilder remains the last American male fighter to medal in boxing at the Olympics.
It was "unheard of," Deas said. "Nobody knew who he was. He didn't go through the camps that all the other guys went though to prepare themselves for the Olympics. He just came in and destroyed everybody in his path. Nobody had ever seen anything like that."
Wilder stayed humble. After the boxer returned from the Olympics win, Deas found him at the gym on his hands and knees, retiling the bathroom floor.
A few months after his success in Beijing, Wilder turned pro and began racking up wins. Boxing became his full-time job, and he set his sights on a heavyweight title. It was a goal, Wilder said, that he had promised to Naieya early in his career, when their story began attracting the attention of the local media.
Wilder remembers trying to get baby Naieya comfortable with the cameras by letting her play with his gloves.
"I just said, 'Baby, it's going to be OK and Daddy's doing this,'" he recalled. "'Daddy's going to be a world champion one day.' But she didn't understand, she was just looking, playing with the gloves. She wasn't even paying attention to me. But I meant it. I meant every word."
Wilder delivered on that promise this year on Jan. 17, Muhammad Ali's 73rd birthday. He defeated Bermane Stiverne in front of a Las Vegas crowd to win the WBC heavyweight championship belt -- the same one that Ali, Tyson and Evander Holyfield once owned. After he became the first American since Shannon Briggs in 2006 to win a heavyweight championship title, Wilder went on to defend the title in June, knocking out Eric Molina in nine rounds before a Birmingham crowd.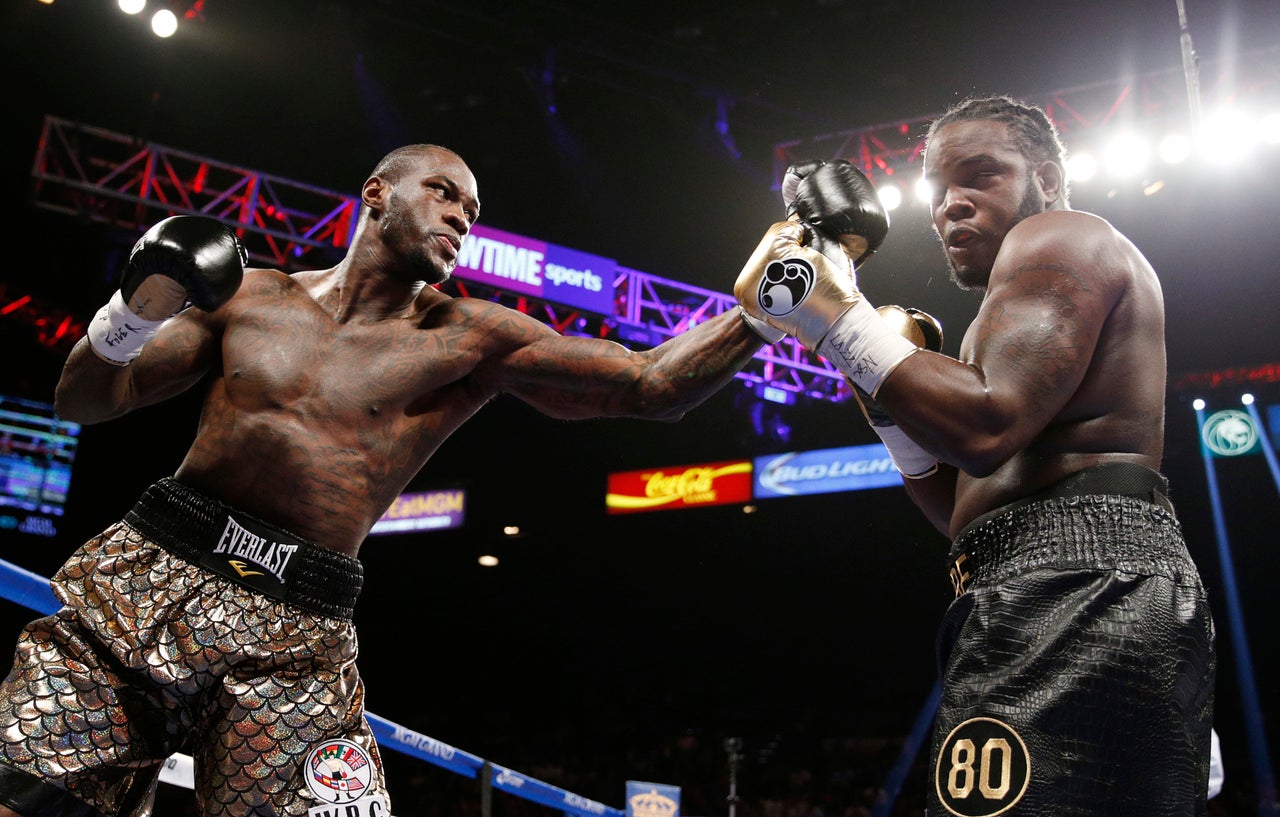 "It took a lot of hard work, dedication, blood, sweat, tears and just being focused on boxing," Cuz, his assistant trainer, said. "If you put anything before boxing, I don't think you'll be successful. Well, you put God first, and then boxing."
Cuz said he hopes Wilder's growing success and recognition will bring more Americans back to boxing.
"The heavyweight division has been on downfall, but now with Deontay reigning as the champion, he's slowly but surely bringing back into the limelight," Cuz said. "You don't have any Alis any more, any Tysons that really trains hard. … Deontay just has different demeanor about himself. … He's more of a people's champion."
On Sept. 26, Wilder will return to Birmingham to defend his title against France's Johann Duhaupas, live on NBC's Premiere Boxing Champions series and free of any pay-per-view or premium channel costs.
"I can only fight what's in front of me, for one; that was their era, this is my era," Wilder said. "If you don't like it, you train a fighter, or get in it yourself. Whether somebody think badly of me, whether somebody don't feel that I should be doing this or I should be doing that way, I don't really care. Whether they think that my fatigue is being laid, legs are skinny, I don't care."
Even Wilder's fellow champs have doubted him. "We have to see what happens when he gets hit back," Tyson said in 2014, according to Showtime. "Anyone can knock someone out, even my 3-year-old son."
Wilder said he's a "big fan of Tyson," but he hasn't spoken to him. "Past, present, future -- I wish everybody the best," he said, adding that he has "a lot of things" he has to do for his sport. "So I can't let no confusion come in and knock me from what I'm trying to do."
Wilder does have a lot left to do. He wants to become the first undisputed heavyweight champion of the world since Britain's Lennox Lewis in 2000, who Wilder said he talks to often. To do that, he'll have to win the International Boxing Federation, World Boxing Association and World Boxing Organization titles, all of which currently belong to the Wladimir Klitschko, the Ukrainian who has dominated the heavyweight division for years alongside his elder brother, the now-retired boxer turned politician, Vitali.
Wladimir has his own match -- against Britain's Tyson Fury -- less than a month after Wilder's title defense. It will be an unprecedented 28th title match for Klitschko, breaking Joe Louis' record 27 title bouts.
Wilder's team said a match against the victor of the Klitschko-Fury fight could happen as early as 2016.
"We want all the belts," Cuz said. "We want the world to know exactly who Deontay Wilder is."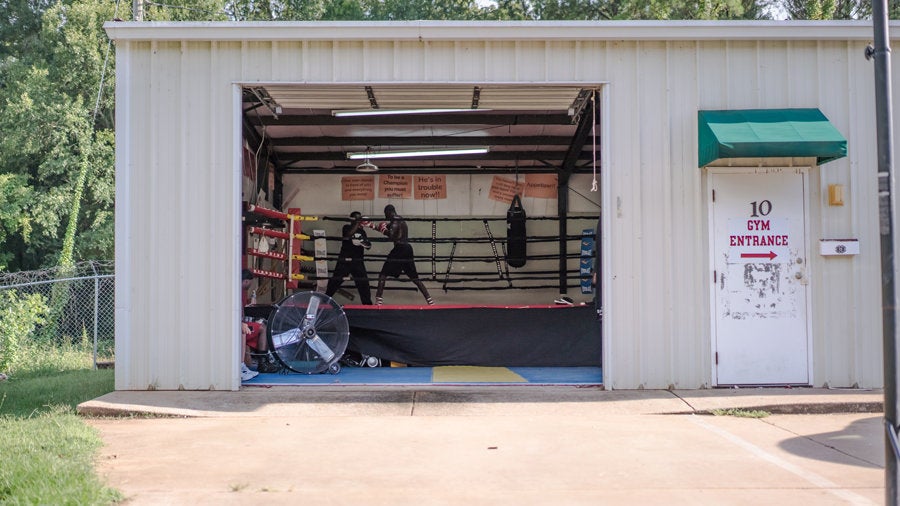 Despite his championship title and his hopes for the future, Wilder and his team still train across the river from Tuscaloosa at Skyy Boxing in Northport. The gym is housed in a low metal building that looks like a converted garage.
There's a leak in the roof. Faded posters line the walls, and you can spot a young Mike Tyson's Sports Illustrated cover alongside photos of Skyy's other staff and boxers, as well as rates for training -- $50 a month for adults -- and T-shirts. There's no air conditioning, just a few giant fans that thrum along while a round timer continuously buzzes and echoes.
"Just Because We Love What We Do, Does Not Mean We Will Do It For Free!" one sign reads.
In the morning, cars pull up along the rocky, dirt drive, and trainers such as Cuz, Mark Breland (a five-time Golden Gloves winner and 1984 Olympic gold medalist) and Willie Lowe start setting up the gym, while young boxers, including Wilder's younger brother Marsellos, lift weights, fight in the ring or hit the half-dozen bags hung up around the small space. People dip in and out, signing their name on a simple spiral notebook when they check in.
"This is like a Philadelphia, Joe Frazier-type gym," Cuz said. "You want to train where it's like suffering. … I wanna feel that pain, the sweat, the blood, and that's what makes you even hungrier. … If you want to be a champion, you have to suffer."
Cuz and the rest of Wilder's team know plenty about suffering as well for Wilder's success. Cuz said he's fractured each thumb taking Wilder's punches. Breland has had a shoulder knocked out of place. Deas suffered a hernia.
Rain comes and goes in sudden, summer downpours, and the air is thick with moisture. After a while, it's hard to tell the difference between the natural humidity and the sweat evaporating from the fighters.
Eventually, Wilder strolls in. Someone turns up the music. Familiar voices -- Marvin Gaye, Michael Jackson, Bobby Brown, D'Angelo -- fill the air. Wilder steps up to the corner of the ring. He hunches over, already beginning to drip sweat, and laces up his red and gold Everlasts. A fly rests on his back.
The guitar riff from "Get Down Tonight," by K.C. and the Sunshine Band, echoes throughout the gym. A small crowd in the gym gathers to watch Deontay Wilder train. They all know who he is.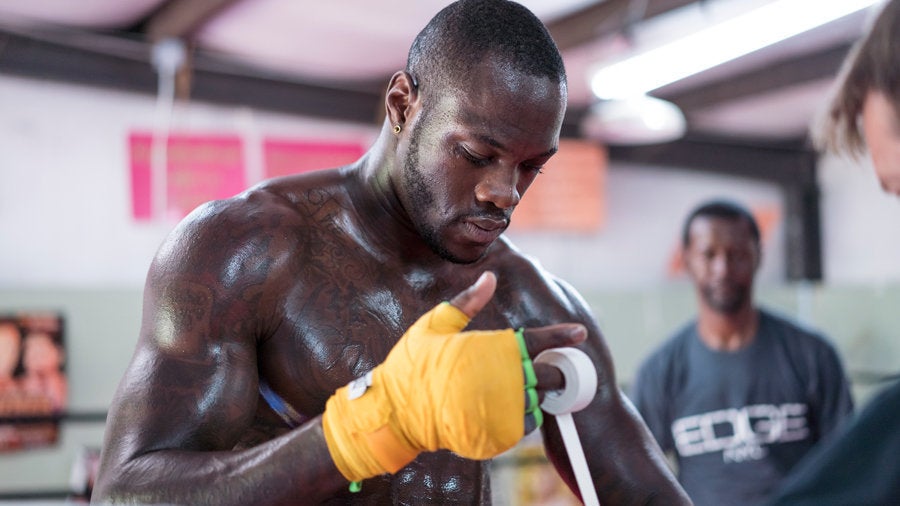 Deontay Wilder, An American Heavyweight Champion
CORRECTION: An earlier version of this story said Rocky Marciano had the longest unbeaten streak in professional boxing. Julio César Chávez Sr. holds the record for longest unbeaten streak, who went 89-0-1 before his first loss.
Related