WASHINGTON -- TSA agents would remain in airports, patrol agents would still be manning the border and Coast Guard officers would continue monitoring the waters if the Department of Homeland Security were to shut down.
But out of the public eye, there would be major problems, DHS officials warned Monday, as the Feb. 27 deadline to fund the department creeps closer.
"A shutdown of DHS would have serious consequences and amount to a serious disruption in our ability to protect the homeland," Homeland Security Secretary Jeh Johnson said at a press conference at U.S. Citizenship and Immigration Services headquarters.
Employees would go without pay, trainings for local law enforcement and firefighters would be canceled, and new grants to help states and localities deal with disasters would stop, Johnson and other officials at the press conference said.
Congress must pass a funding bill this week to avoid a shutdown of DHS. But with days to go, the two parties remain at a seemingly insurmountable impasse. Republicans say any bill that funds the department must also include measures that block President Barack Obama's executive actions on immigration, which the GOP says are unconstitutional. But Democrats have vowed to block all funding bills that include immigration-related measures, saying a debate over Obama's deportation relief actions should take place another time and, perhaps, in another venue.
On Monday night, Senate Democrats blocked -- for the fourth time -- a House-passed DHS funding bill that included provisions to block Obama's actions. The vote was 47 to 46.
As this fight plays out, a separate debate has escalated over just how harmful it would be to allow the agency to go without funding. The dispute is reminiscent of the one that preceded the full government shutdown in the fall of 2013, in which Democrats played up the consequences and Republicans accused them of opportunism. Only this time, GOP lawmakers have been a bit more wary of being seen as dismissive of a shutdown, perhaps recognizing that the stakes are higher when it comes to homeland security.
Many Republicans have argued that Democrats will be the ones who buckle under public pressure and abandon the president's immigration policy demands, in light of heightened homeland security threats. Others have suggested that a shutdown wouldn't have much of an effect at all.
One of the few Republicans who has downplayed the results of a DHS shutdown is Rep. Matt Salmon (R-Ariz.), a member of the conservative flank of the House GOP conference, which staunchly opposes DHS funding without measures to end Obama's actions. Earlier this month, Salmon said it would "obviously not [be] the end of the world" because most employees would keep working.
The Obama administration, for its part, has been warning the public about the impacts of a shutdown, albeit in less overtly alarmist tones than in 2013. Johnson's press conference on Monday was the latest in a myriad of similar public appearances he's made over the past few weeks. During a press briefing around the same time, White House Press Secretary Josh Earnest straddled an odd line, arguing that DHS workers would be hurt by having to go without pay, but refusing to explicitly say that their work would suffer.
It's clear from agency officials and employees that there is angst about a post-shutdown world. Johnson said on Monday that roughly 30,000 employees would be furloughed in the event of a shutdown, largely from the staffs of DHS offices around the country. Between 75 and 80 percent of employees would be required to come in without pay, he said.
U.S. Customs and Border Protection Commissioner Gil Kerlikowske said at the same press conference that his agency has hired nearly 500 new border officers and agents who are currently in training. They would be sent home if the agency shuts down. Last time that happened, he noted, some of the staffers ended up leaving the department permanently because they got other jobs with the training they had received from the government.
Meanwhile, Craig Fugate, the administrator of the Federal Emergency Management Agency, said at the conference that a training for first responders planned for this weekend would have to be canceled in the event of a shutdown, and could be difficult to reschedule.
Fugate said that FEMA would not be able to initiate new grants for state and local governments, or to make already promised payments on other disasters. Since much of the staff would be furloughed, they would need to be recalled in the case of a disaster rather than being on hand already, he said.
Matthew Robertson, a contracting officer for DHS who works in Washington, said that his office of 17 full-time federal employees and contractors in support roles would likely be reduced to a group of two employees deemed "essential."
"While during normal operations, each of us may have 3-4 'mission-critical' actions to administer, all of those actions fall to the essential designees during a shutdown," he said. "Obviously the workload on those individuals is tremendously higher than it typically is or should ever be, and coupled with the knowledge that they will not be seeing a paycheck for their work for an indefinite length of time, it certainly has a negative impact on morale." DHS already suffers from low morale among its employees and a high turnover rate. Officials have warned that furloughs or forcing people to work without pay would be unlikely to help.
Earlier on Monday, Obama appealed to governors in his push for a DHS funding bill, saying they should think of the department employees who work in their states.
"These are folks who, if they don't have a paycheck, are not going to be able to spend that money in your states," Obama said at a National Governors Association meeting. "It will have a direct impact on your economy, and it will have a direct impact on America's national security, because their hard work helps to keep us safe. And as governors, you know that we can't afford to play politics with our national security."
CORRECTION: Due to an editing error, a previous version of this story stated incorrectly that Monday was the first time Senate Democrats blocked a DHS funding bill that included provisions to block Obama's actions. It was the fourth time.
Before You Go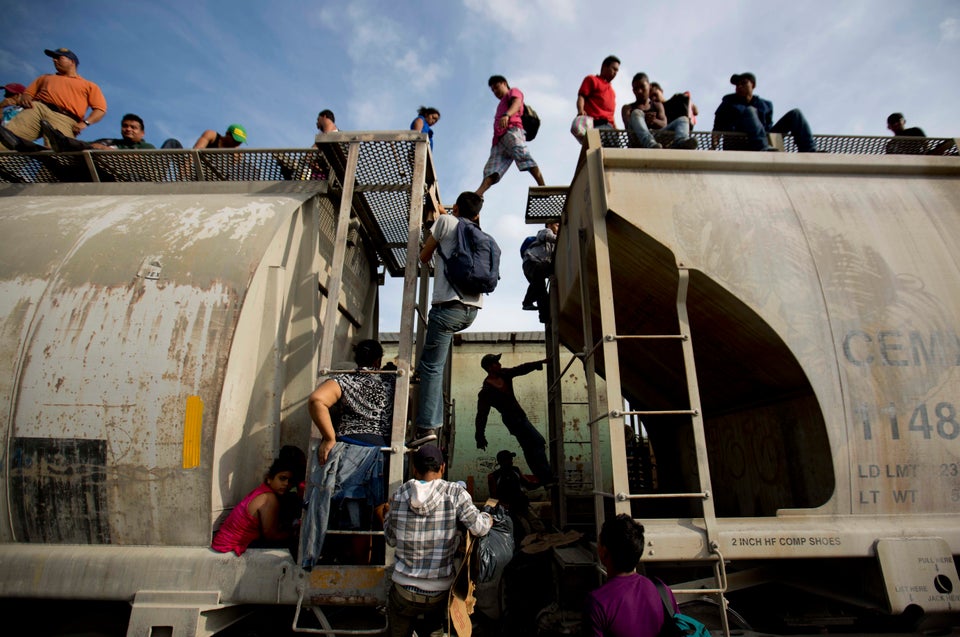 Why Latin Americans Really Come To The U.S.
Popular in the Community