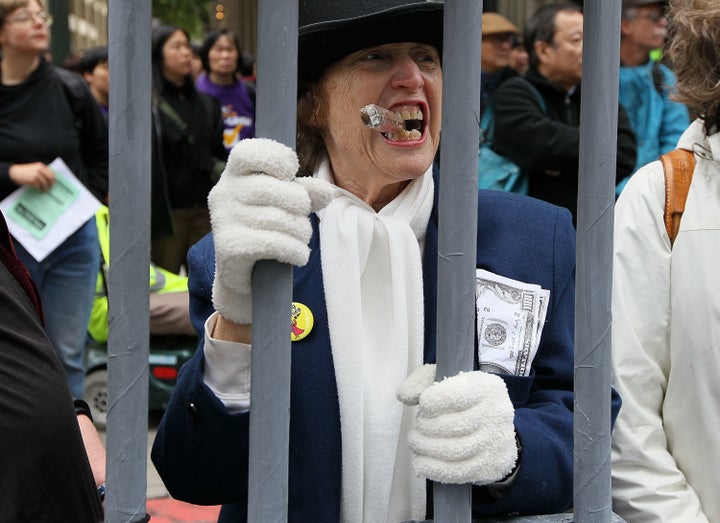 In the years since it failed to prosecute a single Wall Street executive involved in the global financial crisis, the U.S. Department of Justice has repeatedly promised to hold corporate executives liable for wrongdoing. But on Monday, when it sued Volkwagen over the automaker's scheme to disguise the illegally high amounts of poisonous gases its cars were spewing into the air, the DOJ brought no criminal charges against the company or its employees.
The German automaker, one of the largest in the world, admitted on Sept. 22 to installing software meant to cheat on emissions tests in 11 million of its diesel vehicles. Prosecutors allege the company attempted to scam the public and deliberately hid this fact from regulators, obstructed investigators, and lied to federal authorities.
By suing Volkswagen but not pursuing criminal cases against the company or its employees, the Justice Department is repeating the mistakes it made in the wake of the financial crisis, consumer advocates argue. In the years after the meltdown, several big banks effectively bought their way out of criminal charges by agreeing to pay billions of dollars to government agencies and aggrieved households. And despite widespread fraud, no top bankers were prosecuted.
Obama administration officials have repeatedly promised that kind of impunity won't continue.
"Americans should never believe, even incorrectly, that one's criminal activity will go unpunished simply because it was committed on behalf of a corporation," Deputy Attorney General Sally Yates said on Sept. 10, a day after she sent a memo to federal prosecutors nationwide instructing them to pursue corporate executives. "If the citizens of this country don't have confidence that the criminal justice system operates fairly and applies equally -- regardless of who commits the crime or where it is committed -- then we're in trouble."
"If the citizens of this country don't have confidence that the criminal justice system operates fairly and applies equally, then we're in trouble."
The case against Volkswagen "is a perfect opportunity for the Justice Department to live up to its word," said Mike Litt, who works on consumer issues for U.S. PIRG, the Federation of State Public Interest Research Groups.
The allegations against Volkwagen are "truly heinous," said Robert Weissman, president of Public Citizen, a Washington-based advocacy group. In its civil complaint against Volkswagen, the Justice Department accused the company of "knowingly" concealing from federal regulators that it had installed software designed to cheat emissions tests in about 580,000 of its diesel cars sold in the U.S. The automaker also "impeded and obstructed" regulators' efforts for about a year to learn about the "defeat device" that allowed the company to cheat the emissions tests, according to the complaint.
The Environmental Protection Agency and California's environment watchdog began investigating the company around May 2014. In the ensuing months, Volkswagen repeatedly blamed the unusually low emissions readings from its cars on "technical issues." It wasn't until September of last year that the company admitted it had cheated on the emissions tests, according to the complaint.
Federal prosecutors cited congressional testimony by Michael Horn, chief executive of the automaker's U.S. division, to allege that the company made false statements to state and federal environmental regulators. The Justice Department also used Horn's testimony to allege that Volkswagen's installation of the defeat device in some of its vehicles was a "knowing and willful decision to deceive."
Volkswagen's deception will kill people and cost the country hundreds of millions of dollars. Nearly 600,000 Volkswagens sold in the U.S. officially met government standards during testing but on the road emitted nitrogen oxides at rates up to 40 times the legal limit. The gases those cars have already emitted in the U.S. could lead to about 60 early deaths and $450 million in health-related costs, researchers from Harvard University and the Massachusetts Institute of Technology estimated in a study released in October. Those numbers will only increase: If the company doesn't recall the affected vehicles by the end of 2016, their excess emissions will cause another 140 early deaths and $910 million in health costs.
U.S. authorities and Volkswagen have yet to agree on the terms of a recall, said Cynthia Giles, who leads the EPA's enforcement division. Volkswagen declined to make any executives available to discuss the civil complaint or the lack of criminal charges. "We will continue to cooperate with all government agencies investigating these matters," Volkswagen spokeswoman Jeannine Ginivan said.
Because of the seriousness of the allegations, "justice demands a sharp break from the kid-glove, coddling treatment that the U.S. Department of Justice has shown to corporate criminals over the past decade," Public Citizen's Weismann added. "Volkswagen must be made to plead guilty for its crimes...[and] individuals inside Volkswagen must be prosecuted and should be sent to jail."
But it's only a matter of time before federal prosecutors file criminal charges against Volkswagen, say two experts -- one formerly the top environmental crime prosecutor in the country, the other a law professor who has extensively studied the Justice Department's settlements with corporations.
"Criminal charges will follow this year or early next year," predicted David Uhlmann, a professor at the University of Michigan law school in Ann Arbor and the former chief of the DOJ's environmental crimes division.
"It's just such an egregious case that it warrants both civil and criminal penalties."
"The Justice Department has fallen down on the job in prosecuting corporate crime over the last two presidential administrations," Uhlmann said. "In major case after major case [the Justice Department] has allowed companies to buy their way out of criminal liability. But that won't happen in the Volkswagen case.... It's just such an egregious case that it warrants both civil and criminal penalties."
Unlike prosecutors in the Justice Department's criminal division, those responsible for prosecuting environmental crimes have long believed that "corporations that engage in criminal activity should plead guilty or be convicted at trial, and should not be allowed to escape criminal prosecution by paying large non-criminal penalties," Uhlmann added.
Uhlmann and Brandon Garrett, a professor at the University of Virginia law school and author of the book Too Big to Jail, listed several likely reasons why the Justice Department first pursued civil claims against Volkswagen rather than criminal charges:
The Clean Air Act precludes the federal government from seeking criminal penalties against automakers that violate the law by installing defeat devices, Uhlmann said. The civil suit is "the only way for the Justice Department to address the pollution that has occurred as a result of Volkswagen's misconduct," he explained. "The lying and the fraud is a different matter [which] the government will address with a criminal lawsuit."

Prosecutors typically file civil suits as soon as they think they have a case in order to obtain additional evidence during the discovery phase of litigation, Uhlmann said. Criminal charges only come after authorities have completed their investigation and generally take much longer because prosecutors want enough evidence to establish guilt beyond a reasonable doubt.

It's common for the Justice Department to file civil lawsuits before seeking criminal charges, Garrett said. For example, federal prosecutors filed a civil lawsuit against BP eight months after the April 2010 Deepwater Horizon oil spill in the Gulf of Mexico, but didn't file criminal charges against the company until November 2012.

Federal prosecutors are probably waiting to file criminal charges against Volkswagen until they first build cases against company employees responsible for Volkswagen's alleged deceptions, Garrett said. The Justice Department's September memorandum calls on prosecutors to "put individuals first, even if you can file a case against the company right away," he noted. Federal prosecutors are probably relying on Volkswagen to turn over evidence that would implicate culpable employees. Companies that don't help prosecutors in their attempt to hold individual employees accountable are likely to face stiffer penalties, he added. Filing criminal charges now could lead Volkswagen to stop cooperating with the Justice Department, Garrett said, costing prosecutors "their best opportunity to get individuals."
Criminal charges against Volkswagen and its employees are still a possibility, Wyn Hornbuckle, a Justice Department spokesman, suggested to HuffPost.
"A civil complaint does not preclude the government from seeking other legal remedies," he noted. "The United States' investigation is continuing and will follow the facts and evidence wherever they lead."
But the DOJ's critics are unconvinced. Federal prosecutors, Weismann said, "don't have a record that merits giving them the benefit of the doubt."
Popular in the Community