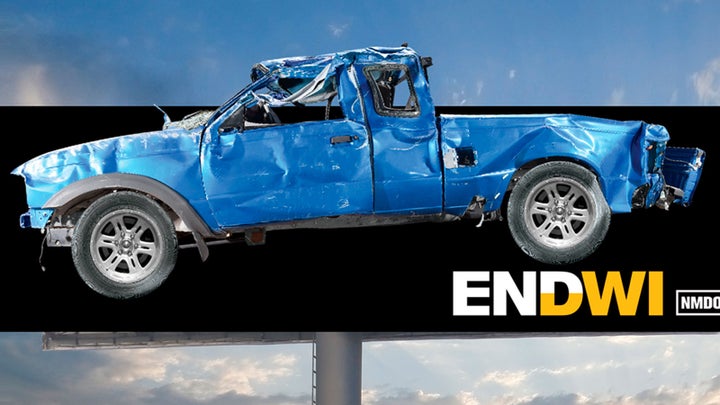 By Ken Klein, EVP, Outdoor Advertising Association of America
Santa Fe, NM – Some of today's most creative, effective ads in out of home (OOH) media are posted by state departments of transportation, on behalf of safety.
Billboards designed by award-winning ad agencies are fundamental to government-sponsored multi-media campaigns to reduce traffic deaths and injuries.
In May, Colorado DOT's billboards, bus shelters, and bus ads won national recognition in multiple creative categories at the annual OBIE Awards sponsored by the Outdoor Advertising Association of America.
In New Mexico, state-sponsored billboards are an omni-present feature of a long-running sophisticated multi-media campaign for safe driving.

"Out of home is incredibly important, because our audience is in the car," says Richard Kuhn in Albuquerque at creative agency RK VENTURE (its client roster includes New Mexico DOT).
Alcohol-related fatalities in New Mexico have declined significantly (417 in 1980 to 120 in 2015). The state says media helped push the trend.
"New Mexico has made great strides in reducing DWI fatalities over the past several years by combining high-visibility enforcement along with a robust media campaign and one of the strongest interlock laws in the nation," said New Mexico DOT Cabinet Secretary Tom Church (an ignition interlockdevice prevents a vehicle from starting if the driver has been drinking).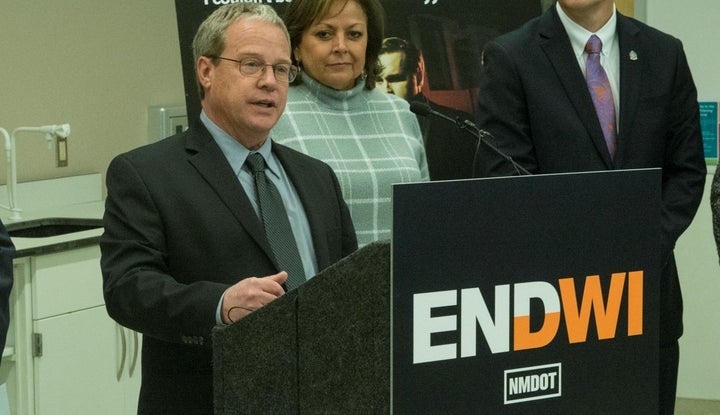 New Mexico DOT Cabinet Secretary Tom Church
The Big Picture
Government efforts for road safety are built on "The Four E's," enforcement, education, engineering, and emergency medical services. Long-term trends are positive.
More than nine out of 10 use seat belts. Traffic fatalities declined nationwide from 51,091 in 1980 to less than 33,000 in 2014. The death count rose in 2015, with a stronger economy, more miles traveled, and low gas prices.
Promoting enforcement and education, the National Highway Traffic Safety Administration creates templates for multi-media safety campaigns, such as "Drive Sober or Get Pulled Over" slotted August 16 to September 4, 2017. The federal agency – NHTSA – sends grant money to states, which have flexibility to shape localized messages and select types of media.
States crunch data, consult stakeholders, set goals, and buy advertising to advance their goals. Every year, states publish traffic safety plans.
States receiving federal grants file detailed reports on paid media. Here is a sample from Oregon DOT, regarding a campaign to increase seat belt use in pickup trucks: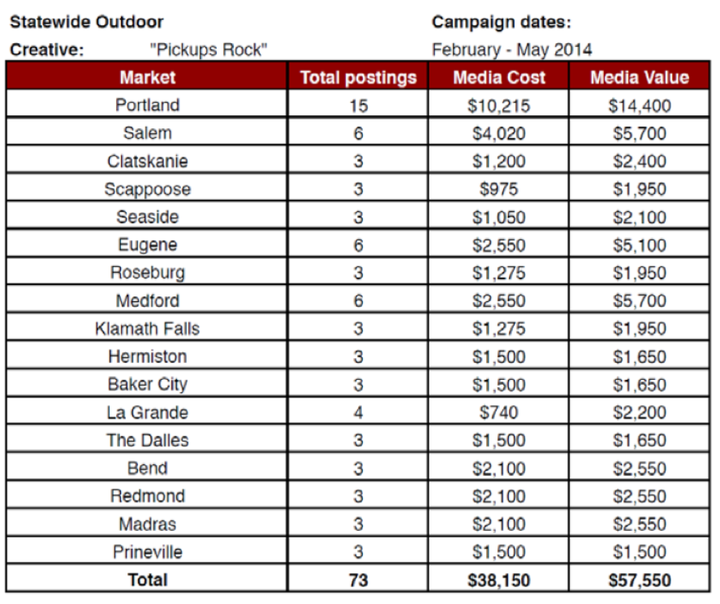 In Montana, Native Americans comprise approximately 7 percent of the population but represent up to 20 percent of all traffic fatalities in the last five years, says Janet Kenny of the state DOT. The state's SOAR program (Safe On All Roads) produced safety messages relevant to individual cultures of the land-based Native American reservations. In the last three years, Montana has seen a reduction in Native American traffic fatalities associated with impaired driving or not using seat belts.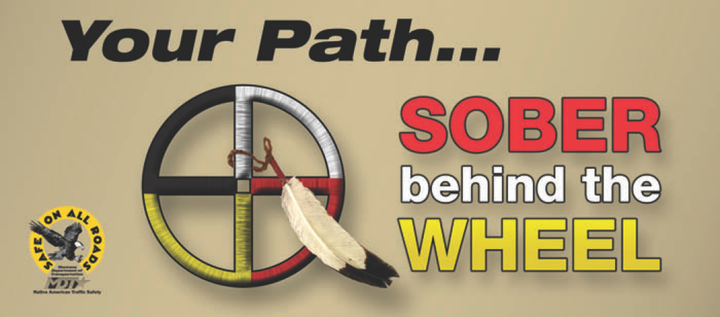 In southern New Mexico, safety messages on state-sponsored billboards help motorists cope with dust storms.
Colorado as Award Winner
Colorado's Department of Transportation won national recognition for its safety campaigns. Denver-based ad agency Amelie Company produced billboards, bus shelters, wall signs, and bus ads to promote seat belts and warn against driving while high on marijuana.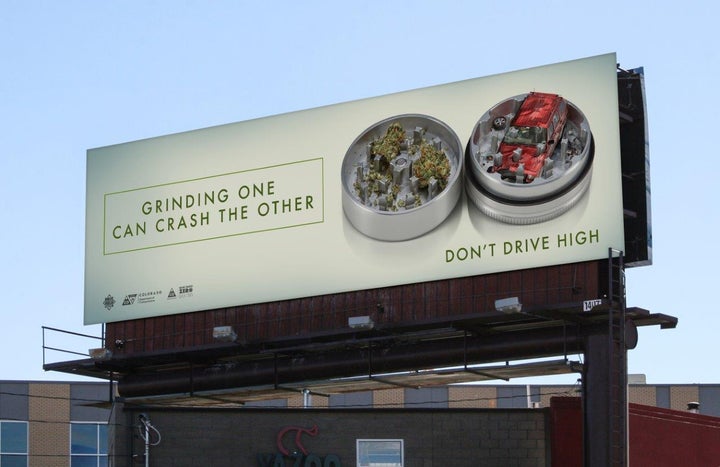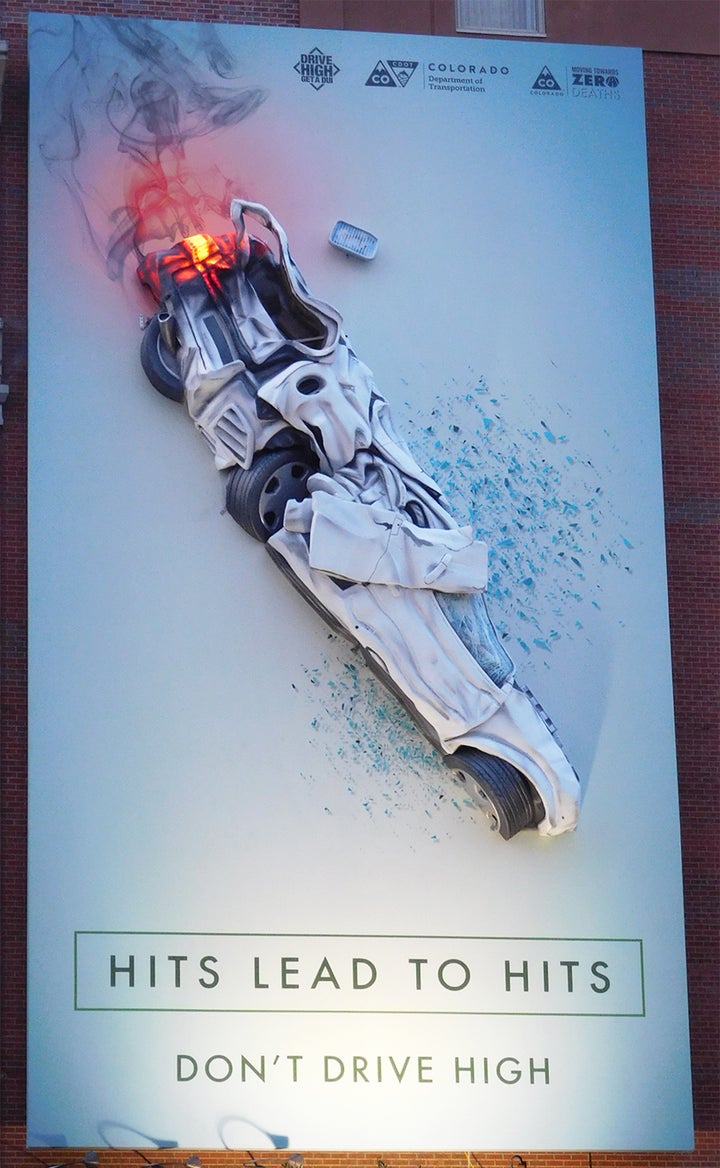 "Our team was inspired to spread a simple message without being preachy or stereotyping people who use marijuana," the ad agency said. "If someone were to really make a joint the size of our 3D joint car, it would use $19 million worth of marijuana."
Changing Behavior
Safety experts and psychologists have long sought effective methods to change behavior in a society that favors speed and alcohol.
It took decades, but attitudes and behavior changed regarding drunk driving and seat belts, with billboards a key component of the media mix.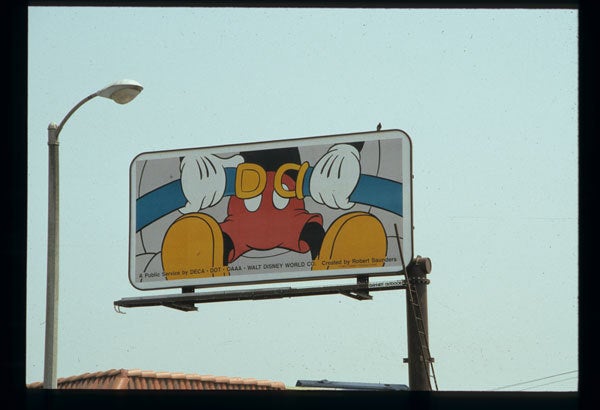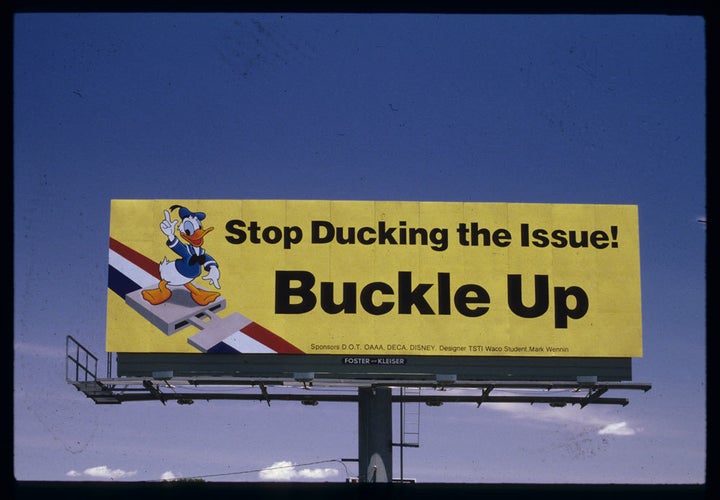 Disney characters promote seat belts in 1987
The pros agree that fear of consequences (arrest, punishment, embarrassment, out-of-pocket costs, and-or loss of mobility) combined with preservation instincts (protection of self and loved ones) can change behavior.
"Kids get in the car and tell the parents, 'You can't do that,'" says Laura Garcia at ad agency Marketing Solutions, which places media for New Mexico DOT, referring to children's admonitions against risky behaviors.
New Challenges
Most traffic crashes are caused by human choices. Ultimately, self-driving vehicles may enhance safety, proponents say. Until then, authorities face emerging safety challenges.
As more states legalize marijuana, the effects of cannabis are not well understood, Jack Danielson, executive director of NHTSA, told a congressional hearing on July 18. With pot usage increasing, government wants to devise standards to define marijuana impairment and create methods to test drivers. "This is going to take a while," says the federal safety agency. "Until we get a standard, states will use education and awareness."
Texting is an ingrained behavior for many drivers fond of mobile devices and constant communication.
Pro-safety Transportation Secretary Ray LaHood (2009-2013) was alarmed by the number of distraction-related deaths, injuries, and property loss. His federal agency – borrowing tactics that changed behavior on seat belts and drunk driving – awarded grants to states to experiment with high-visibility enforcement to stop texting while driving, combined with media blitzes.
In Connecticut, the multi-media push included "digital billboards on major Hartford interstate freeways I-84 and I-91. The billboard message also ran at the XL Center, a sports and concert venue in downtown Hartford," said a federal safety report published in 2014.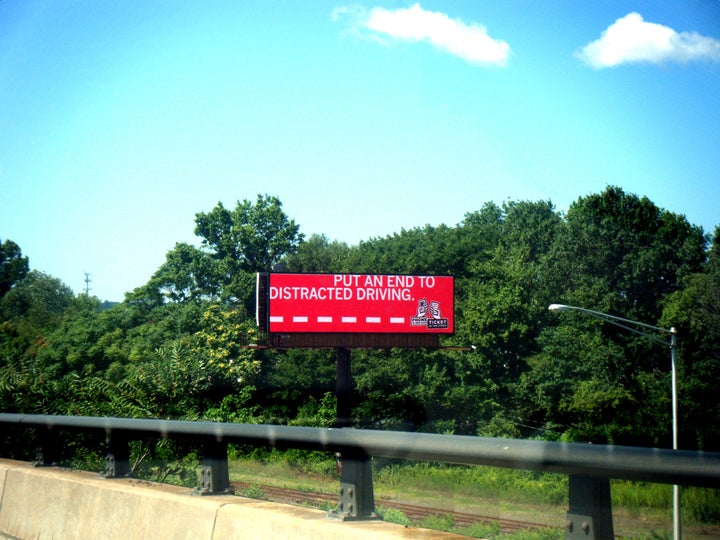 Government-sponsored safety message on digital billboard along I-91
Observed cell phone use declined 57 percent after the blitz in the Hartford area.
(Ken Klein is executive vice president of the Outdoor Advertising Association of America. Images provided by Montana DOT, New Mexico DOT, and OAAA.)
Popular in the Community