A group of anonymous DePaul University student activists is publicly accusing the Chicago school of engaging in a "cover-up" of a number of sexual assaults on its campus.
Members of the group, calling themselves DePaul Exposed, released a statement Thursday evening asserting that DePaul, the nation's largest Catholic university, has "demonstrated a level of selectivity when it comes to alerting students on these [sexual assault] incidents."
The group goes on to criticize the process DePaul students must go through in order to report a sexual assault. They also claim that members of the school's security staff have discouraged survivors from filing police reports on attacks.
"All we want is to get at the root of sexual assault, and for the institution to be held accountable in order to promote awareness, and to stop enabling rape culture," the statement continues.
Read the group's full statement (story continues below):

The students have also taken credit for two banners that were temporarily hung inside the school's Arts and Letters building Wednesday afternoon. The banners specifically targeted the school's athletics department, reading "DPU Athletics We Know What You Did #RapeCulture #YouCan'tHide!" and "Things That Cause Rape" above a checklist of items with only "Rapist" checked off. It was not clear what specific incident, if any, the banners were referring to.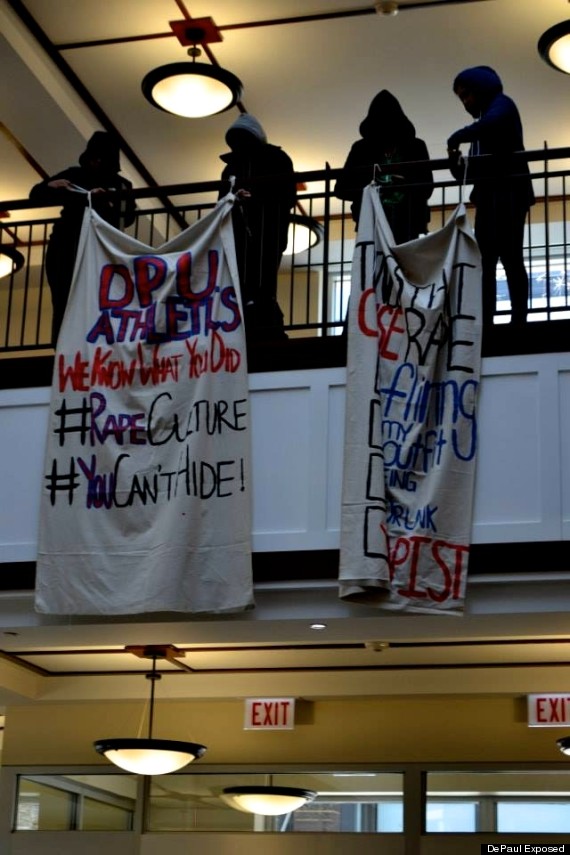 DePaul officials did not immediately respond to a request for comment, but in response to the banners, university spokeswoman Carol Hughes told campus newspaper The DePaulia Wednesday that the school "strictly prohibits sexual and relationship violence" and that "it takes seriously allegations of all such violence."
"All students who violate the university's Code of Student Responsibility are subject to DePaul's Student Judicial Process and the sanctions of that process," Hughes told the paper. "Moreover, DePaul provides a variety of support and resources for survivors."
According to DePaul's latest annual security report, the university, which has 26,000 students, documented six forcible sex offenses in each of the past three years on its main Lincoln Park campus.
Related
Popular in the Community