Jorge Garcia, 39, bid his family farewell Monday under the watchful gaze of Immigration and Customs Enforcement agents, who required him to return to his native Mexico after living in the Detroit area for 30 years.
Emotional video of Garcia hugging his wife and two children at Detroit's Metro Airport captured the emotional trauma that deportations can cause for families. Though members of Garcia's family all are U.S. citizens, he was technically living in the country illegally.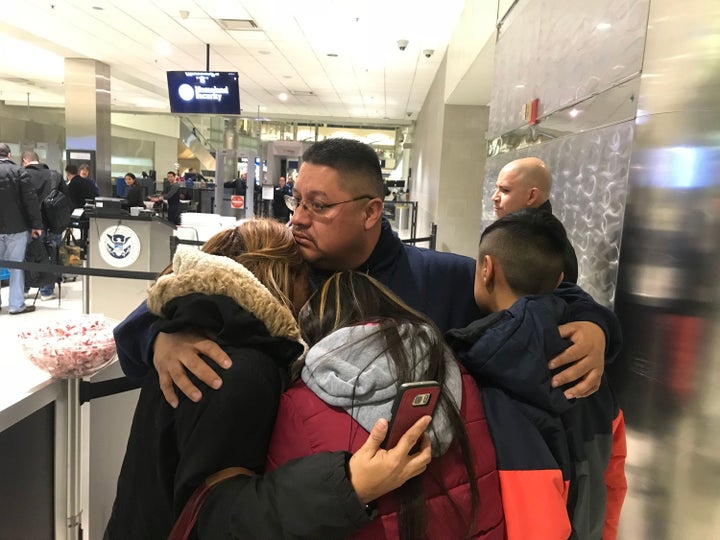 "Yes, he was brought here at 10 years old and yes, he entered the country illegally, but he has no criminal record and his case needs to be looked at individually because he deserves to be here in a country that he's known ― not Mexico," his wife, Cindy Garcia, told CNN.
During President Barack Obama's administration, Garcia received temporary extensions allowing him to avert a deportation order from 2009, according to the Detroit Free Press. ICE renewed the order in November and told Garcia he needed to exit the country by Jan. 15.
President Donald Trump's crackdown on undocumented immigrants includes widescale raids, arrests and deportations. From the time Trump took office until the end of September, ICE removals that resulted from an arrests increased by 37 percent over the previous year, the Department of Homeland Security said. Meanwhile, the number of people apprehended attempting to cross the U.S. southern border dropped to a historical low in fiscal 2017.
Garcia expressed sadness and apprehension about returning to a country he barely remembers.
"I got to leave my family behind, knowing that they're probably going to have a hard time adjusting, me not being there for them for who knows how long," he said in an interview with the Detroit Free Press the night before his deportation.  "It's just hard. It's going to be kind of hard for me to adjust, too."
REAL LIFE. REAL NEWS. REAL VOICES.
Help us tell more of the stories that matter from voices that too often remain unheard.
BEFORE YOU GO
PHOTO GALLERY
Mary Beth Meehan 'Undocumented' Photographs