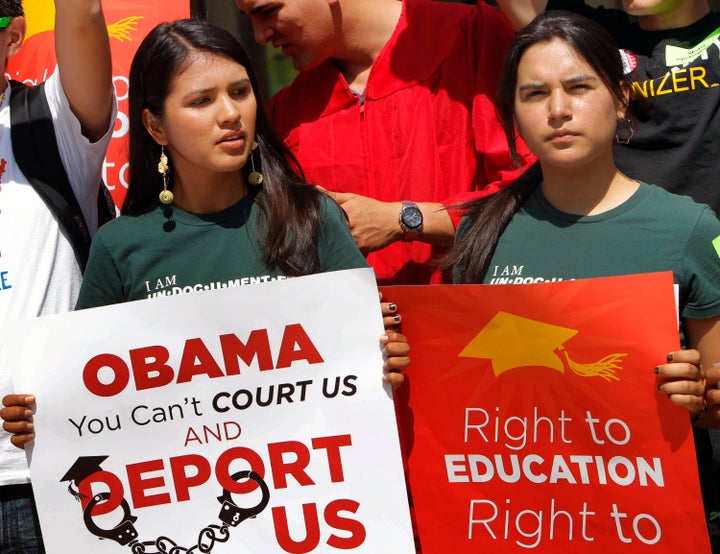 For the second time in as many weeks, a Latino advocacy organization has called on President Barack Obama to use his executive powers to bring some measure of relief to young adults and children entangled in an immigration system that even the president describes as broken.
On Tuesday, the Latino Policy Coalition urged Obama to issue an executive order requiring the federal agency that oversees child welfare -- the Department of Health and Human Services --- to identify and locate children who have been adopted or placed in foster care after their undocumented immigrant parents were deported from the United States. State child welfare agencies and the Department of Homeland Security should also be forced to help deported adults reunite with their children in the countries to which the parents have been deported, the coalition said in a letter sent to the president this week. According to the group, children are disappearing into the foster care system and being made available for adoption despite the fact that they have parents who want to reunite with them.
An estimated 65,000 students graduate from U.S. high schools each year who are unable to legally work in the country, attend many state colleges and universities or access federal student financial aid, according to the Immigration Policy Center. Many also have such limited knowledge of life or the language in their countries of origin that they cannot return and survive, immigrant advocates say. Over the last decade, a series of bills that could have granted some of these young adults a path to citizenship have failed. In 2010, the so-called Dream Act, fell five votes short of the number needed to overcome a Senate Republican filibuster.
Bills that might address the needs of young U.S. citizens separated from their undocumented immigrant parents have also met a similar fate. Legislation introduced in the U.S. House and Senate in 2009 and reintroduced in 2011, The Help Separated Children Act, languished and was not referred to the floor of either body for a vote.
Obama's Homeland Security Secretary Janet Napolitano expressed concern in April about children who are U.S.-citizens and whose parents have been deported, but continued that the government has increased its emphasis on enforcement, USA Today reported.
"The number one concern all of us should have is, 'Where are the children? What's going on with the children?'" Napolitano said, according to USA Today. "But the plain fact of the matter is, having a child in and of itself does not bestow citizenship."
When parents are detained by Immigration and Customs Enforcement (ICE) agents after a neighborhood or workplace raid, law enforcement officials have the option of releasing the parents of young or breastfeeding U.S. citizen children from custody. Those who are not released are often sent to "mega-detention" facilities that in most cases sit hundreds of miles from the U.S. cities where these individuals lived with their children, Gonzalez said. He added that the children, in turn, are often placed in foster care, or in some cases put up for adoption.
At least 46,000 undocumented immigrant parents were separated from their children in 2011, according to Shattered Families, an analysis generated by the Applied Research Center, a New York-based think tank. And, at least 5,100 children have been prevented from reuniting with their parents after a deportation, according to the report.
In many of these cases, the exact whereabouts of these children are not clear, Gonzalez said. Some have been placed with relatives or adopted and even renamed by American parents. Others have simply vanished into a foster care system that is not required to specifically track and report the location of U.S. born children who have been separated from their parents by a deportation or immigration-related detention. Child welfare hearings are also generally closed to the public and agency case files sealed unless a child dies. These practices, intended to protect the privacy of children and families facing what are often emotionally and legally complex challenges, also make it difficult for deported parents to reconnect with their children.
Nearly two years ago, federal authorities deported Felipe Montez, a Mexican national who had lived for several years in North Carolina, The Los Angeles Times reported.
Within weeks, his three sons were in foster care. Not long afterward, the state declared that Montez -- who had failed to attend child custody hearings because he was in an immigration a detention facility and later forcibly returned Mexico -- and his mentally-ill American wife did not meet North Carolina's standards for parents who want to regain custody of their children. And, under the terms of a federal law designed to prevent children from languishing in foster care, North Carolina moved earlier this year to terminate Montez's parental rights and make the children available for adoption, the Associated Press reported.
The only problem: Montez has spent the better part of two years trying to reunite with his children.
Popular in the Community