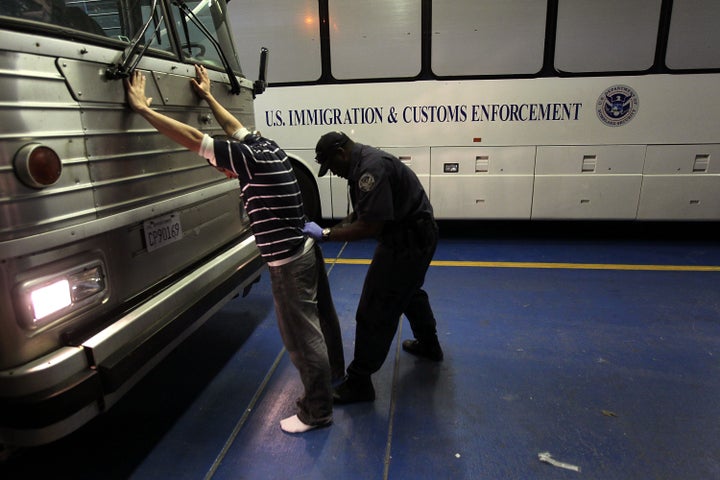 Eduardo Caraballo, a U.S. citizen born in the United States, was detained for over three days on suspicion of being an illegal immigrant.
Despite presenting identifying documents and even his birth certificate, Caraballo was held by federal immigration authorities over the weekend and threatened with deportation, according to an NBC Chicago report. He was only released when his congressman, Luis Gutierrez -- a vocal supporter of immigration reform -- intervened on his behalf.
(Scroll down for video of Caraballo and Rep. Gutierrez.)
Caraballo was born in Puerto Rico, making him a natural-born citizen of the United States. He moved to the mainland as an infant, and now lives in Chicago.
Last week, NBC reports that he was arrested in connection with a stolen car in Berwyn. Caraballo maintains his innocence. In any case, when his mother posted bail on Friday, he was not freed.
"Instead of being released, he was told by authorities that Immigration and Customs Enforcement was detaining him because he was an illegal immigrant," NBC reports.
Caraballo spent the weekend in the custody of federal immigration agents. When he presented them with ID and his birth certificate, he says officials were skeptical: "Because of the way I look, I have Mexican features, they pretty much assumed that my papers were fake."
Only after his congressman interceded was Caraballo set free.
"It gets worse," Gutierrez said in an interview. "We know of instances in which young people in his same situation are actually taken to the border and deported from the United States.
Not surprisingly, the nine-term Democratic congressman saw a disturbing connection to the situation in the Grand Canyon State.
"In Arizona, they want everybody to be able to prove they're legally in the country. They want everybody to prove that they're an American citizen. Here we had an American citizen, that the federal government... could not determine, for more than three days, his status as an American citizen. It's very, very, very dangerous ground to tread."
According to NBC Chicago, Caraballo "is considering legal action." Meanwhile, he and his congressman hope the incident will open people's eyes to the dangers of profiling.
Watch Eduardo Caraballo and Luis Gutierrez speak to NBC reporters:
Related
Popular in the Community