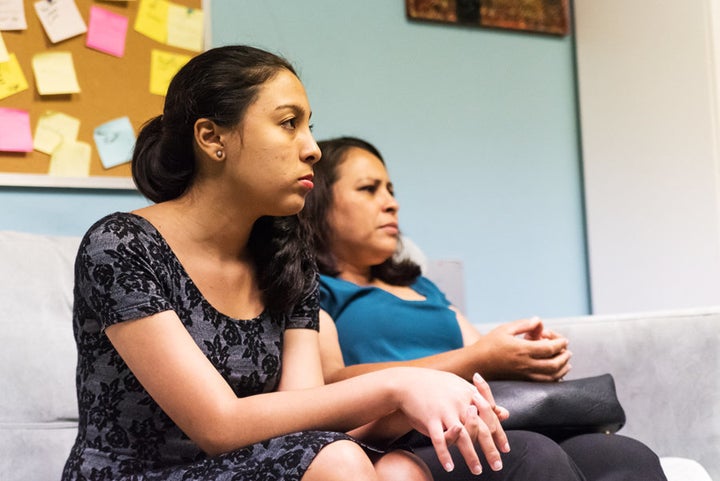 ATLANTA -- After immigration agents picked up 336 undocumented immigrants -- many of them Central American teenagers who came to the U.S. as unaccompanied minors -- in a series of raids earlier this year, advocates sprung into action. They started petitions and called federal authorities. They emailed reporters like me.
There was a pattern in these emails: Many of the kids picked up by Immigration and Customs Enforcement were snagged in Atlanta.
More than a third of the people detained under what the government calls Operation Border Guardian were from the Atlanta area, more than any other ICE jurisdiction.
There's a reason for this. Immigration law doesn't vary from state to state or court to court. But immigrants' odds do, and by the numbers, Atlanta is one of the worst places in the country to be an undocumented immigrant hoping to avoid deportation. Justice Department-appointed judges in that court denied asylum 98 percent of the time in the 2015 fiscal year, the highest rate of any immigration court that heard more than five cases. Eighty-eight percent of cases that went before Atlanta immigration courts ended with a removal order. That's way over the national average: In the country as a whole, immigration judges denied about 52 percent of asylum claims, and 69 percent of cases resulted in a deportation order.
Atlanta immigration judges have been accused of bullying children, badgering domestic violence victims and setting standards for relief and asylum that lawyers say are next to impossible to meet. Given Atlanta immigration judges' reluctance to grant asylum, some immigrants who fear returning to their native countries don't even pursue it.
ICE is set to ramp up its raids in coming months on Central Americans who came to the U.S. in or after a 2014 surge in border apprehensions of mothers and children. Officials won't say where they'll focus their efforts, other than that they will target people who were already denied asylum or other deportation relief in the courts. In Atlanta, that's almost everyone.
Border patrol agents apprehended about 68,500 minors traveling without their parents in the 2014 fiscal year. This story is about three of them.
Johanna, who asked to be identified by her middle name, fled her native El Salvador at the age of 16 after domestic, physical and sexual abuse. Kimberly Pineda Chavez, then 17, and her 14-year-old sister crossed the border after gangs in Honduras threatened to take them as sexual property. Yordy Stib Lázaro Catalán, who was 14 at the time, left Guatemala to escape threats against his family from gangs.
After each of them crossed the border, Johanna, Kimberly and Yordy were released to their mothers -- all of whom were already living in the Atlanta area -- as they awaited removal hearings.
Johanna had her removal hearing on March 4, 2015. Her attorney at the time told her she wasn't eligible for asylum and didn't seek it, then waived appeal to her removal order, according to lawyer Elanie Cintron, who is representing Johanna now. A judge issued her a deportation order.
Kimberly went for her removal hearing in November 2014. Her then-attorney submitted written pleadings admitting she entered the country without authorization; then in December, the attorney stated Kimberly and her sister would not seek relief, accepted their deportation and waived appeal, according to Cintron, who is also representing Kimberly. Her judge also issued a deportation order.
Yordy's attorney, Josh Arcila, fought for him to stay. He appeared before an Atlanta immigration court in March 2015 to seek relief under the Convention Against Torture -- a separate matter than asylum that Yordy's aunt had already been granted. Yordy's experience with an Atlanta immigration judge was particularly contentious. He took to the stand using a translator to explain why he came to the United States: seeing dead bodies in the street outside his home, gangs threatening his family, the death of his uncle and extortion of his mother.
Arcila asked Yordy to explain the psychological trauma he suffered. That's where Judge J. Dan Pelletier cut in.
"We'll qualify him as an expert witness," Pelletier said, according to a transcript of the hearing. "Sir, how far have you gone in school?" he asked the 15-year-old, who said he'd attended up to the sixth grade.
"Have you ever lectured on a professional level on psychology?" Pelletier asked. He then criticized Arcila for asking a leading question that Yordy didn't have the education to answer.
If the lawyer was "willing to stipulate that [Yordy] has never lectured at the university or professional level, he's never written any professional journals, and he's never had any training on psychology," then Yordy could speak as a lay witness but not about psychological problems, Pelletier said.
Pelletier issued a deportation order.
Attorneys who have experience in multiple courts said the judges in Atlanta seem particularly reticent to grant relief, especially asylum, and are often aggressive in their questioning of people who say they've experienced trauma.
All five Atlanta immigration court judges have higher than average rates of denial for asylum, according to data from Syracuse University's Transactional Records Access Clearinghouse, or TRAC.
Judge Earle Wilson denied asylum about 94 percent of the time from fiscal years 2009 to 2014, the 17th-highest denial rate in the nation. Judges William Cassidy and Pelletier denied more than 80 percent of asylum claims, and Judges Wayne Houser and Michael Baird denied about 60 percent. The national average was about 49 percent, according to TRAC.
Asylum denial rates were far above average for the court in the 2015 fiscal year as well, data from the Executive Office for Immigration Review shows. And there's a huge range in approval rates for asylum -- while the Atlanta court denied asylum 98 percent of the time, the New York City court denied it in only 16 percent of cases.
Not every immigrant applies for asylum -- some attorneys said it's not worth it in Atlanta given denial rates, while some immigrants with a good case could have bad representation or none at all. But Atlanta judges aren't just strict about granting asylum. They also have lower than average rates of approving any type of relief from deportation, according to figures provided to The Huffington Post. There are 10 courts that have a higher removal rate than Atlanta, but all but one of them are located in or adjacent to detention centers. (Such courts deal only with detained immigrants, who may be more likely to have criminal records or be less willing to fight deportation.) The court most likely to order deportation is the only other immigration court in Georgia: Stewart Detention Center in Lumpkin, where 98 percent of cases that went before judges ended in a removal order.
Immigration judges work for the Executive Office for Immigration Review, or EOIR, which is part of the Justice Department. They are appointed by the attorney general and do not go through Senate confirmation.
EOIR does not publish statistics on the number of cases its Board of Immigration Appeals reverses or returns to each court -- figures that could reveal how often Atlanta is out of step with the appeals board. But Ben Winograd, an attorney who tracks Board of Immigration Appeals decisions, said he sees many reversals from the Atlanta court, and many from Pelletier specifically.
The board sent back cases when Pelletier ordered removals without giving immigrants a chance to get legal counsel. It also reversed his decisions when he refused to pause removal proceedings while juveniles sought Special Immigrant Juvenile Status within the state courts that might allow them to get a visa to stay in the country. It sent back multiple cases decided by Wilson over the same issue.
Immigration attorneys and advocates have some theories on why Atlanta's court is different from many others with regard to asylum rulings. The process is supposed to be apolitical, but it hasn't always been -- President George W. Bush's administration for years asked certain immigration judges about their political views. Those vetted judges, including Wilson of the Atlanta court, were more likely than others to deny asylum.
About half of the judges appointed in that 2004-2007 period had no experience with immigration law, but those who did worked as prosecutors or in enforcement -- a change from the Clinton administration, which appointed judges with experience in nonprofits and defending immigrants as well, the Washington Post reported. Judges appointed under President Barack Obama are seldom from the nonprofit or defense side, which means many of them have a "prosecutor perspective," as Michelle Mendez, an attorney for Catholic Legal Immigration Network Inc., or CLINIC, put it. Of the Atlanta judges, at least Pelletier and Cassidy were previously attorneys for Immigration and Naturalization Service, the precursor to ICE.
One of the major problems with immigration judges nationwide is that there aren't enough of them. The immigration court system has been overloaded for years, and currently has its highest-ever backlog of nearly 490,000 cases. Judges handle more than three times the number of cases at a given time than Article 1 federal district court judges, with small staffs and budgets, Mother Jones reported.
Judges may want to give a fair hearing, but it's difficult when they're trying to get through seven cases a day, said Carolina Antonini, who has practiced immigration law in Atlanta for more than 20 years. "It's insane to require a person to do that," she said.
One attorney said judges have told her they think granting asylum in certain instances would open the floodgates and make them bound to grant relief more often in general, going against an office culture of high skepticism of those claims. Atlanta does "not get the kind of cases that are easily granted," Judge Cassidy told the Los Angeles Times through a spokesman in 2001 when asked about his high asylum denial rates.
The situation is exacerbated by an ICE attorney office that immigration lawyers called "incredibly aggressive" and unwilling to cooperate with even routine requests, such as changing a venue if an immigrant moves. Another lawyer said Atlanta ICE attorneys seemed determined to deport all Central Americans who entered the U.S. as minors. (An ICE spokesman said the agency would not comment on opinion-based claims about its attorneys.)
"It's the judge and the Department of Homeland Security versus us, and all of the odds are stacked against the families," the immigration lawyer said.
"The size of the disparities in asylum grant rates creates a perception of unfairness in the asylum adjudication process within the immigration court system," the Government Accountability Office warned in a 2008 report on asylum grant rates. Atlanta judges at the time granted asylum at extremely low rates, according to the study.
The report found that certain factors had a significant effect on outcomes. Female judges were more likely to grant asylum than male ones, GAO found. (The current Atlanta immigration court is all male.) Those who applied for asylum when already in deportation proceedings were less likely to get it than people who applied before the government tried to deport them. Asylum-seekers from Central American countries fared worse than many others. Being detained at any point made asylum-seekers less likely to succeed, as did going without representation. (The Atlanta immigration court also sees immigrant detainees, either in person or by webcam.)
GAO analysis found no significant effect on outcomes for other factors, such as a judge's age, race or ethnicity; caseload size; the administration under which they were appointed; or their experience in the nonprofit sector or government.
The office recommended EOIR do more to identify and train judges who were outliers on the spectrum of granting asylum, and later stated that the agency had implemented those suggestions.
EOIR monitors and evaluates its judges' performance, and they receive ongoing training on issues such as asylum law, juvenile proceedings and professional responsibility, spokeswoman Kathryn Mattingly said. She said judges consider evidence and arguments to make decisions on a case-by-case basis.
"EOIR takes seriously any claims of unjustified and significant anomalies in immigration judge decision-making and takes steps to evaluate disparities in immigration adjudications," she said in a statement.
Critics of the Atlanta and Stewart Detention Center courts think they can do better. Denying relief in so many cases borders on misconduct, said Eunice Cho, an Atlanta-based attorney with Southern Poverty Law Center. "It does look like we're getting to the level ... where these immigration judges cannot actually rule impartially in these cases," she said.
Bradley Jenkins, a CLINIC attorney who worked with Mendez on a training for Atlanta attorneys this month, said EOIR should do more to educate judges on how to deal with asylum claims and question children and survivors of domestic violence. It should then make those guidelines available to the public "so that the public can hold errant judges accountable," he said.
Mendez said she would like to see two new judges appointed in Atlanta -- at least one of them a woman, ideally -- who previously worked at nonprofits or in defense, instead of only on the enforcement side.
Atlanta could also benefit from immigration law clinics like those in many other major cities, where university students help provide pro bono assistance, Mendez said.
Antonini suggested Atlanta attorneys need to be more motivated to take on asylum cases. Those types of cases are difficult, time-consuming and emotionally draining, and clients often can afford to pay very little or nothing at all, making it hard to take them on, she said.
Nobody -- judges, ICE lawyers or immigration attorneys -- can look at the numbers and claim they're doing everything right, even if they are all acting in good faith, she said.
"I hope people's eyes are opened and that people understand that a lack of due process is not necessarily the result of evil actions," Antonini said. "Sometimes the lack of due process is because the systems are broken. The system could be full of good people -- it's just not working."
After Pelletier denied relief to Yordy, Arcila appealed to the Board of Immigration Appeals.
Its written decision from November 2015 is partially a rebuke of Pelletier's behavior toward the teenager. People in immigration proceedings "should expect dignity, respect, courtesy, and fairness in a hearing before an Immigration Judge," they wrote, and judges should not act in a way that "can be perceived as bullying or hostile."
"It is difficult to view the above exchange as anything other than belittling to the respondent and insensitive to the difficult matters about which counsel was trying to question him," the board wrote after quoting his questioning of Yordy's professional expertise.
Yordy's case was remanded to the Atlanta immigration court and will start from scratch with another judge there -- meaning more waiting, more attorney costs and more uncertainty about whether he will ultimately get relief.
"It's difficult," his mother, Abdi Catalán, said in a Spanish-language interview. "But I'm going to do everything possible so that he doesn't have to go back to Guatemala. Honestly, he cannot return to Guatemala."
Yordy was spared, however, from Operation Border Guardian. Kimberly and Johanna were not. Because they both entered the U.S. without authorization and received a removal order, they were considered a priority for immigration enforcement officials.
ICE agents picked up Kimberly on Jan. 27 when she was on her way to school. "'I felt like my world was falling apart," she said in Spanish in an interview later. They detained Johanna on March 3 when she went in for a scheduled check-in with the agency a year after her removal hearing.
Both teenagers ended up in Irwin County Detention Center, a gray one-story building in the 3,400-person city of Ocilla, Georgia. The facility holds male and female immigrant detainees along with criminal inmates, who are split into different groups and wore different outfits: women in navy clothes and orange Crocs, men in orange or stripes.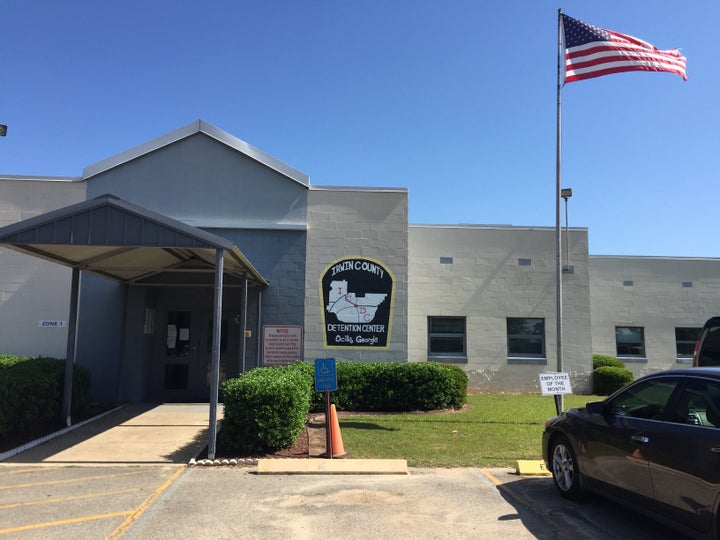 Kimberly's and Johanna's mothers came to visit every Sunday. It's a long drive from Atlanta -- at least three hours -- for a one-hour visit. The visits are no-contact, so they couldn't touch or hug their mothers. "It's horrible" to be separated, Johanna said. She cried twice in our interview: once talking about her abuse, and a second time talking about seeing her mother through the glass, unable to touch her.
Kimberly says she trusted God would help get her out. Johanna prayed and went to the religious ceremonies women would hold each day, led by a detainee who used to be a church leader. Johanna bought art supplies from the commissary to make drawings for her mother, usually of memories of them together.
Kimberly's family goes to Corners Church of Christ in the Atlanta suburb Peachtree Corners, where members got involved in advocating for her to be released. They held a fast and prayer services, and eventually Cintron took her case.
Kimberly applied for her case to be reopened and for a stay of removal, and was granted both in March, then released in mid-April on a $1,500 bond. Her case isn't closed, but ICE spokesman Bryan Cox said the agency will await the outcome of her court proceedings before acting further.
Cintron filed a motion to reopen Johanna's case and an asylum application for her as well. Johanna wants to stay in the U.S. and go back to school -- maybe become a flight attendant someday. Most of all, she doesn't want to be sent back to El Salvador, where she says her life was at risk.
"I have explained my reasons," Johanna said. "But they don't pay attention."
She's still wearing the navy outfit, still drawing and still waiting for her mother's weekly visits. She's still in detention.

Roque Planas contributed reporting. Graphics created by Alissa Scheller.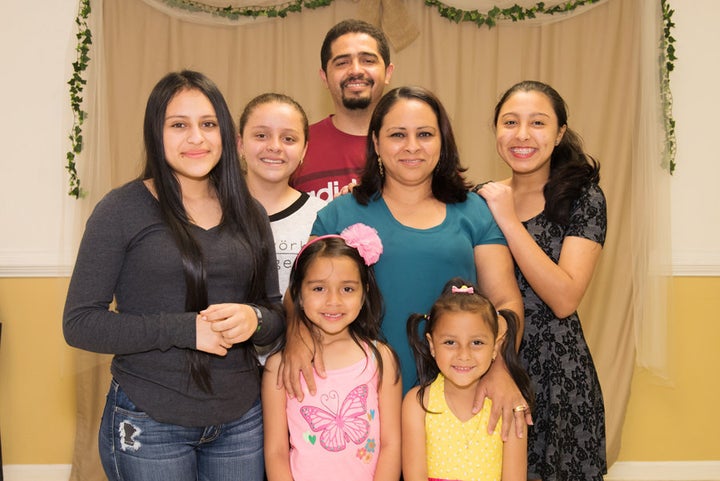 Support HuffPost
The Stakes Have Never Been Higher
Before You Go
The Obama Administration's Controversial Use Of Family Immigrant Detention
Popular in the Community