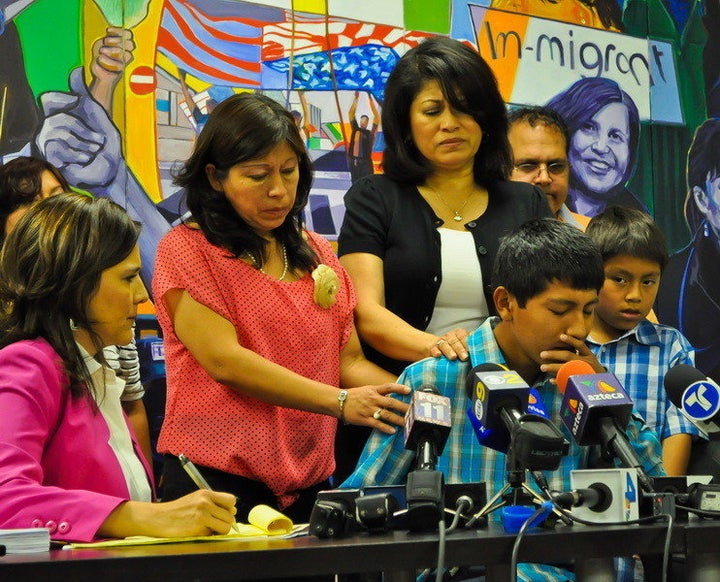 As the rest of the nation celebrates the importance of motherhood Sunday, thousands of young Americans will, for the first time, be without their moms on Mother's Day.
About 22 percent of all undocumented immigrants deported in the first half of 2011 were parents of U.S.-born children. As part of the Obama administration's record-setting deportation year, between January and June 2011, 46,486 undocumented mothers and fathers received orders to leave the country and were forced to decide what to do with their U.S.-born children. While in some instances, deported parents decide to bring their children with them, parents thinking it was in their child's best interest, left them with relatives, neighbors, or friends in the United States.
Ronald Molina, 8, who lives in Stamford, Conn., said he cries almost every day when he looks at a picture of his mother who was detained and deported to Guatemala in 2010. Ronald is one of an estimated 4 million children born in the U.S. to an undocumented parent.
His mother, Sandra Payes-Chacon, is the mother of two other U.S.-born children who live in Connecticut. She will celebrate Mother's Day in Guatemala without her children, because she was banned from reentering the United States for 10 years after residing in the country illegally, the family's immigration attorney Alex Meyorovich told The Huffington Post.
"There's very little the family can do at this point. They're faced with some very tough choices," Meyorovich said.
Although Ronny Molina, Payes-Chacon's husband, is a legal resident of the United States, he says he cannot raise the children in the U.S. alone. He is now faced with the "impossible decision" of rearing his kids as a de-facto single parent or moving to Guatemala, he told The Daily Fairfield.
"Either we stay here and wait 10 years to be reunited as a family," he said to the Daily Fairfield. "Or we go back and be together, but have no future and expose my kids to the kind of gang violence that resulted in their uncle being kidnapped last year and held for a $25,000 ransom. It's a terrible decision to have to make."
Under the Obama administration's 2011 Morton memo directive, U.S. Immigration and Customs Enforcement's primary concern is to deport criminals and repeat offenders, not caretakers of American children. Robin Baker, an ICE field office director for detention and removal operations in San Diego, said the agency tries to take into consideration what's best for children.
"We always give [parents] the opportunity to make the decision on their own: Do you want to take the kids with you, or what do you want to do?" Baker told San Diego's KPBS radio station. "But we are not taking sole caregivers, or both a mother and a father and leaving kids in an empty house. It does not happen."
On Wednesday, two undocumented mothers made tearful pleas to ICE at a press conference in Los Angeles, asking that the agency allow them stay in the country for the sake of their U.S.-born children.
Carmen Ricsi is an undocumented immigrant who has lived in the U.S. for 22 years, has no criminal record, and is the mother to two U.S. born children -- Brian, 14 and Angelo, 9. She was told Wednesday that she could not stay in the country due to prior dishonesty with the agency.
"She made two mistakes. She hid from ICE when they came to look for her, and she told them that the children's father was not in the country," Ricsi's lawyer Jessica Dominguez told The Huffington Post. ICE placed a monitoring brace on Ricsi's ankle and on Wednesday, granted her 30 days to return to her home country of Peru.
Maria Romero, another mother who begged ICE to let her remain in the country, was granted a one-year stay Wednesday so that she can care for her 13-year-old handicapped son, Israel, who is an American citizen.
"I'm so happy to be able to spend this Mother's Day with my family. I'm just so thankful. I can only hope that next year will be the same," Romero told The Huffington Post in Spanish. Next year, just before Mother's Day, the undocumented mother will have to fight again to stay in the country with her three U.S.-born children.
"I just hoped that by holding a press conference, President Obama would forgive us. I hoped that if we could explain ourselves, we could touch his heart. He's a father, too, and I hoped he'd forgive us for the sake of my children's well-being," she said.
Dominguez said that her primary concern in these cases is the children. "What's going to happen to this class of children that are staying behind to be taken care of by other family members and do not have their parents here to take care of them?" Dominguez asked.
WHAT HAPPENS TO 'THIS CLASS OF CHILDREN'
In the first half of 2011, deportations left an estimated 5,100 children languishing in the U.S. foster care system. Nathaly Perez, whose father was deported in 2006, and whose mother was deported in 2008, was placed in the foster care system at the age of 16. Now 20, Perez told Arizona State University's News21 that her parents' deportation was a catalyst for "a pattern of unhealthy behavior that would continue for years to come."
"I was only 14 years old when [my father] was deported. Everything changed," Perez said to News21. "I started making bad choices."
Experts say Perez's behavior is not unusual for children taken away from their mothers. Harvard Graduate School of Education professors Hirokazu Yoshikawa and Carola Suárez-Orozco, a professor at New York University said that studies have shown in the long run "the children of deportation face increased odds of lasting economic turmoil, psychic scarring, reduced school attainment, greater difficulty in maintaining relationships, social exclusion and lower earnings."
Lourdes Castillo, who worked as a principal, teacher and supervisor at a bilingual K-8 school in Milwaukee, Wis., for more than 30 years, said she's seen more than 100 students cope with their mothers' deportations. "Emotionally, psychologically and academically, it's a shock. If you come home and your mom is not there, it's a shock," Castillo told The Huffington Post. "Sometimes children become very quiet, often absent minded or distracted. [The children would] not want to play, wouldn't want to be social with their peers. Some others became somewhat defiant -- not necessarily aggressive, but react in different way when provoked."
Castillo said that most deported parents send their children to live with relatives or friends, which in turn, puts added stress on hosting families. "It's not comfortable for anyone. Even the children of the hosting family feel that same sense instability, fear, and insecurity," Castillo said.
"When you see your own mother taken away from you suddenly, you learn that nothing is definite," she said.
While separation caused by deportation can be hard on children, it is also often distressing for mothers. Romero, who was granted the one-year stay Wednesday, said being apart from her children would be very hard on her.
"This is one of the most difficult things to happen to a mother -- being taken away from her children. Any mother knows this," Romero said to The Huffington Post.
Some say the policy of deporting mothers is a drain on resources, because most will do their best to find a way back into the country again.
Castillo said many mothers she's known have tried multiple times to cross the border to be reunited with their families. One mother, Castillo recalls, drowned in the Rio Grande while trying to make it back to her third-grade daughter.
"They'll try three, four, five times until they can make it. The only thing that interests them is finding a way back to their children," Castillo said.
Click through photos of Carmen, Maria and their children pleading with ICE officials:
All photos by HuffPost Voces reporter Jorge Luis Macias
PHOTO GALLERY
Immigrant mothers
REAL LIFE. REAL NEWS. REAL VOICES.
Help us tell more of the stories that matter from voices that too often remain unheard.