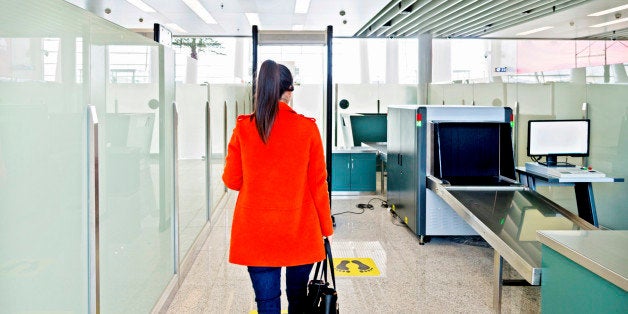 My receipt printed with an X. My husband's did not.
We had just returned to the U.S. after a relaxing beach vacation abroad, our delayed honeymoon, and we were waiting at Customs.
We went through the passport express kiosk, where individuals scan their passports and answer a few questions. My receipt printed with an "X," as it always does. My husband, who is a white man, received a receipt without an X. We were directed to the (much longer) line for X's.
I was curious about what this X meant, so when it was our turn to go through immigration, I asked the Customs and Border Protection agent.
His response left me speechless, upset and deeply saddened.
"There's a lot of reasons why," he said. "You have a common name..."
"...That's probably on a list," he continued.
I wasn't sure how to respond, so I kept quiet.
"Priya." he said my first name out loud. "That's common in India."
"Yeah," I said, uncomfortable about where this was going.
"Well, there must be a lot of bad people with that name," he said casually.
It is difficult for me to articulate just how offended I was by this. The long version is that I was stunned. I wanted to think he was joking, but nothing in his demeanor suggested humor. Not to mention how deeply unfunny such a joke would be considering that the advocacy organization South Asian Americans Leading Together (SAALT) has crowdsourced at least 43 instances of xenophobic rhetoric and at least 69 instances of backlash against South Asians, Sikhs, Muslims, and Arabs since last fall.
I didn't want to believe the agent was intentionally being racist, but I admit that I was afraid to ask any more questions at the risk of further drawing out the immigration processing. I also didn't want to believe that a human who represents the power and position of the United States government felt completely comfortable saying that brown people are bad.
In short, I was insulted.
My ethnicity is Indian, and I was born and raised in the United States. I am an American citizen, and this country is my home. I resented the agent's sarcasm and his insinuation that something as simple as my name links me to "bad people."
Unfortunately, this type of judgment has become depressingly common, with far greater consequences.
On April 6, UC-Berkeley student Khairuldeen Makhzoomi was removed from a Southwest flight after another passenger heard him speaking Arabic on a cellphone. Makhzoomi told the Daily Californian that security officers and FBI agents questioned him and that one one "publicly searched his genital area." Makhzoomi is an Iraqi refugee.
One week later, Hakima Abdulle was removed from a Southwest flight without "any reasonable explanation." Abdulle had apparently asked another passenger to swap seats when a flight attendant said she could not remain on the plane. Abdulle, who lives in Maryland, is of Somali descent and wears the traditional Muslim headscarf known as the hijab.
Makhzoomi and Abdulle were publicly humiliated for no apparent reason besides their ethnic and religious identities. Their experiences have rightfully attracted media attention, and a petition is calling for Southwest Airlines to stop discriminating against Arab and Muslim passengers.
My brief moments of anger and embarrassment in front of a Customs and Border Protection agent pale in comparison to their ordeals. Yet microagressions such as the one I experienced are not acceptable either. Sure, there are probably "bad people" named Priya, but there are also bad people named Dylan and Ted and Robert. I am not asking that Dylans and Teds and Roberts be marked with an X. But I am asking that I not be.
No one, let alone individuals in positions of authority, should let prejudice determine their actions. Speaking the Arabic word "inshallah," wearing a headscarf, or being named Priya are not markers of malice.
I sent a complaint to the Customs and Border Protection Agency and was promised a response within a few weeks. I told the agency that words matter, and that everyone, particularly individuals who represent the U.S. government, should be expected to treat others with dignity and respect. I'll update this post if I hear back, that is, if Customs considers my complaint as noteworthy as my name.
This post originally appeared on New America's Medium channel, Context.
Related