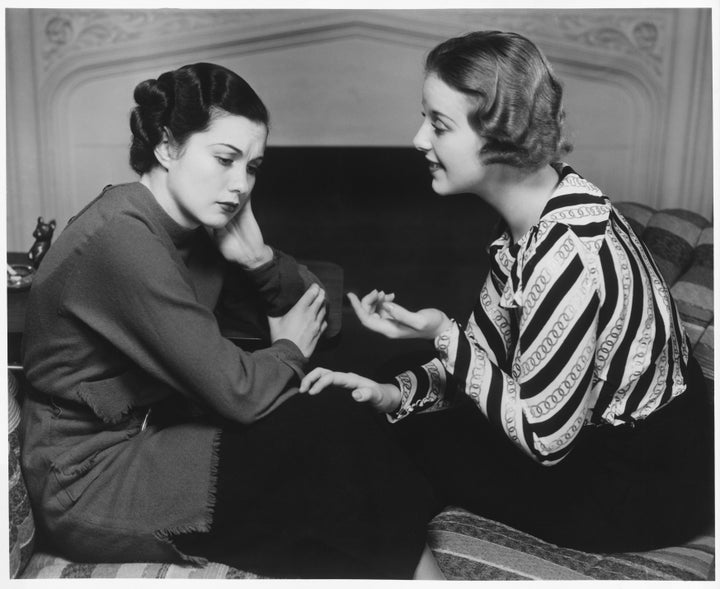 We all get by with a little help from our friends, but that help is much more valuable when it's given in person rather than via email or telephone. A new study from Oregon Health & Science University shows that face-to-face interactions are more powerful than digital ones at warding off depression in older adults.
The study, which was published online Monday in the Journal of the American Geriatrics Society, showed that older adults who met regularly with family and friends were 5 percent less likely to report symptoms of depression, compared to those who spoke with their loved ones via email or phone. The benefits lasted for at least two years.
"We don't know precisely what the magic ingredient is, but our results imply there is something special and uniquely effective about meeting up in-person in terms of preventing future depression," Dr. Alan Teo, an assistant professor of psychiatry at the university, told The Huffington Post in an email.
For the study, the researchers analyzed data from over 11,000 adults over the age of 50 who participated in a longitudinal study with the University of Michigan, measuring each individual's frequency of in-person, telephone and written (including email) social interactions. Two years after collecting that data, the researchers assessed the study participants' risk for depression, taking into consideration factors including pre-existing depression, physical health and proximity to family.
What did the researchers find? Individuals who had little face-to-face contact with friends and family had a nearly doubled risk of depression two years later. Frequent phone calls, emails and other types of communication had no effect on a person's risk for depression.
Among older adults who spent time with their families at least three times a week, only 6.5 percent were at risk for depression. Those who saw their loved ones every few months or less frequently had an 11.5 percent chance of experiencing depressive symptoms.
While the study looked only at depression in older adults, Teo said it was likely that the results also apply to younger people. But, he said, "We need more research to determine if it applies across the full age spectrum."
The findings don't suggest that email and social media aren't valuable means of social interaction. However, the benefits of these interactions don't seem to extend to guarding against depression.
"My message is not that social media or calls on smart phones are things we should cut out of our lives," Teo said. "I use social media too. But when it comes to depression prevention, it seems hard to beat a good old-fashioned face-to-face visit."
The bottom line? For both older and younger people, there's likely to be little downside to making time for quality, face-to-face interactions with friends and family.
"We should make a real effort to have face-to-face visits with our friends and family," Teo said. "Before reaching for the phone or typing a message to someone, people should think about trying to meet them for coffee or inviting them over for dinner."
Popular in the Community