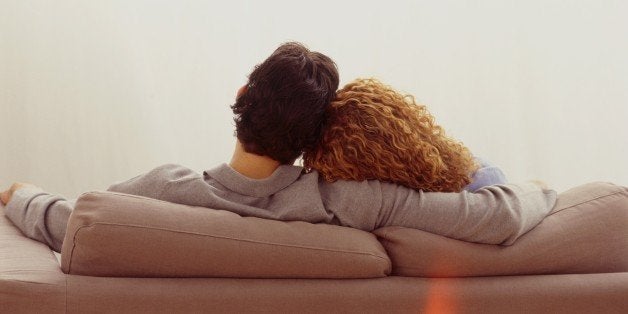 This is the story of Kristi Hugstad from Dana Point, California.
My husband Bill was a bodybuilder who outwardly seemed like he had the perfect life. He was 6'2", 250 pounds, he had this perfect physique. He watched what he ate. He exercised. So when he talked about taking his life, it was beyond my comprehension. I was very naive. I didn't understand how sick he was, and I honestly didn't take it seriously.
I think the hardest thing for myself and for the community and his clients was that he appeared so normal. He was 54 when he died. From the outside, he looked like he had the ideal life: He had a happy marriage, we had a successful fitness business. Everyone was caught off guard when someone who appeared so normal and healthy could suffer from something so devastating.
Looking back, there were signs. He was angry. He had a view that the glass was always half-empty, no matter the situation. Everything in his brain -- his perception of life -- he always found the negative. My whole last year had been spent trying to find him help, but I figured deep down he'd eventually find the help that he needed and he'd be OK.
Part of his depression also included paranoia. [After one particularly bad night], I just broke down into tears -- I didn't know what to do. I even called his psychiatrist and asked him to admit Bill into an inpatient facility. I told Bill I was going to my sister's for the night. He had never been physical before, and although he didn't touch me, he was restraining me in our bathroom. In disbelief, I got in the car and drove to her house for the night.
In my mind, I thought, "Bill, your behavior is starting to affect our marriage. This has to be the ultimate wake-up call." I knew that our marriage meant more than anything to him.
The next morning, I drove back to Dana Point to meet with a client. I had my phone off the entire night. On the drive back, I checked my phone and had at least 20 missed messages. So I called Bill's mother and said, "Everything's fine, I'm sure you spoke to Bill, I just needed to spend a night apart. We're good." Then she said, "Kristi, there's been an accident. Bill has been hit by a train." It was beyond my comprehension. But I knew that it wasn't an accident.
When your loved ones talk about depression, you should take them seriously. Depression is a disease, it's not something that just goes away on its own. It's not an easy road because of the stigma attached to mental illness, but encourage them to get help. People suffering from these diseases need help and the resources to get them there -- without feeling afraid. Just like you can walk into urgent care when you're sick, you should be able to walk into a health institution to get help. No one should be ashamed because it's not a choice -- just like cancer isn't a choice.
After Bill's death, I became a certified grief recovery specialist from the Grief Recovery Institute. I want my story and my pain to make a difference in someone else's life. I was an everyday person who was completely unaware, and my story is something that happens to others. If we can continue to have a conversation around mental illness then maybe it'll inspire someone else out there to get the help they need.
As told to Lindsay Holmes. The interview has been edited for length and clarity.
Have a story about depression that you'd like to share? Email strongertogether@huffingtonpost.com, or give us a call at (860) 348-3376, and you can record your story in your own words. Please be sure to include your name and phone number.