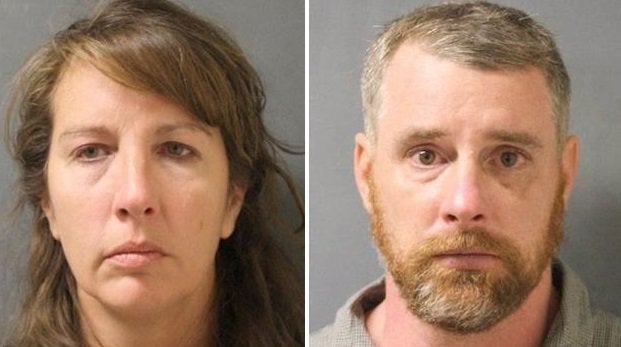 A Texas grand jury indicted a sheriff's deputy and her husband in the case of a Houston man who died after being placed in a chokehold.
Harris County District Attorney Kim Ogg announced felony murder charges against Harris County sheriff's deputy Chauna Thompson and her husband Terry at a Thursday night press conference.
"We believe that this grand jury true bill is a reflection of our community's belief that a crime occurred and that crime was murder," Ogg said.
John Hernandez, a 24-year-old father of one, died three days after the May 28 confrontation with the couple outside a Houston-area Denny's restaurant. According to police, the deputy's husband "verbally confronted" a drunken Hernandez when he saw him urinating outside. A physical altercation ensued, which was partially captured on video by a bystander.
The video, which was released on Monday, shows Terry Thompson holding Hernandez down in an apparent choke hold. Chauna Thompson, who was off-duty at the time, can be seen helping her husband restrain Hernandez.
"The man was turning purple," Denny's employee Melissa Trammell told The Houston Chronicle. "We begged him to get off the man and he wouldn't ... He looked me in the face and said, 'I'm not getting off him.'"
A medical examiner on Wednesday found that Hernandez died of lack of oxygen to the brain caused by strangulation and chest compression. The grand jury convened the following day.
According to Ogg, "every aspect of the case was presented" to the grand jury, including the eyewitness video. She said Chauna and Terry Thompson declined to testify.
The couple, who will face five years to life in prison if convicted, were in custody overnight at the Harris County jail. They were released after posting bonds totaling $200,000.
"We've all worked very hard to try to do what was right," Harris County Sheriff Ed Gonzalez said Thursday night, adding, "We support the decision of the grand jury."
Terry Thompson's attorney, Scot Courtney, told Houston's KTRK News the charges are disappointing.
"I haven't seen any evidence that shows Mr. Thompson intended to cause death," Courtney said.
Hernandez's aunt, Wendy Maldonado, told reporters Thursday night that the family preferred that the Thompsons face possible life sentences them facing the death penalty.
"This family has a heart and we are filled with love and we are human, too," she said. "We'd rather them get life sentences."
David Lohr covers crime and missing persons. Tips? Feedback? Send an email or follow him on Twitter.
BEFORE YOU GO
PHOTO GALLERY
Black Women Killed In Police Encounters