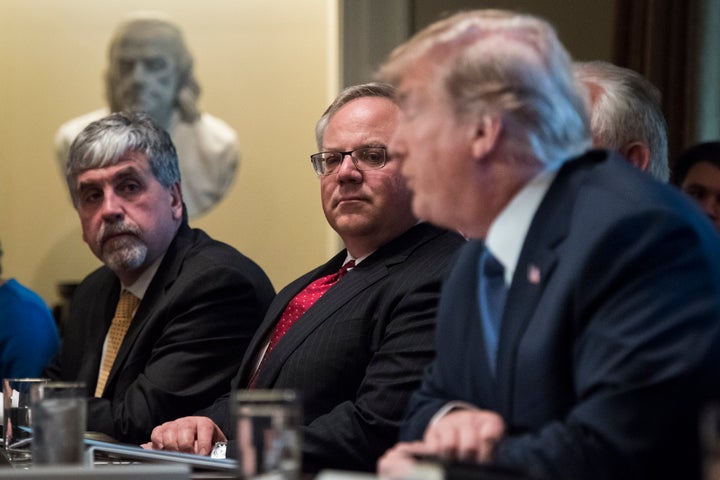 Deputy Secretary of the Interior David Bernhardt met last fall with a lobbyist for MGM Resorts, the casino giant that his former employer also represents, according to calendar records. The case raises a potential red flag for the federal agency that has already been dogged by several controversies during the Trump administration.
According to the ethics agreement Bernhardt signed on May 1, 2017, he is prohibited from participating in matters involving his previous employer, the lobbying firm Brownstein Hyatt Farber & Schreck. But according to Bernhardt's calendar, Bernhardt met last October with Gale Norton, the former Interior Secretary under George W. Bush who now runs her own lobbying shop, Norton Regulatory Strategies. At the time of the meeting, Norton registered to lobby the Interior Department on behalf of a single client: MGM.
Both Norton and Bernhardt denied discussing MGM, telling HuffPost that the meeting was merely a "social visit." Associate Deputy Secretary James Cason and Assistant Secretary of Insular Areas Doug Domenech were also present for the meeting.
Lobbying records show that not only was Norton registered to lobby interior for just one client, she was also lobbying on just one issue ― MGM's opposition to a proposed casino partnership between two Connecticut native tribes, Mashantucket Pequot and Mohegan, which MGM views as a competitor.
Since the tribes are proposing an off-reservation casino, they require approval from the Department of Interior's Bureau of Indian Affairs. MGM hired Norton as part of a year-long lobbying blitz against federal approval of the East Windsor, Connecticut, casino, just 13 miles across the border from MGM's casino in Springfield, Massachusetts. Brownstein Hyatt has represented MGM on the matter since at least March 2017, when Bernhardt headed the firm's energy, environment and resources team.
The lobbying campaign seems to have been a success for MGM thus far, as the Interior Department has stalled on authorizing the casino. The two tribes have filed a lawsuit in federal court to try to force the Interior Department to make a decision on the application.
"The excuse that the meeting was merely a social visit is not very credible, given that it was an official meeting on government time and on government premises."
Yet both Norton and Bernhardt deny they talked about the casino in their October meeting. Norton told HuffPost via email she met Bernhardt at the Interior Department's headquarters "while I was in DC for other reasons."
Faith Vander Voort, an Interior Department spokeswoman, said Bernhardt "completely rejects the false implication regarding the discussion of any issues pending before the Department of the Interior with Secretary Norton."
Vander Voort said Bernhardt is following his ethics agreement recusals and has not participated in any particular matter involving specific parties where his former clients are a party or where his former firm represents a party in such matter.
"The former secretary was dropping by to catch up with the deputy secretary and a few other of her former staff who have returned to the Department of the Interior," said Vander Voort. "Mr. Bernhardt has and had no idea that she had any business before the Department of the Interior and she never mentioned any such matters to him."
The case concerns ethics experts, however. "The excuse that the meeting was merely a social visit is not very credible, given that it was an official meeting on government time and on government premises," said Craig Holman, a government affairs lobbyist for the watchdog group Public Citizen. "It seems highly likely that the meeting was about MGM, which would run afoul again of Bernhardt's ethical obligations under his signed ethics agreement."
The Western Values Project, a public lands advocacy group, also drew attention to issues currently before the Interior Department involving Brownstein Hyatt's clients, noting there are no special ethics waivers on file at the Interior Department permitting Bernhardt to work on these matters. This, despite a memo he recently circulated to Interior Department staff that WVP obtained, announcing new ethics initiatives aimed at preventing employees from "making decisions that [are] unethical and in some cases illegal."
Norton and Bernhardt have known each other for nearly two decades. Both were partners at Brownstein Hyatt in the late 1990s and early 2000s, and Bernhardt served as deputy chief of staff to Norton when she was secretary of the interior. Norton once referred to Bernhardt as "one of my most trusted advisers."
Around the time Bernhardt met with Norton at interior's headquarters last October, his former colleagues at Brownstein Hyatt also had several meetings and phone calls with Bernhardt's associate deputy secretary, James Cason. Cason's calendar indicates he met in June with "MGM representatives" regarding the casino, then had three phone calls and a meeting in December and January with Brownstein Hyatt's Larry Jensen, who represents MGM on the casino matter.
Bernhardt and Jensen also go back a long way. Jensen was Bernhardt's deputy when the latter was the Interior Department's solicitor in the mid-2000s. Afterward, they worked together on Brownstein Hyatt's energy, environment and resource team.
Public Citizen filed a complaint with the Department of Interior's Ethics Office last month, arguing that Bernhardt is still overseeing issues he lobbied on within two years of his appointment as deputy secretary, an apparent violation of President Donald Trump's own ethics executive order. For ethics rules to have any meaning, Holman said, the Interior Department's ethics officer or the White House Counsel's office must actually enforce it.
"Yet neither seem to be the least interested in enforcing the ethics rules," said Holman. "Clearly, 'drain the swamp' was simply campaign rhetoric that has outlived its purpose for the Trump administration."
Related
Popular in the Community