Ralph Valletta was terrified as his passenger held a gun to his head, but then the Pennsylvania taxi driver saw the light. Or rather, the flashing lights of a deputy's car.
Valetta was stopped at a traffic light during Monday's armed robbery, when through his rearview mirror he saw the patrol vehicle's lights turn on.
"It was like a vision of God when I saw those lights," he told the Reading Eagle.
Just seconds earlier, dashcam video footage shows his passenger ambushing him from the backseat while ordering him to hand over his wallet and cell phone.
Apparently unbeknownst to both men, the deputy is seen parked behind them on a Reading street the entire time.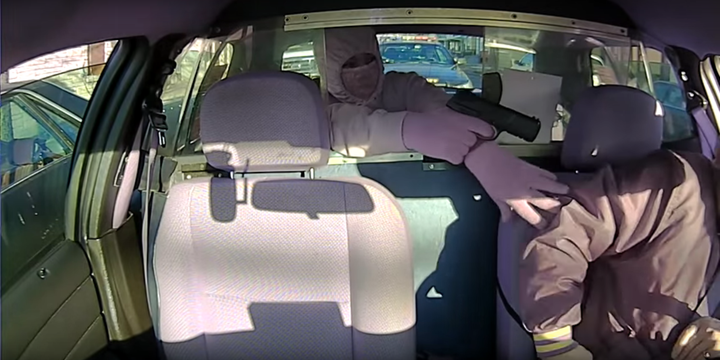 "He's yelling he wants money, and all I had were $11 in one pocket for change," Valletta told the paper. "I reached into one pocket and handed him the $11, and he's screaming, 'Give me the rest of the money. I know you got more money.'" 
As Valletta complies with his passenger's orders, the deputy's lights flash on and he's seen leaving his vehicle and approaching the cab.
Sheriff's Deputy Terry Ely told the Reading Eagle that he was checking to see why the cab wasn't moving, with the traffic light having long turned green, when he realized a confrontation was going on inside the vehicle.
When Ely got closer and heard the driver begging not to be shot and saw the gun held to his head, he pulled out his own firearm and ordered the passenger to get out.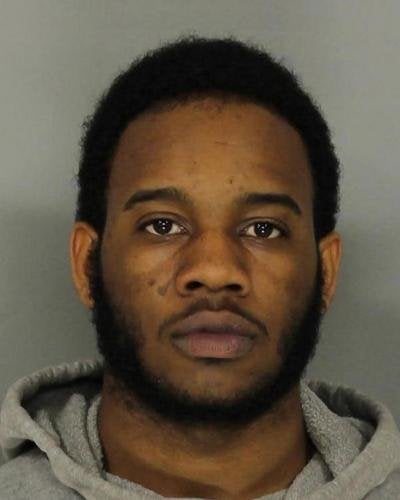 Like a child caught in a game of cops and robbers, the suspect turns and stares out at the responding deputy before carefully exiting the vehicle and declaring that his gun isn't "real" -- it's a pellet gun.
"You're a lifesaver!" a breathless Valletta is heard telling the deputy seconds after scurrying out of the vehicle himself. "Oh my god. I'm going to have a heart attack."
Curtis G. Stricker, president of Reading Metro Taxicab, said Valletta was clearly rattled but unharmed. He even returned to complete his shift that day.
"He's a very, very, very lucky man," Stricker told The Huffington Post Thursday by phone.
Victor Martinez-Herrera Martinez-Herrera, 18, was arrested on charges of robbery, terroristic threats and a weapons offense, Berks County Sheriff's Office said.
BEFORE YOU GO