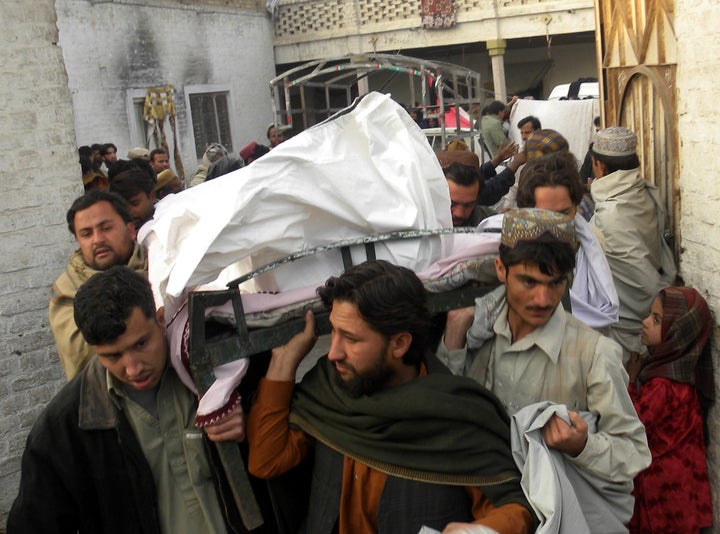 SEATTLE (AP) — Graphic photos showing U.S. troops and dead Afghans that the Army was keeping under wraps for a war crimes probe were carried by a German news organization Monday, with one showing a soldier smiling as he posed with a bloodied and partially clothed corpse.
The photos published by Der Spiegel were among several seized by Army investigators looking into the deaths of three unarmed Afghans last year. Five soldiers based at Joint Base Lewis-McChord, south of Seattle, have been charged with murder and conspiracy in the case.
Hans-Ulrich Stoldt, spokesman for Der Spiegel, declined to tell The Associated Press Monday how the magazine had obtained the photographs, citing the need to protect its sources.
Der Spiegel has other photos from the case – some of which are more graphic – though he said he doesn't know how many. The magazine printed a few in order to illustrate the story, Stoldt said.
"We published three but not others, and we even pixilated those we did print so that the victims could not be identified," Stoldt said. "We needed to document (the accusations) in some form, and were as restrained as possible."
Editions with the photos were on newsstands Monday, a day after Der Spiegel published them digitally.
Officials involved in the courts-martial had issued a strict protective order, seeking to severely limit access to the photographs due to their sensitive nature. Some defense teams had been granted copies but were not allowed to disseminate them.
"Today Der Spiegel published photographs depicting actions repugnant to us as human beings and contrary to the standards and values of the United States Army," the Army said in a statement released by Col. Thomas Collins. "We apologize for the distress these photos cause."
One of the published photographs shows a key figure in the investigation, Cpl. Jeremy Morlock of Wasilla, Alaska, grinning as he lifts the head of a corpse by the hair. Der Spiegel identified the body as that of Gul Mudin, whom Morlock was charged with killing on Jan. 15, 2010, in Kandahar Province.
Another photo shows Pvt. 1st Class Andrew Holmes, of Boise, Idaho, holding the head of the same corpse. His lawyer, Daniel Conway, said Sunday that Holmes was ordered "to be in the photo, so he got in the photo. That doesn't make him a murderer."
The photo was taken while the platoon leader, Lt. Roman Ligsay, was present, Conway said. Ligsay has asserted his Fifth Amendment right against self-incrimination in refusing to testify in the legal proceedings against his troops.
Conway sought copies of the photographs so that he could present them to a ballistics expert, who he argued might be able to tell whether the victim had been struck by the weapon Holmes was carrying. His request was rejected.
"I'm very disappointed that in an American judicial proceeding, I have to get potentially exculpatory evidence from a German newspaper," Conway said.
A third photo depicts two apparently dead men propped against a small pillar. Der Spiegel said the photo was seized from a member of the platoon, but did not involve the deaths being investigated as war crimes. Soldiers have told investigators that such photos of dead bodies were passed around like trading cards on thumb drives and other digital storage devices.
The killings at issue occurred during patrols in January, February and May 2010. After the first death, one member of the platoon, Spc. Adam Winfield, sent Facebook messages to his parents, telling them his colleagues had slaughtered one civilian, were planning to kill more and warned him to keep quiet about it.
His father notified a staff sergeant at Lewis-McChord, but no action was taken until May, when a witness in a drug investigation in the unit separately reported the deaths. Winfield is accused of participating in the final killing.
Morlock has given extensive statements claiming the murder plot was led by Staff Sgt. Calvin Gibbs of Billings, Mont.; Gibbs maintains the killings were legitimate.
Morlock told investigators he threw a grenade and Holmes shot Mudin without cause; Holmes says that he fired when Morlock told him to, believing that Morlock had perceived a legitimate threat.
Morlock's court martial was scheduled for Wednesday. He has agreed to plead guilty to murder, conspiracy and other charges and to testify against his co-defendants in exchange for a maximum sentence of 24 years in prison.
Meanwhile, military judge Lt. Col. Kwasi Hawks ruled late last week that Winfield can present evidence at his court martial that he tried to blow the whistle on the violence.
Prosecutors had tried to bar evidence that he sent the messages to his family.
Winfield has given a videotaped statement saying he took part in the final killing because he was afraid other soldiers might kill him if he didn't.
However, the judge sided with prosecutors on whether to suppress Winfield's videotaped statement as coerced.
In addition to the five soldiers charged in the deaths, seven soldiers in the platoon were charged with lesser crimes, including assaulting the witness in the drug investigation, drug use, firing on unarmed farmers and stabbing a corpse.
The photos released by Der Spiegel are below. You can read their entire report and view the photos here.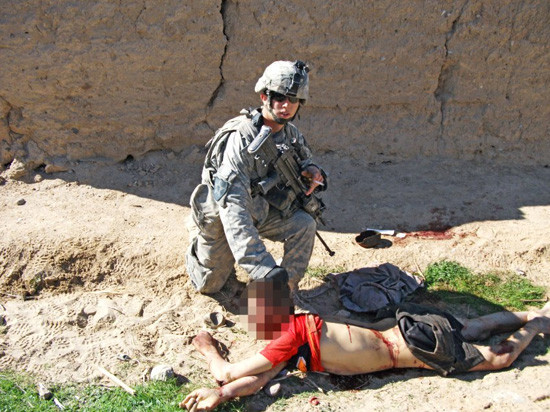 Credit: Der Spiegel
Credit: Der Spiegel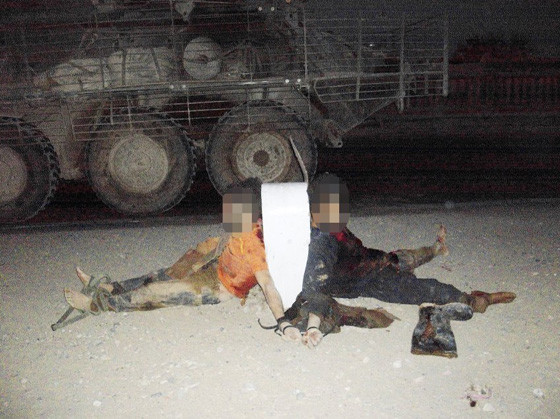 Credit: Der Spiegel
Related
Popular in the Community