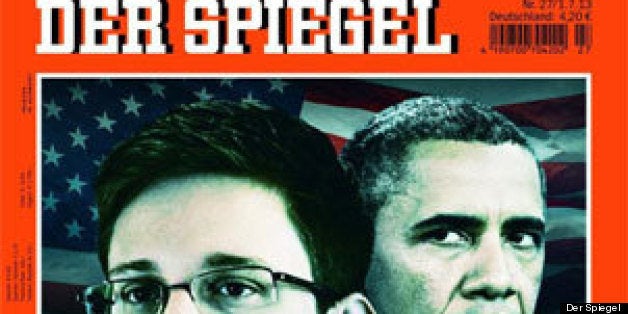 NEW YORK –- President Obama faced questions Monday in Tanzania about an explosive cover story out of Germany based on documents obtained by former National Security Agency contractor Edward Snowden.
"With respect to the latest article that in part I gather is prompted by Mr. Snowden's leaks, we're still evaluating the article because the problem is that these things come out in dribs and drabs," Obama said of the new Der Spiegel magazine story revealing U.S. spying on Europeans. While avoiding specific claims, Obama broadly defended U.S. intelligence gathering.
The blockbuster Der Spiegel article widens the small circle of news outlets known to have reviewed documents obtained by Snowden.
"The documents prove that Germany played a central role in the NSA's global surveillance network -- and how the Germans have also become targets of U.S. attacks," Der Spiegel reported. "Each month, the U.S. intelligence service saves data from around half a billion communications connections from Germany."
Der Spiegel also reported that the U.S. has spied on the Washington offices of the European Union. Still, Der Spiegel acknowledged that the publication decided "not to publish details it has seen about secret operations that could endanger the lives of NSA workers" or "related internal code words."
The Der Spiegel cover story, first published online over the weekend, has been the hot topic in the German press and prompted related front-page stories Monday in other European countries, including Austria, Italy and the United Kingdom. The Guardian also ran an exclusive front-page story Monday citing documents obtained by Snowden.
So far it's unclear how Der Spiegel made contact with Snowden, who reportedly remains in limbo at Moscow's Sheremetyevo International Airport and is seeking asylum in Russia.
Clemens Hoeges, the senior editor on Der Spiegel's foreign desk, told HuffPost in an email that "we usually don't talk about sources for our articles." Poitras did not respond to a request for comment.
On Monday, Greenwald pushed back on Twitter against any suggestion that Snowden is now leaking one document after another, writing that "Snowden's leak is basically done" and that "it's newspapers -– not Snowden –- deciding what gets disclosed and in what sequence."
"Snowden hasn't been doling out documents one by one," Greenwald told HuffPost in an email. "He gave a few to the Post, and then a bunch to us -- weeks ago -- and left it to us to decide what should and shouldn't be published and in what order."
Greenwald said he wasn't involved in the process by which Der Spiegel reviewed NSA documents, but said he believes the German magazine only looked over one or two specific documents. Greenwald added that he doesn't think any other media outlets have any documents.
The Washington Post's Gellman, however, declined to comment on the circumstances around publishing the additional slides, or if more documents will be published in the future.
Popular in the Community