The Amtrak train that derailed and crashed onto a Washington state highway Monday was going nearly three times the speed limit, officials said.
The curved overpass where Amtrak's new high-speed route crosses Interstate 5 near DuPont, Washington, roughly 50 miles southwest of Seattle, has a speed limit of 30 mph. But federal investigators said late Monday that the train was traveling at 80 mph in that area before it derailed, killing at least three people and injuring dozens.
Officials said that they didn't know why the train was going so fast and that it was "too early" to tell what caused the crash, which sent Amtrak Cascades Train 501 hurtling off the overpass around 7:40 a.m. Monday, smashing into vehicles traveling on the highway below. No motorists were killed, officials said.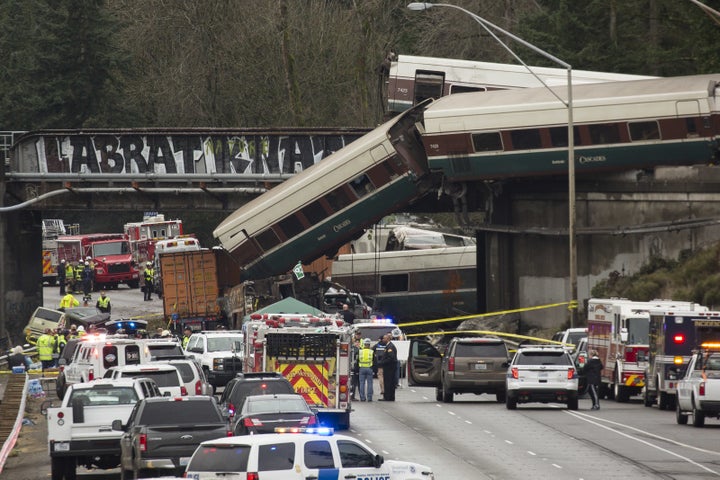 The train was making its inaugural run on a rebuilt, $181 million passenger corridor between Seattle and Portland, Oregon. As part of this service, trains were approved to reach speeds up to 79 mph. 
Amtrak CEO Richard Anderson told reporters Monday that positive train control, automated safety technology designed to slow trains going too fast, was not activated at the time of the derailment. It's unclear whether the technology had been installed on the rail line.
Democratic lawmakers have contended positive train control technology could have prevented several deadly train crashes, including the 2015 Amtrak wreck in Philadelphia and a New Jersey Transit crash in September 2016.
Monday's derailment followed months of heated debate over the new Amtrak service in Washington and Oregon. The mayor of a town along the route recently expressed concerns over having a high-speed train running through an urban area, particularly the dangers at highways and crossings.
"Come back when there is that accident, and try to justify not putting in those safety enhancements," Lakewood Mayor Don Anderson told Washington Department of Transportation officials in early December. "This project was never needed and endangers our citizens."
On Tuesday, Pierce County Transit officials identified Zack Willhoite, an IT customer service support specialist at the agency, as one of those killed in the crash.
"He has always been deeply appreciated and admired by his colleagues, and played an important role at our agency," the statement said. "He will be sincerely missed. Our thoughts are with Zack's family, as well as the families of the other victims, during this very difficult time."
UPDATE: 4:55 p.m. ― The City of Lakewood released a statement Tuesday to clarify comments Anderson made earlier this month about the new high-speed rail service.
"His comments focused on the city's concern that there are not enough safety precautions in place to protect pedestrian and vehicle traffic around the railroad crossings in Lakewood," according to the statement.
"This in no way was intended to predict what happened in DuPont, nor was the Mayor speaking about the possibility of a train derailment outside city limits," the statement continued, adding that the city still had "concerns" about some aspects of the service.
This story has been updated with the identification of one of the victims.
REAL LIFE. REAL NEWS. REAL VOICES.
Help us tell more of the stories that matter from voices that too often remain unheard.