He was released Sunday afternoon, The Washington Post reported. A fellow activist tweeted a picture of McKesson leaving jail.
On Sunday evening, McKesson posted a number of tweets:
Other protesters who had been arrested were also released Sunday afternoon, McKesson said via Twitter:
McKesson was charged with "simple obstruction of a highway of commerce," per the New York Times.
On Saturday, McKesson was participating in a march in the city where officers shot and killed Alton Sterling last week. The video from Periscope, an app that broadcasts live footage, shows McKesson marching along the highway as ordered by officers, who tell him to stay within the "sidewalk." But the video cuts abruptly at the 4:45 mark, when an officer says, "You're under arrest." The feed shakes as the phone moves around, and McKesson says, "I'm under arrest, y'all."
According to Wesley Lowery, a reporter at the Washington Post, McKesson was taken to a holding cell along with 33 others.
Brittany Packnett, another prominent activist who was marching directly behind McKesson, can be heard in the video telling the officer, "We're on the shoulder, there is no sidewalk sir."
An officer appears to identify McKesson by his "loud shoes." (McKesson is known for wearing a blue vest and red sneakers.) "You in them loud shoes, if I see you in the road, if I get close to you, you're going to jail," the officer says.
Packnett picked up McKesson's phone and continued to stream the aftermath of the arrest. "He was standing on the side of the road. He was not disobeying police officers whatsoever. He was snatched and grabbed," she says.
"Start calling the Baton Rouge Police Department to demand that he's released," she tells viewers. After her encouragement to share the department's contact information on Twitter, many promptly followed her instructions:
"He very clearly was behind the white line," Packnett told The Huffington Post.
McKesson, along with hundreds of other protesters, gathered in the streets to speak out against this week's police killings of Sterling and Philando Castile. His arrest occurred as protesters walked away from a lengthy demonstration that had begun to die down.
Protesters marched down the roads alongside police, who were equipped with riot gear. McKesson captured the tense moments on his Twitter timeline, and described how police were "provoking protesters" during the demonstration.
McKesson did not respond to Twitter and Facebook messages late Saturday night. His Twitter profile is verified, meaning the social network has confirmed his identity, and the verification carries over to Periscope.
No details were immediately available on his release.
HuffPost's David Lohr contributed to this post. This article has been updated with information on McKesson's release.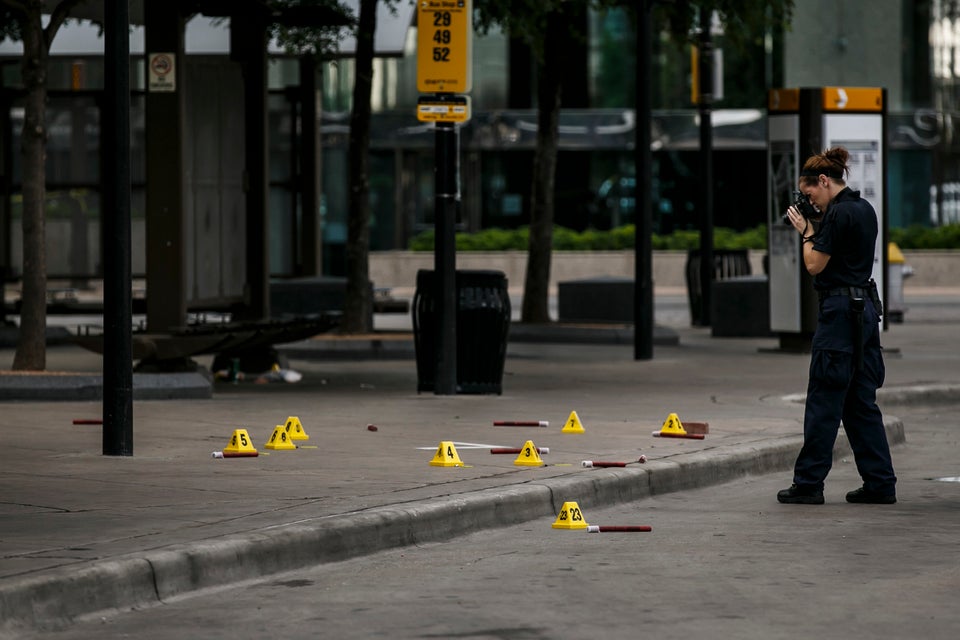 5 Officers Killed By Sniper Attack During Dallas Protest