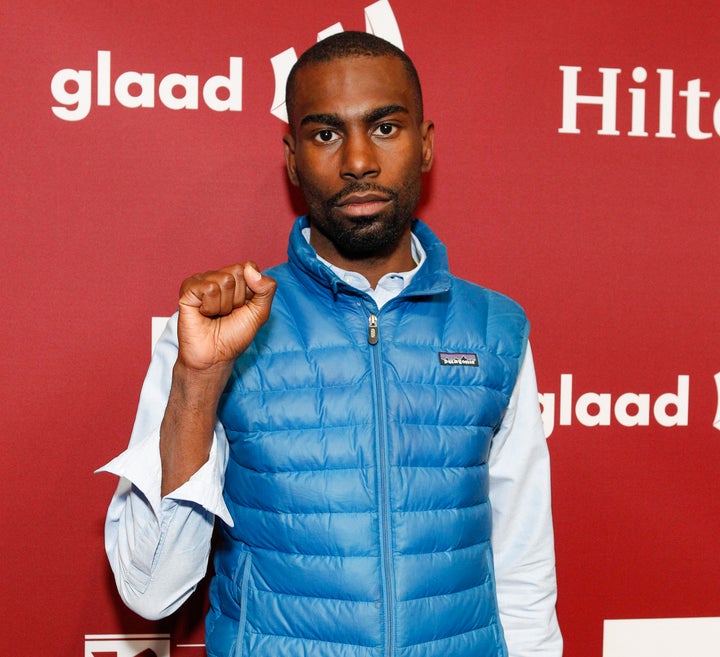 DeRay Mckesson is among the most high-profile of Black Lives Matter activists, known for his bold and uncompromising comments and calls to action. With more Twitter followers than many in the movement, he inspires and organizes thousands of people across the country. Easily recognizable in the streets — and on his many television appearances —with his trademark blue Patagonia vest, he's helped lead protests wherever they have erupted, from Ferguson to Baltimore to Charleston. What's been less recognizable about Mckesson, however, is the fact that he's a gay man.
That's due more to his focus on racial justice than "hiding," he told me in an interview on SiriusXM Progress, though he's realized being more outspoken about his sexual orientation has value. Like Alicia Garza and Patrisse Cullors, two of the three women who founded the Black Lives Matter hashtag and who identify as "queer women," Mckesson said his identities are interwoven. He'd focused on that while speaking at a GLAAD event in San Francisco last fall, and expanded on his comments in our interview.
"One of the many unintended consequences of the [Black Lives Matter] movement has been opening up space for talking about the complexity of black identity and that blackness is not monolithic," he said. "It's so many things to so many people. People have different identities. We're talking about the trans community in public in ways that we haven't before. As a gay black man it's important to me to show up — that I'm able to show up as my whole self, in every space that I'm in, because that's how I'm able to be the most true to who I am."
Mckesson has recently been articulating those connections more vocally. In early February he announced that he's running for mayor of his hometown of Baltimore — the Democratic primary is scheduled for April 26 — and this week he picked up the endorsement of another prominent queer hometown guy, filmmaker John Waters. And he's been discussing the broad array of issues affecting residents of the city -- and affecting people across the country -- at a time when we are seeing a backlash against both racial equality and LGBT rights.
"In that [GLAAD] speech I talked about coming out of the quiet," he said. "This idea that, just because you didn't know, doesn't mean that I was hiding something. In the [Black Lives Matter] movement, there were so many people in the quiet, so many people who cared about justice, who cared about equity, who wanted to fight. But they were just waiting to know that they were not alone, and that was important to me as well."
Mckesson believes there's an effort to bridge the racial divides we often see in the LGBT community that mirror the larger racial divides in the country. And he sees Black Lives Matter — focusing on all black lives, including LGBT black lives — as integral to that.
"I think that we're starting to have these conversations in public in ways that are really important," he observed. "It's powerful. We are talking about the complexity of identity. We know that talking about it is just the beginning of the work and that none of this stuff happens quickly. So the fact that we are having these conversations is helping more people to enter into the conversations about queerness and the trans community, and I think that work is actually happening."
In particular, Mckesson referred to the brutal violence, including police violence, against transgender women of color.
"This is about making sure that blackness in America writ large is protected," he said. "And we know that the solutions are to benefit so many people, because equity is work that needs to be done across the board."
Correction: An earlier version of this story stated that all three founders of the Black Lives Matter hashtag, Alicia Garza, Patrisse Cullors and Opal Tometi, identifed as "queer women." In fact only Garza and Cullors identify as queer.