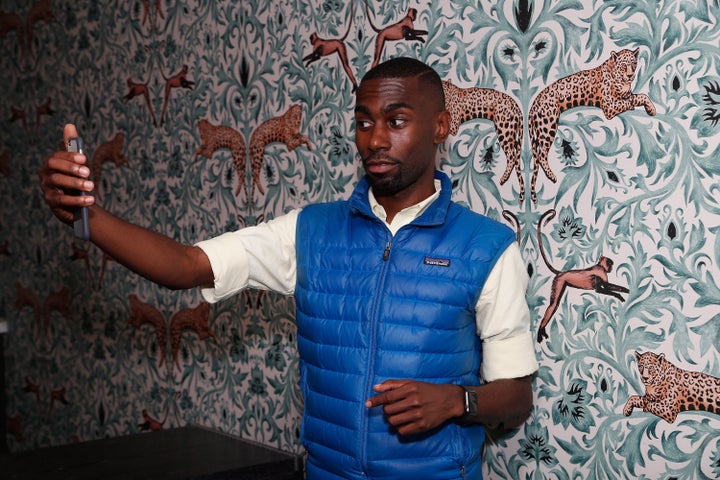 DeRay Mckesson dropped a 26-page plan on Monday explaining how, exactly, he intends to better Baltimore as the city's mayor. 
The activist, who is prominent in the Black Lives Matter movement, was the final candidate to join the already cluttered race earlier this month. His proposals appear to go further on housing and transportation than those of some of his rivals. 
Mckesson dug into some of Charm City's most pressing issues when crafting his latest plan, which focuses on housing, sustainability and health. The Teach for America alumnus released other portions of his platform earlier this month.
"We know that in order for our city to live up to its promise, it must be a city in which our young people thrive, a city that is economically viable, both as an institution and for its residents, and a city in which we all feel safe," Mckesson says on his campaign site. "We must also celebrate our rich culture, understand the importance of public health, and make systems and structures accountable to citizens. Together, we can make this happen."
Housing is a big issue in Baltimore. The city is home to around 46,800 vacant properties, according to the U.S. Census Bureau, though city officials put that number at 16,745. The city's official count only includes properties that are completely uninhabitable and excludes the thousands of homes that are livable but empty.
As if that weren't bad enough, over 6,800 renters have been evicted annually since 2012 and, nationwide, Baltimore has the second-highest percentage of renters facing eviction due to an inability to pay rent. The Baltimore City rent court is to blame for such a high eviction rate, according to a report from the Public Justice Center. The report, released in December, claims that the courts favor landlords over "long-standing tenant protections and basic housing standards."
Within his first 100 days, Mckesson plans to reform Baltimore City's rent court by setting up a fund for tenant legal services and calling for state legislation mandating landlords wait 14 days before filing an eviction case. This is after the landlord has requested rent and presented documentation that an eviction is necessary.
He also wants to replace the current leadership of Baltimore's housing authorities. Paul Graziano, the city's housing commissioner, has been accused of ignoring residents' sexual harassment allegations against the housing department's maintenance workers.
The platform of Maryland state Sen. Catherine Pugh (D), another mayoral candidate, is heavily focused on reforming the city's battered police department, but addresses housing as well. Pugh aims to boost city programs like "Vacants to Value" and wants to lower property taxes in areas with a substantial amount of blighted homes in a push for faster redevelopment of those neighborhoods. She is also on board with taxing private owners of blighted properties more aggressively.
Another candidate, David Warnock, wants to work with the administration of Maryland Gov. Larry Hogan (R) to tear down 4,000 vacant homes during his term, as well as implement permanent housing options for homeless residents and 24-hour drug and mental health treatment services.
Lead poisoning is also on Mckesson's list of things to handle in the city. Over 65,000 children in Baltimore had dangerously high levels of lead in their blood between 1993 and 2013, according to Maryland state tests. The city leads the nation in childhood lead poisoning, sitting at nearly three times the national rate. But not all children in the city are tested, according to The Baltimore Sun, so the number of children exposed could be higher.
Mckesson wants to hire more inspectors to make sure all of the city's rental units are safe; supply families with home testing kits; speed up Maryland's initiative to test all 1- and 2-year-olds; and randomly test lead levels in the city's schools -- mainly the drinking water.
Other parts of Mckesson's proposal aim to lessen the impact of food deserts on the city's low-income population, fight drug addiction and invest heavily in arts projects.
Candidates Elizabeth Embry and Sheila Dixon, a former mayor of the city, have both revealed crime reduction plans. Dixon, like Mckesson, also wants to bump the minimum wage to $15 an hour. Baltimore City Councilman Carl Stokes is focusing heavily on economic development. 
City Councilman Nick Mosby, like Mckesson, touches on a wide range of issues. A Baltimore Sun editorial published before Mckesson entered the race described Mosby as a "notable exception" to the lack of ideas in a crowded field of mayoral candidates. 
In addition to improving policing and creating jobs, Mosby wants to institute shuttles so Baltimore residents can work in the suburbs and other industrial areas. He would also fund a bus line connecting the eastern and western parts of the city, as would Mckesson. The councilman is married to Baltimore State's Attorney Marilyn Mosby, who rose to prominence after pressing charges against six police officers in the death of 25-year-old Freddie Gray in April.
A January poll released before McKesson joined the mayoral race showed Dixon leading with 27 percent of support, followed by Pugh at 18 percent and Stokes at 14 percent. Mosby garnered 7 percent, while Embry and Warnock had 5 percent each. Around 21 percent of respondents were undecided. 
Calling all HuffPost superfans!
Sign up for membership to become a founding member and help shape HuffPost's next chapter