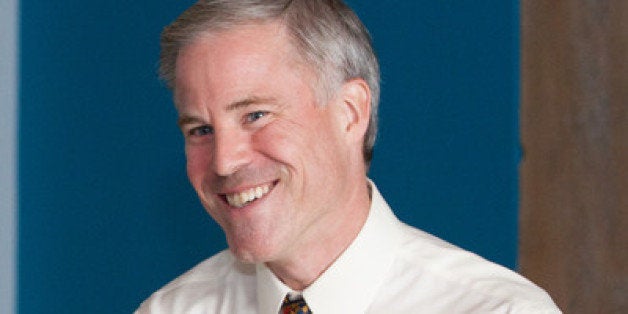 WASHINGTON -- For the past 18 years, Derek Cressman has fought to curb the power of big money in elections while working for the reform groups U.S. PIRG and Common Cause. Now he's seeking to protect the voice of ordinary voters from inside government.
Last year, Cressman stepped out of his role as a nonpartisan watchdog to launch a run for California secretary of state. He was the third Democrat to enter the race, after Democratic state Sens. Alex Padilla and Leland Yee. The other candidates are Pete Peterson, a Republican Pepperdine academic; Dan Schnur, a former GOP strategist turned independent; and David Curtis, an architectural designer and Green Party candidate.
At their annual convention this weekend, the California Democratic Party will vote on party endorsements for races like secretary of state. If no Democrat receives more than 60 percent of the vote, no endorsement will be made.
Under the state's electoral system, all the candidates, regardless of party, will run in a nonpartisan primary in June. The top two finishers will advance to the general election in November.
The Huffington Post sat down with Cressman this past fall to discuss his candidacy and why he believes it's time for voting rights and campaign finance reform advocates to move beyond the advocacy phase and into the electoral phase of their movements. His comments have been edited for clarity.
On why Cressman decided to run for secretary of state:
It's more voting rights stuff. We have passed some really good policy in California that we've not yet implemented, and it will fall to the next secretary to implement and expand these things. It's like the same stuff that they are repealing in North Carolina for clearly partisan voter suppression reasons, which we have not yet implemented in California for bureaucratic reasons.
So it's same-day voter registration -- we passed [it] into law, but have not implemented because California does not yet have a compliant statewide voter registration database. The federal government gave us $40 million 10 years ago to do this, and the home of Silicon Valley still has not -- it's just stunning to me, and I've come to the conclusion that we really need, instead of the musical chairs that you get with term limits, with termed-out politicians occupying these down-ballot constitutional offices as a stepping stone to something else, we need a true voting rights expert who's committed to that office and knows how to get the details of this stuff done, 'cause it's just really frustrating to have passed the policy and not really have it in place. [Debra Bowen, the current secretary of state, said in January that same-day voter registration will likely be delayed until at least 2016. That's one: same-day voter registration. And even there, what we got passed was one location per county, which in Los Angeles is kind of absurd. So we need to get that implemented and then expanded.
Secondly, preregistration of 17-year-olds, which Florida has and all sorts of other far less progressive places than California. We passed it into law, have not implemented for the same reason -- we need the database put into place. That could also be expanded and pushed to 15 years, which would really make sense in California where everyone gets a learner's permit at age 15 and a half. They're at the DMV, they're saying their name, they're verifying their ID, they're giving their address. All the data to cleanly and accurately register them and then change the field in the database on their 18th birthday. Campaigns know they exist -- they can be phoned, called, door-knocked, engaged in politics from their 18th birthday on. That was sort of what drove me in: just the frustration of having done the policy advocacy work that we do on the outside at groups like Common Cause and just not being able to get it [implemented].
On his Democratic opponents and the history of the secretary of state's office as a stepping stone:
One of them [Yee] ran for mayor and came in fifth. The other one [Padilla] is clearly just on a trajectory to becoming the next United States senator following [incumbent Sen. Dianne] Feinstein, and he's pretty transparent that this is a stepping stone to that. And it's kind of a problem of having term limits at the state level and not at the federal level, because you get all of these termed-out state senators who either become a lobbyist or they run for some constitutional office as a way of biding their time, building their power, moving on up. But they're not particularly committed to the details of that office. I don't think that serves the interest of California very well. ...
I'm kind of the one guy running for secretary of state who only wants to be secretary of state. I've pledged that I won't run for any other office while serving as secretary of state -- the guys haven't promised that. Do we want a career politician, or do we want an elections nerd in the office of secretary of state? We'll see what the voters choose.
On increasing voter information and what the secretary of state can do to reduce the influence of big money:
I think we can do an approach for something akin to public financing of campaigns or free airtime, which used to be a big federal issue. ... We used to, for years, try to get the broadcasters who were given the public airwaves free of charge to give candidates some airtime free of charge, so that candidates can get their message out without being as dependent on big money.
What I figured out we can do in California is, we have a voters guide that the secretary of state sends out that's like 147-pages thick, newsprint, black and white, boring as sin. It's primarily the complete text of every ballot measure. Each candidate also can purchase 200-word statements about what they're all about. I say the state that brought the world YouTube can take this a step further and turn it into a digital app that you can get on your smartphone or your tablet or your laptop. In addition to those statements, you can give every candidate for free a series of online videos in the last weeks of the campaign.
You do two things there: One, every candidate is getting their message out on a level playing field -- same amounts of time for everybody without having to raise a dime from any special interests. You'd still have all the [independent expenditures], and obviously you'd pray that the campaigns and candidates would be out there. But you're at least creating this place, a one-stop shopping stop, where all the voters can go and get information about candidates and ballot measures.
I think that also boosts voter participation by quite a bit. The second reason that non-voters give in surveys in California for not voting is that they don't feel like they're qualified. They don't have enough information, especially for obscure races like judge or comptroller. There's all these races -- secretary of state even -- that don't raise enough money to do statewide TV buys or serious direct mail campaigns. ...
[A digital app] creates a new forum for voter information that is different from the 30-second ads and all that other stuff. Increasingly in the age of TiVo and Netflix, technology is giving people more and more ways to screen out unwanted ads, which will eventually reduce the influence of all this big-money-in-politics stuff. If you build another place where voters actually will be able to get the information they want, I think -- it's not a silver bullet, none of this stuff is silver bullets, but it's enough of a game changer that I think you could get a different person running for office and winning.
On how his campaign connects to the fight against money in politics:
We have to start demonstrating that candidates who are champions of reform win. What's hard about that in a congressional context is that there are so many other issues that people legitimately care about, like wars, government shutdowns, abortion, gun control, all these other things. It's hard for any candidate to say, "I'm going to become the anti-Citizens United candidate, and that'll be the thing that carries me to victory."
But secretary of state races are sort of the one chance where voters get to elect a chief elections official on this narrow set of issues. So one of the opportunities with my race, and maybe others like this, is sort of a chance for voters to go on record and go, "This is an issue that matters." Where someone can stand up and say, "I'm an anti-Citizens United candidate," and win. That sends a message I think everywhere.
On what he can do about Citizens United if elected secretary of state:
Part of it would just be sending a message by just being elected. But the actual piece that I would do as secretary -- we've done these local ballot measures in San Francisco, Los Angeles, Richmond, where we're working to get [a measure calling for a constitutional amendment to overturn Citizens United] on the statewide ballot, perhaps as soon as 2014. What I would do as secretary is go to every congressional district in the state and hold a hearing as to what that member of Congress is doing to respond to Citizens United and to respond to the Voting Rights Act. ... I don't think it's appropriate for the secretary to be endorsing candidates or supportive of ones who are supporting the amendment, but I do think it is the secretary's duty to inform voters about the actions of their elected officials around elections.
On what his candidacy can say to reformers battling money in politics:
One of the messages that I'd like to send to the reform movement is, let's not let our cynicism about the process keep us from engaging in the process. I do kind of worry that that is going on: You spend a lot of your time saying the system is corrupt and the system is rigged and good people can't run for office and can't win -- and then you don't [succeed].
My own experience has made me rethink that cynicism and think that this might be possible. And it is. The [anti-money in politics] movement needs to mature from a sort of idea phase and an advocacy phase to an electoral phase. That is the way social movements succeed in our history, and we need to move into that phase. It is particularly daunting when you're trying to change that system and you are then up against big money. I think we can do it. I know we're going to try.
Before You Go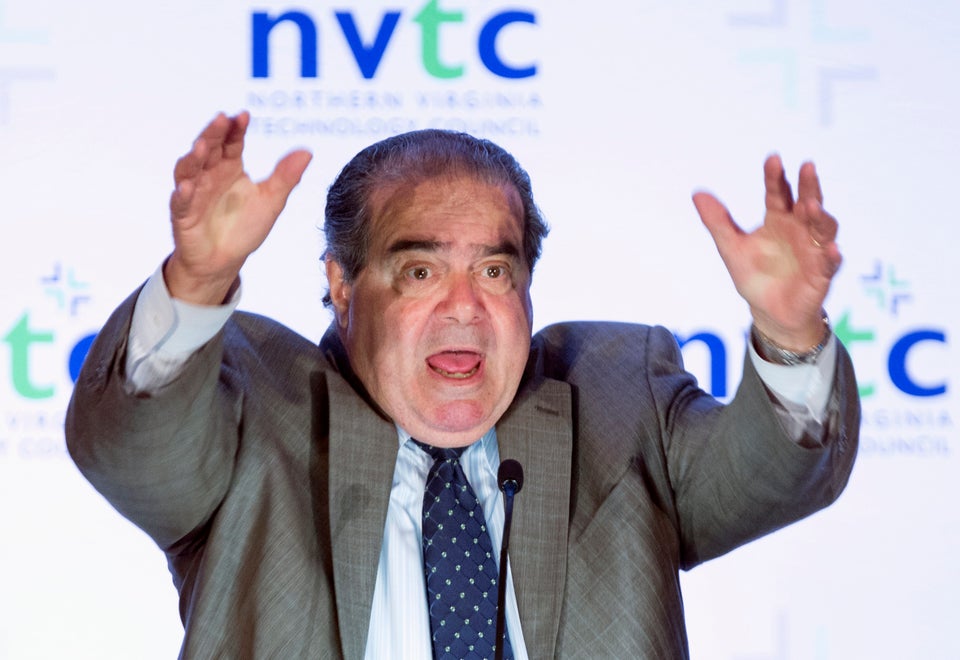 Antonin Scalia's Supreme Faces
Popular in the Community