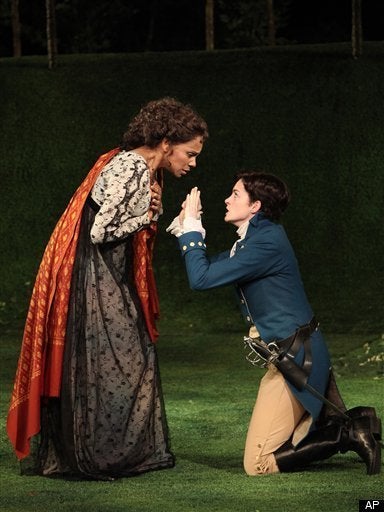 'Nothing will come of nothing: speak again' - King Lear, Scene I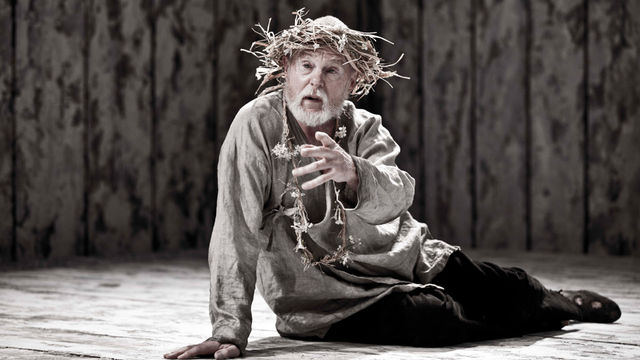 Sir Derek Jacobi is currently starring as King Lear at BAM, a sell-out transfer from London's glittering Donmar Warehouse. The sparse bare bones set and production offset Jacobi's rich muscular capabilities, and the sheer talent and linguistic energy pulsing through the play and the talented players.
Sir Derek is an actor who, although coming from nothing by way of a background in the theatre, has achieved everything through decades of committed, inspiring and inspired work. After acting while a student at Cambridge University, then being a founding member of Olivier's company at the National Theatre in London, he strode on to numerous acclaimed Shakespearian roles on stage and screen, including a Tony Award for Much Ado About Nothing. He starred in the much loved I, Claudius, and Cadfael on TV, and in seminal films such as Day of the Jackal, Gladiator and Gosford Park, to name but a few. He is one of two actors (the other being Olivier) to hold both Danish and English knighthoods.
Jacobi, quite unlike his star turn as Malvolio (translation 'ill will') also for the Donmar, in real life brims with good will, so subtle, polite, calm and funny, a dedicated craftsman with an instinctive skill and fifty years' experience of working in the hardest and best jobs.
I was incredibly lucky to work with Sir Derek in the Donmar production of John Mortimer's A Voyage Round My Father and spoke to him about training for, learning from and living with the profession he describes as his 'breath and existence':
How do you begin your preparation for a new role?
If you're playing a real person the research is very important because you're playing someone that presumably most people know and you have to replicate that. As far as fictional characters are concerned, I think my first instinct is to acquaint myself thoroughly with the text. Not how to say it or why, but parrot fashion, so the rehearsal times aren't taken up with book in hand, 'Ooh sorry, where am I? I've lost my place'. The rehearsal process is about learning where it comes from, what it means, what your attitude to it is, what you take from the other actors. But the basic script is there like a tape recording, it has no intonation, it has no interpretation, just text, and through that comes the search for the character.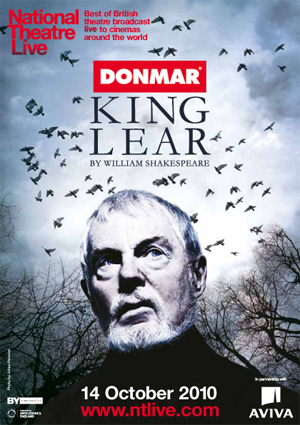 Why Lear?
If you have any aspirations to be a classical actor there are two hoops you have to go through: when you are young you have to go through the Hamlet hoop and be judged on the quality of your Hamlet. When you are an old actor you are judged on the quality of your Lear.
In a long run how do you keep your performance both consistent and fresh?
I'm tempted to say "Fear!" I'm frightened all the time before every performance so there is never a danger of phoning it in because I am in a heightened state of awareness and apprehension as I walk on stage. Maybe it's got worse with age. I've got that much more to play for, the expectation of me is that much greater. With young actors no one is expecting anything. If you're doing eight shows a week for a long time and you sign up to do that, it's up to you to enjoy it. One way is to explore every performance. The audience is a different animal every night, you can never rely on the same responses, so your antennae are very receptive to what they are doing, particularly in a piece that requires their vocal reaction, laughs etc. They are the unknown that also keeps it fresh, alive. Also, the enjoyment of finding new things, of making little discoveries, when something comes out slightly differently or the thought changes -- that's again an excitement, and keeps it new minted.
How do you view acting differently for film and television and for stage? In the past you have spoken of screen acting as centering on thought and the eyes...
It's about photography, cameras and somebody else deciding what bits of you are going to be seen and in what order. Very rarely on film are you visible, the whole of you, it's usually your eyes and your face. It's easier to go from theatre where you have a necessity to be larger than life to fill a huge space, and to pare all that down for film. Whereas if you are used to a microphone and a camera it's very difficult to acquire the size, vocally, physically to fill a big space. For job satisfaction I think theatre because the actor is making those artistic and creative decisions that are made for him in a film studio, and to an extent in a TV studio. What separates actors, what makes them into different groups, is timing, they have different rhythm. All that rhythm is artificially created in a film because you take a bit of your performance that you did last month and then you splice it with a bit of your performance that you did yesterday and so the rhythm and timing of your performance is created by somebody else. Whereas in the theatre when the curtain goes up you are your own man and it's terrifying, there's no safety net.
To what extent do you think how one looks affects one's career?
I do think it affects one's career, certainly there's no question that it affects film careers. I have a round face, I don't have cheekbones, I can't look tortured, my face is naturally round and round goes with nice and happy. I've played Hamlet umpteen times, but it doesn't go with Hamlet really, it doesn't go with the Scottish King. A craggy face is much more interesting than a moon face.
"I've asked Santa Claus for cheekbones every year and he's never brought them."
Hopefully I've learned to express things with my face but it's not a face that people think 'he suffers'. They think "He can't suffer, he's not aggressive".

Who is your biggest influence as an actor?
Olivier certainly, because I worked with him for eight years as my boss, employer, as my director, my fellow actor, ultimately as my friend, father figure, mentor. He was very generous to the young people in the company in his often curmudgeonly way. He wore several hats, he had several faces but oh yes undoubtedly he was the one I looked up to and learned from.
Would you ever be involved in a project about your own family, growing up in the East End of London, or is your private life not available?
There was absolutely nothing dramatic about it, we were a million light years away from a theatre, so where I came from I don't know. However, I've only ever seen one person die, and that was my father. At the end of A Voyage Round My Father at the Donmar, when my character died, that's how my father died. I just had to say, " I hope you don't mind me using your passing for entertainment?", and I can't say that I heard any reply, but I'm sure he would applaud, he wouldn't mind. But otherwise no, they were too ordinary, they were wonderful, but they were absolutely Mr. and Mrs. Ordinary.
What is it to be an actor?
"Oh, it's the best thing in the world -- It's the only thing in the world for me, it's breath, it's existence."
When people ask me, I always say to want to be an actor is not enough, saying I want to act, I have to act, I think I can act...No. You've got to absolutely need it, it's got to be a compulsion and a vocation, you really, really have to have the fire in the belly because it's not an easy way to live. But it is constantly fulfilling. But I speak from a privileged standpoint because I've been the luckiest actor on the planet. I've been acting for 46 years, most of which time I've worked. I have been out of work, yes, but for small periods, so I'm very, very lucky in life. If there is one word to describe my career it's Lucky: "What a lucky bugger he is!"
But as Lear reminds us, nothing comes of nothing, and only we can make ourselves into lucky buggers, after all. As Edmund declares in Lear, so might Sir Derek:
'The wheel is come full circle: I am here.' - Edmund, King Lear, Scene III

REAL LIFE. REAL NEWS. REAL VOICES.
Help us tell more of the stories that matter from voices that too often remain unheard.