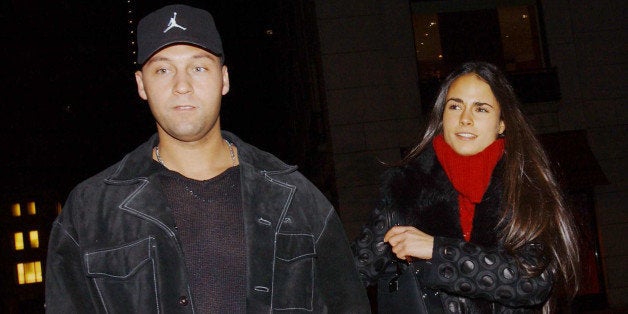 Derek Jeter will go down as a New York legend, on and off the field. Not only did the Yankees' longtime shortstop appear in the World Series seven times and earn 14 career All-Star Game appearances, but he established himself as one of the Big Apple's most eligible bachelors. While he did manage to keep most of the details of his personal life remarkably private relative to some of his peers, Jeter still found himself pictured in the tabloids alongside an All-Star lineup of famous girlfriends.
For those looking to remember every facet of Jeter's years in the spotlight, below is a timeline of many of his publicized off-field romantic relationships that includes his on-field statistical output during each stretch.
On and off the field, Jeter was nothing if not remarkably consistent throughout his 20 seasons with the Yankees. While the stats from the six seasons he seemed to spend as a bachelor are slightly more impressive than those from the 14 seasons he spent in a high-profile relationship, the on-field production remained superlative:
In a relationship (14 seasons):
1948 Games, 7993 AB, 2415 H, 185 HR, 896 RBI, 1361 R, 770 BB, 49.2 WAR
For a 162-game-season average of:
201-665 (.302), 15 HR, 74 RBI, 113 R, 64 BB, 3.5 WAR
As a bachelor (6 seasons):
799 Games, 3202 AB, 1050 H, 75 HR, 415 RBI, 562 R, 312 BB, 22.6 WAR
For a 162-game-season average of:
213-649 (.328), 15 HR, 84 RBI, 114 R, 63 BB, 3.8 WAR
While correlation does not imply causation, Jeter's numbers increased in the seasons following the reported termination of a relationship ('99, '06, '12), with his batting average climbing all the way to .336, and WAR to 5.2. He might not just be captain of the New York Yankees, but also the captain of the rebound, too.
CORRECTION: A previous version of this article referred to Lara Dutta incorrectly as "Mrs. Universe." She was of course unmarried at the time she was dating Jeter.