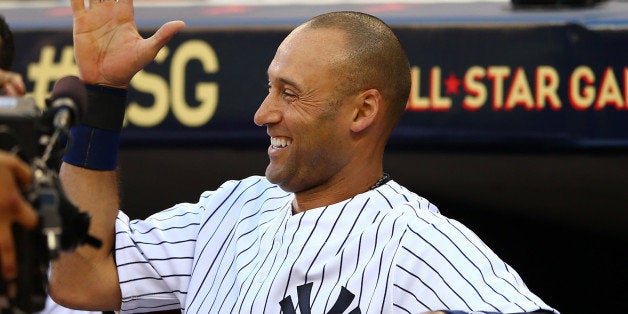 Some great ballplayers are remembered so much for the narrative that emerges around them that it overshadows anything they did on the field. Barry Bonds, for example, is more known for steroid controversy than for being the best player of his generation even before he was suspected of steroid use. Cal Ripken Jr. is now remembered more for breaking Lou Gehrig's consecutive game record than for being one of the greatest all around shortstops ever. Jackie Robinson is rightfully remembered more for being the first African American to play in the big leagues in the 20th century than for being an extraordinary player during his too brief career.
A similar thing is beginning to happen around Derek Jeter, the Yankee shortstop who is now finishing the last year of his long career. Interestingly, two distinct Jeter narratives seem to be concretizing just as the Yankee great is entering his last few weeks as a big league ballplayer. The first is that Jeter is a uniquely professional and classy player who sets an example for sportsmanship and conduct that all professional athletes should follow. This narrative has been promoted by MLB generally, and by the Yankees particularly, to an extent previously unseen for any ballplayer. Jeter's farewell tour, although only begun in April, seems to be endless as he is lauded in every ballpark where he plays. Words like respect and class are now thrown around so much in connection with Jeter that it is almost impossible to think of him simply as a ballplayer.
The second narrative is held by a vocal minority of baseball fans and has emerged as a reaction to the primary narrative being so overdone. According to this view the farewell tour is an outsized honor for a player who while clearly an all time great is nowhere near as good as his most zealous supporters and the New York media have sought to portray. Proponents of this narrative are quick to point to Jeter's sub-par defense over the last decade or so as well as to how he has not been a good player since 2012 and really only had one very strong season this decade.
As Jeter's last season winds down the first narrative is beginning to feed into the second one. The overstatement of Jeter's intangible contributions, efforts to make him into a paragon of integrity and honor when he is essentially a great ballplayer who managed to stay out of trouble and not say anything stupid to the media in 20 years, all make it increasingly difficult to either like Jeter or take his farewell tour seriously. When you have to sell a shirt with the word respect woven around a player's number, it is pretty clear that somebody has gone too far and that anybody who deserves respect doesn't have a T-shirt marketed to proclaim that.
It has not helped that Jeter has been a shadow of his former self this year both in the field, where his range has shrunk to almost nothing, and at the plate where, he is no longer close to being a useful, let alone good, offensive player. His OPS+ is now at 70, meaning he is well below average offensively. For the more conventionally minded fans, this career .300 hitter's batting average could easily end up below .250 by the time the season ends.
As Jeter's career has drawn to its conclusion, it has become a cliché to say that players like Jeter cannot be measured simply by statistics, because of his unique character and gravitas on the field. While this is, on some level, true, as it is for many players, Jeter's statistics remain an important part of the story. His career OBP of .377 and OPS+ of 115 are outstanding for a middle infielder. His eight top ten finished in MVP voting are a reminder that he was seen as a great player throughout much of his career; and his more than 2,600 games at shortstop are evidence of the durability and consistency that helped make Jeter such a great player. He should be remembered at least as much for all that as for the marketing campaign that has taken over his last season.
I saw when Jeter when first broke in at the end of 1995, and recently made one last trip to Yankee Stadium to see the great Yankee play one last time, although he struck out so quickly in his last at bat that I barely had time to take a photograph. I want to remember Jeter for the numbers he put up year after year, the championships he helped win, and the many great moments including the flip, the diving catch against the Red Sox where he landed in the stands, the leadoff home run in the 2000 World Series and being in the middle of almost every big Yankee rally for a generation. However, I can live without being told by MLB, the Yankees and their cheerleaders in the media who deserves my respect and reverence.
Related
Popular in the Community