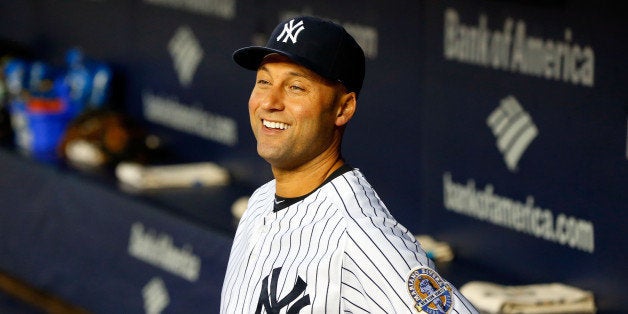 Statistics tell you all you need to know for about 99 percent of MLB players. Batters are judged mainly on their batting average and home run and RBI totals. Pitchers are judged mainly on their win-loss record and ERA. Those, like myself, who write about sports for a living, know that there are, of course, many more important statistics to delve into to get a truly accurate read of how productive a player really is. But, how does one measure leadership? How does one measure heart and determination? There are no quantifiable ways to do this. Over the course of his illustrious 20-year career Derek Jeter's numbers are remarkably consistent, but in order to truly appreciate what he has contributed to the game of baseball, all of us must look past the statistics.
Let me start by saying I generally base all of my interpretations and judgements of players on statistics. For hitters, I look mainly at three areas: on-base percentage, average with runners in scoring position, and RBIs. For pitchers, ERA and WHIP are my two areas of focus.
My friends back at College of the Holy Cross, my alma mater, always used to tease me about my emphasis on stats, saying that I needed to expand my horizons and use the eye test in some situations. I haven't been able to see an appropriate time to use the eye test, or even a time when it was applicable to my analysis... until now.
It comes down to this question: when you think of Derek Jeter, what immediately comes to mind?
2001 ALDS, Game 3, Yankees leading 1-0. Ball hit to right field. Yankee right fielder Shane Spencer hurls the ball into the infield, attempting to gun down Oakland A's Jeremy Giambi. The throw had no shot of beating Giambi to the plate. But out of nowhere, Derek Jeter, who acted on pure instinct and knowledge, comes out of nowhere, cuts the ball off, and backhand flips it to Jorge Posada, who tags the shocked Giambi out right before he crossed the plate. This was perhaps the most instinctual play in MLB history.
Or perhaps it was in 2004, at the height of the Yankees-Red Sox rivalry, when he dove into the left field stands at Yankee Stadium after catching a foul pop fly, with complete disregard of his body. The play epitomized what Jeter stood for in his entire career: determination and leadership. There was no chance he was letting that ball drop. He came out of the play with a bloody cheek, but that was the least of his worries.
Mostly every Hall of Fame player's memorable moments in their career included an important home run, important base hit, or any other quantifiable measure. Jeter is an anomaly.
Other than the All-Star game reception and the various ceremonies and gifts given to him on his Farewell Tour, Jeter's most memorable moment this season has arguably been when he faked out Jason Kipnis in the eighth inning of a game against the Indians. Kipnis, who broke to second base on a hit-and-run, was unaware of the foul pop-fly that was hit, and instinctually, Jeter faked him out, making it seem like he was receiving a throw from the right side of the infield. The result: a double-play and a very confused Kipnis.
I'd argue that Jeter's work ethic, leadership, and heads-up play have been just as important to the Yankees over the past 20 years as his statistics have been. In 16 of 18 full seasons in the league, Jeter has hit over .290. His 3,411 hits are eighth in MLB history, and he will move into sixth place all-time before the season ends, passing the likes of Yarl Yastrzemski and Honus Wagner. But, it's what doesn't show up on any stat sheet that proves Jeter is one of the best players and best leaders in MLB history. It's this effort and leadership that resulted in five World Series titles.
Jeter has also been a consummate professional throughout his career. As we have seen, the concrete jungle of New York City has caused the demise and desolation of many star athletes and entertainers, who couldn't handle the constant media scrutiny or bright lights shining on them.
Name one scandal Jeter has been a part of? You can't. Despite the supermodel girlfriends, Jeter has been a wizard, a maestro of sorts, somehow evading New York City media with unbelievable ability.
As Mike Trout transitions into Derek Jeter's role as the new face of baseball, it's important to note something. Many in the NBA community note that there will never be another LeBron James, because of his supreme ability to play and guard every position on the court as a 6'9 freak of nature. I'd argue that there will never be another Derek Jeter, not because of the 3,400-plus hits, but because of the tenacity and manner in which he plays and carries himself off the field.
Derek, from all of us involved in the baseball community, thank you for showing us how the game is supposed to be played. Thank you for giving us all a positive role model in a sports world that's starved of such individuals. Thank you for being you and never losing sight of the determination of excellence. You will not be forgotten.
Think the Yankees will retire on top after a Yankees surge in the second half of the season? "Yankees to win the World Series" is currently trading at 3 percent on Tradesports.com. Follow Tradesports.com @TradesportsUS.
REAL LIFE. REAL NEWS. REAL VOICES.
Help us tell more of the stories that matter from voices that too often remain unheard.