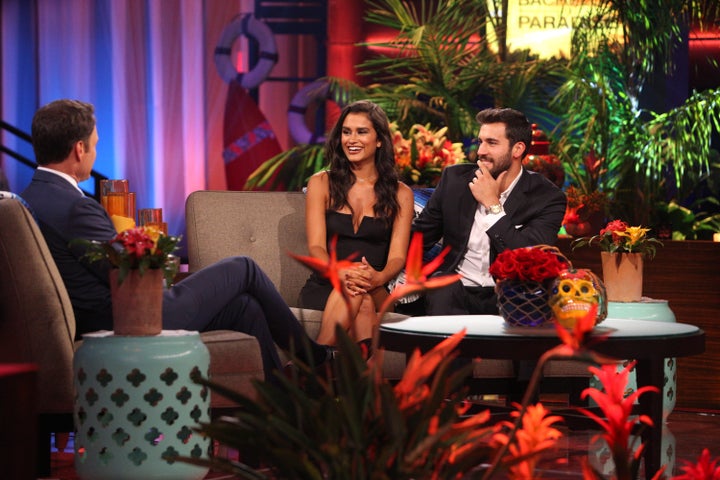 Getting engaged on camera is a time-honored way to end ABC's summer dating show "Bachelor in Paradise." Last season, three couples became betrothed during the finale. But after Season 4, Taylor Nolan and Derek Peth were the only pair to end up engaged. 
Despite the show's romantic track record, Nolan was completely blindsided by the proposal. 
In an interview on HuffPost's podcast "Here to Make Friends," the blissful new couple opened up about their courtship ― which overcame an inauspicious first impression ― their plans for the future, and Peth's emotional proposal at the taped studio reunion.
"Asking someone to get engaged to you in front of a live studio audience is," Peth admitted, "a bit extra."
"It's quite 'Bachelor'-y of you," chimed in Nolan.
Nolan had no plans to end the show engaged, but Peth had other ideas. The night before the taping of the reunion segments, Peth said he got together with castmate and friend Wells Adams to rehearse and fine-tune a heartfelt proposal. Adams, he said, advised him to make the speech personal rather than worrying about what the live audience would think. The proposal ended up referencing inside jokes, like Nolan's emotional intelligence and the time he built a fire for her.
"The producers were like, 'I don't think people are going to get that,'" Peth said, "and I was like, 'I don't care anymore' ... That was the realization that I got to, was, why do I care what other people are going to think, as long as it matters to us?"
Despite all the rehearsals, he was clearly nervous when it came time to do the deed ― and with good reason. Nolan still had no idea the proposal was coming. 
"Even like three days before ― before we separated and got in our separate cars and got on lockdown and everything ― we were dropping off his rental car and I looked at him and was like, 'You're not, like, planning anything, right?'" Nolan recalled. Peth deflected her questions and she finally relaxed. "I was like, 'No, nothing's gonna happen,'" she said. 
But while Nolan now has a relatively understated Neil Lane ring on her finger, the couple still plans to take their relationship slowly and savor every step. 
"We're not going to move in together just yet, but we're definitely moving in that direction," said Peth. "We want to maintain the romance a little bit."  
Do people love "The Bachelor," "The Bachelorette" and "Bachelor in Paradise," or do they love to hate these shows? It's unclear. But here at "Here to Make Friends," we both love and love to hate them — and we love to snarkily dissect each episode in vivid detail. Podcast edited by Nick Offenberg.
Want more "Bachelor" stories in your life? Sign up for HuffPost's Entertainment email. The newsletter will also serve you up some juicy celeb news, hilarious late-night bits, awards coverage and more. Sign up for the newsletter here.
BEFORE YOU GO
PHOTO GALLERY
Tweets About The "Bachelor In Paradise" Season 4 Finale