A racist letter targeting the Filipino-American community went viral Monday after California resident Derek Valencia posted a picture of it on Facebook.
Valencia, who lives in American Canyon, Calif., posted a photo of the printed hate mail and asked, "Anyone else in American canyon get this letter in the mail?!?!?!?!!!!!!?"
The letter, which claims to be from the California Department of Consumer Affairs Board of Barbering & Cosmetology, is addressed to American Canyon resident Maria Aida Ignacio Brandes. The missive begins with talk about an expired cosmetology license and threatens to fine Brandes for allegedly providing unlicensed salon services.
The letter's scope then broadens to target the entire Filipino-American community in the town, calling the population "filthy" and "unwanted." It also targets Brandes' adult daughters for apparently having white spouses and mixed-race children. Disturbingly, the hate mail also details Brandes' current home address.
In addition, the American Canyon Filipino community as filthy as it is. [Illegible] unwanted as it is...... doesn't need to bring additional unwarranted/unlicensed practices which assists in bringing down the already downward spiraling property values in our area.

We are attempting to have our community a law abiding one, without having yet another gang of Filipino scum such as yourself and married daughters who have attempted to assimilate into this once clean non-Filipino dominated area in American Canyon (Napa Junction) which includes those of your female offspring who have aligned themselves with CAUCASION husbands to assist in ensuring their half-breed children have "straight noses" in order to be accepted in non-Filipino society.
After Valencia posted the photo on Facebook, he wrote an update about reporting the letter to the police. Authorities took the letter as evidence and apparently told Valencia that another person reported something similar.
"i [sic] think it was like a mass mail, but yea it's still an issue to illustrate such hate to a specific race," wrote Valencia on his Facebook wall. "At the end we are all still human!"
American Canyon Chief of Police Jean Donaldson described the letter as "unusual" in a phone interview with The Huffington Post.
"We really haven't seen that here before," said Donaldson. "It's an unusual event." The police department is currently investigating the letter to determine whether or not it violates penal codes about hate crimes.
Phil Yu, founder of the blog Angry Asian Man, first reported the Filipino hate mail on his site. In an email to HuffPost, Yu described the importance of sharing such news, no matter how disturbing.
"While some would like to think that we live in more enlightened times, this incident clearly illustrates that racist views are still alive and kicking," wrote Yu. "Yes, this shit still happens. It's important that our community doesn't become complacent regarding these matters."
Yu also commented on the fact that the letter was physically delivered. "In an age where anyone can leave an anonymous racist quick-hit comment on the internet, someone actually went out of their way to compose and physically mail this letter," said Yu. "That's special delivery racism. Who does that?"
American Canyon is a city in Napa County, California. The small town, which has a population of 19,454, is 38.9 percent white, 32.9 percent Asian and 7.9 percent black, according to the 2010 census.
Valencia's photo was shared over 200 times via Facebook. Below, the entire letter: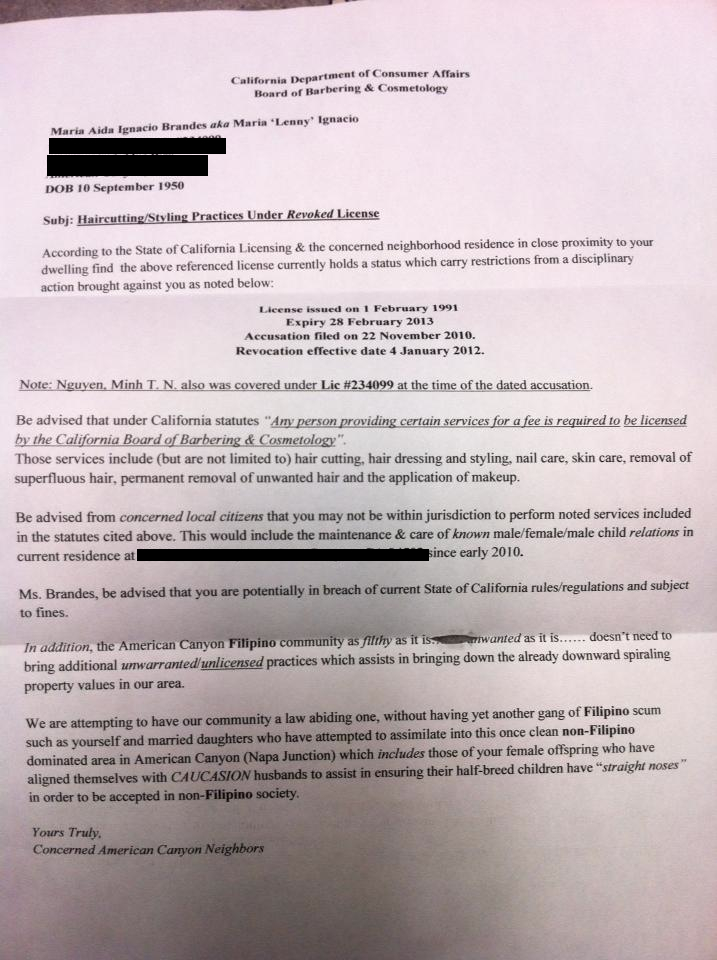 REAL LIFE. REAL NEWS. REAL VOICES.
Help us tell more of the stories that matter from voices that too often remain unheard.