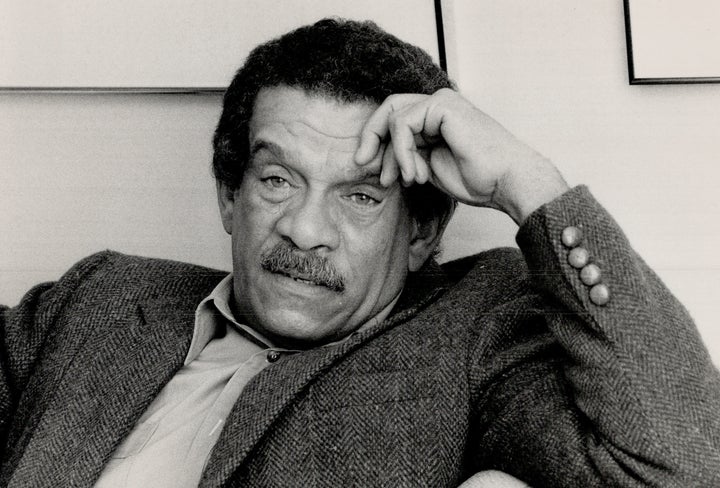 Nobel Prize-winning poet and playwright Derek Walcott, who was celebrated for the lush, evocative poetry he wrote about his native Caribbean, died on Friday at the age of 87. 
According to a statement from his son, Walcott died at home in St. Lucia, the Caribbean island nation where the poet was born. A spokesman for his publisher, Farrar, Straus & Giroux, told Reuters that Walcott had been ill and was recently in the hospital. 
Walcott always firmly identified as a Caribbean poet, claiming the forms of Anglophone poetry and reworking them to capture the glories of St. Lucia. "The English language is nobody's special property," he told the Paris Review in 1985. "It is the property of the imagination: it is the property of the language itself."
A passionate fan of the great English poets, he sought to infuse the poetic tradition with the tendency toward exuberant performativity he found in Caribbean culture. "I come from a place that likes grandeur; it likes large gestures; it is not inhibited by flourish; it is a rhetorical society; it is a society of physical performance; it is a society of style," he told the Paris Review. "Modesty is not possible in performance in the Caribbean — and that's wonderful."
He published his first poem at just 14, in a local newspaper; later in his teens, he self-published a collection of poetry. His breakout book, 1962's In a Green Night, earned him international plaudits. Early fans of his work included Robert Lowell and Robert Graves, and as his career progressed he also became friends with poets such as Seamus Heaney and Joseph Brodsky. In a 1982 Paris Review interview, Brodsky recalled reading Walcott's 1973 collection, In Another Life, for the first time. "That blew my mind completely. I realized that we have a giant on our hands," he said. "The critics want to make him a regional poet from the West Indies, and it's a crime. Because he's the grandest thing around."
In 1981, Walcott was awarded a MacArthur Fellowship, more commonly known as a "MacArthur Genius Grant." He published his most sweeping work, a Homeric epic called Omeros, in 1990. The 64-chapter poem loosely draws from The Iliad in a multi-strand contemporary narrative peopled by Caribbean heroes. In 1992, he received the Nobel Prize in Poetry; the Swedish Academy cited his "melodious and sensitive" style, stating, "In him West Indian culture has found its great poet."
Prior to his retirement in 2007, Walcott taught for decades at Boston University, and spent time in New York and Boston as well as St. Lucia. Married and divorced three times, he had three children ― Peter, Elizabeth and Anna. He is survived by his children, grandchildren and his companion of many years, Sigrid Nama. 
Calling all HuffPost superfans!
Sign up for membership to become a founding member and help shape HuffPost's next chapter
BEFORE YOU GO
PHOTO GALLERY
Sensual Lines In Scripture And Religious Poetry