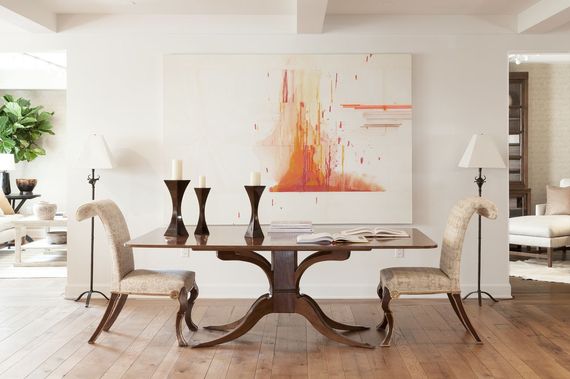 Have you ever looked at the home interiors inside glossy shelter magazines and wondered what secret stores those folks know about that you don't? Or why you never spotted that coffee table, console or sofa when you were on the hunt?
It turns out, you're not alone. In fact, Peter Sallick, CEO of high-end bath and shower empire Waterworks, says the consumer disconnect between how designer furnishings are made and sold is what inspired him to create Dering Hall, an online marketplace for luxury home goods and interior design professionals. Think: One Kings Lane meets Houzz.
"I got interested in creating Dering Hall," says Sallick, the site's co-founder and CEO,
because I was involved in a furniture and fabric business...It gave me very clear, first-hand insight into just how difficult it is for high-end home furnishing companies to get their products out there, into the marketplace, and find people who are interested in buying the product... It's sort of a needle-in-a-haystack kind of industry and there just had to be a better way.
Sallick says in many cases, even card-carrying ASID (American Society of Interior Designers) members can have a tough time sourcing exactly what their clients require. Although online platforms for searching high-end antiques, art and artisanal crafts were already flourishing in the webisphere, the prolific entrepreneur recognized a need -and a niche: making products once available to-the-trade only fair game for us all.
In case you were wondering, however, shopping like a designer doesn't come cheap. Yes, you can now buy the $14,000 Dmitriy & Co. sofa or $76,000 Darboux Chair in Mirror Polished Cast Stainless Steel all by yourself without a design professional in sight -- but it also means you will need to do your own homework on exactly what makes these items so special -- and worthy.
We are very sensitive to the idea that we want buyers and sellers to be able to talk to each other and really understand what the product is and potentially, the custom options...so we have tools on the site to help them literally talk to each other.
Recognizing that some clients may welcome a little hand holding and the option of hiring a talented style sherpa of their own, the site offers a listing of design professionals according to locale. "In a luxury segment like this, there's a lot of care that goes into making good decisions and getting people the information they need," says Sallick.
Finally, for those of us who appreciate the pricey lamp but aren't willing to pony up the cash, Sallick assures us Dering Hall is not just for the one-percenters.
I think it's very similar to fashion in the sense that everyone starts with the runway looks and ultimately finds the place where they are comfortable and able to purchase...knowing what's happening in the marketplace is valuable to consumers of all kinds. In some ways, Dering Hall represents the excitement of the runway -to see what the most progressive artisans are making and what the most exciting design brands are doing. We're focused on sharing all that.
Top image: Rose Tarlow Melrose House Portfolio
All photography courtesy of Dering Hall.