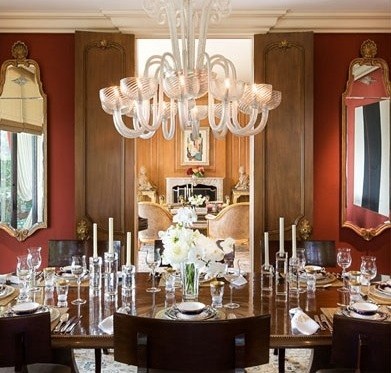 Interior by Donna Livingston, Photography by Scott Frances, courtesy of Dering Hall.
We've seen the term "Effortless Elegance" used enough times to know that it's, well, not always effortless. But we've also found that the time and effort we actually have spent trying to elevate the look in a room have always paid off. But upping the chic factor in a room isn't always about piling on the lacquer furniture and outfitting a room with just mirrored pieces and shiny accessories, there are some decorating ground rules.
According to the experts over at Dering Hall, an online marketplace, there are some failsafe tricks that will always deliver that easy elegant look in any room. However, when it comes to decorating and design, there is also such a thing as too much glamour. Take a look at the tips to see what flies and what absolutely doesn't.
The glitter factor. Shiny accessories are a great way to glam up a room, but stick to smaller objects such as a silver tray displayed with glass or crystal decanters on top or use silver frames for photographs. For a nice holiday touch, you can group Christmas ornaments in a glass fruit bowl. Just remember this: mirrored accents are great in small doses but a room that's covered in mirrored surfaces will look more like a nightclub that an elegant home space.

All-around lighting. Candles are excellent accents in a room that has glass or shiny accessories dispersed throughout, as light will be reflected evenly in the space. The sophisticated look is to go with numerous tiny tea lights as opposed to expensive bulky candles -- the small flickers will reflect better and set a moody ambiance. For a dramatic effect, try using plug-in canister fixtures, which make for beautiful back-lighting behind plants and furnishings.
Intimate seating arrangements. Cozy seating areas immediately give off an inviting vibe. Arrange chaises and armchairs so that they're facing each other, and create intimate seating areas in large rooms.
For more insider tips on how to give your home a touch of easy elegance, visit Dering Hall.
Other ways to add to the look in a room? Watch this video on layering a room with texture.